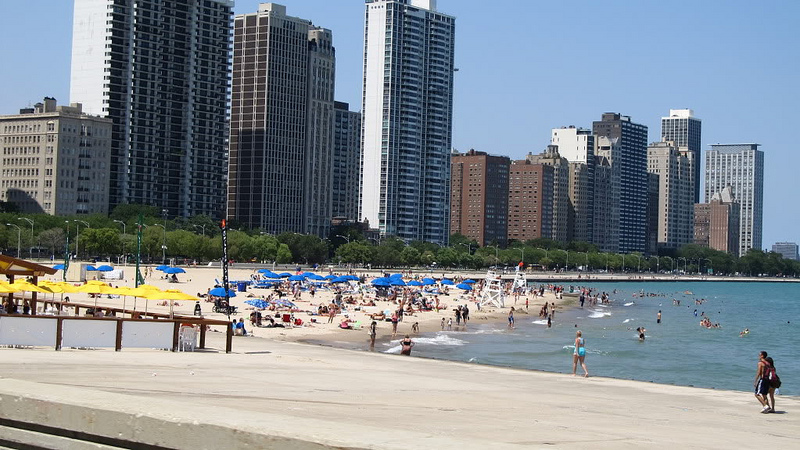 Mayor Emanuel calls Lake Michigan "our Grand Canyon" and he has big plans to "make it a recreational frontier." Governor Quinn added, "Nature-based tourism is a popular new trend." NBC News
In a joint initiative between the Chicago Park District, the Forest Preserve District of Cook County, and the city of Chicago, plans are in the works for the "redevelopment of a massive urban park system on Chicago's "South Side."  Currently, this is an area where gangs fight over drug turf.  Southshore Neighborhood Crime Map ; Residents Report Gunfire at All Hours.
The land will be redeveloped into a "tourist-attracting green space" called the Millennium Reserve.  Not only will US 41 expand south, but new street lighting, irrigated landscaped medians and upgraded landscaping at the entrance to Rainbow Park are planned.  New sidewalks, driveways, curbs, sewers, signage, as well as nearly 600 new trees will also be included and complete by Spring of next year.(16)
The Millennium Reserve is part of President Obama's America's Great Outdoors Initiative to reconnect Americans to America's rich outdoor treasures and build upon public, private, and tribal priorities for conservation and recreation lands.  Obama said the nation's growing population, pollution and other factors are "putting a rising strain on our lands." (18)
A former member of the Sierra Club and Zero Population Growth, … recognized that the environmental movement had become intolerant in its views, inflexible in its demands, unwilling to recognize our tremendous strides in protecting the environment, and insensitive to the needs of billions of people who lack food, electricity, safe water, healthcare and other basic necessities that we take for granted.  Paul Driessen, Eco-Imperialism.
With more parks than any other U.S. city, the Chicago Park District operates Chicago's extensive network of waterfront recreational areas.  Parts of the Lake Michigan shores, banks of the Chicago, Des Plaines, Calumet, Fox, and DuPage Rivers and their tributaries, as well as the Illinois and Michigan Canal and the Sanitary and Ship Canal are all considered a part of the Chicago Metropolitan waterfront.
"Chicago has more parks than any other U.S. city, the annual budget for the 550 parks is more than $300 million, the largest parks budget in the nation, nearly a million dollars a day.  With 500,000 trees already planted and park space in the city expanded to 7,730 acres, the city continues to spend $10 million a year on new trees, flowers and shrubbery.  The tulips on Michigan Avenue come with an annual maintenance cost of $250,000 and they'll be gone in a few weeks, replaced by later bloomers, and then mums.  Chicago, "the greenest city in America," also has the highest state corporate income tax rate in America and the highest combined national-local corporate income tax in the industrialized world."  Ralph R. Reiland, Assoc. Professor of Economics at Robert Morris University.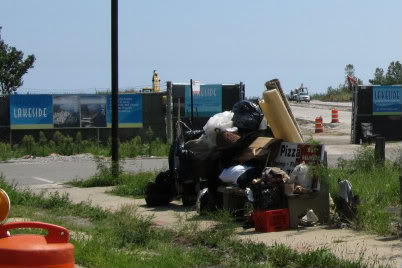 (Chicago Lakeside Development site on right with homeless person camped on bench; 8/1/12.)
McCaffrey Interests and US Steel are seeking to redevelop nearly two miles of Lake Michigan shoreline, formerly Southworks steel site in Southeast Chicago into a green, 21st. century lifestyle model.  The master plan calls for 13,575 market rate and affordable homes to serve 50,000 new residents, 17.5 million square feet of retail and commercial space, a high school and a marina with 1,500 slips, to be built in phases over the next 30 years. It will include approximately 600 acres of land located 10 miles south of downtown Chicago.
Paul K. Driessen, author of Eco-Imperialism, reports, "Spain increased its installed wind-power capacity to 10% of its total electricity, although actual energy output is 10% to 30% of this, or 1% to 3% of total electricity, because the wind is intermittent and unreliable.  Still, Spain spent $3.7 billion on the program in 2007 alone, King Juan Carlos University economics professor Gabriel Calzada determined.  It created 50,000 jobs, mostly installing wind turbines, at $73,000 in annual subsidies per job–and 10,000 of these jobs have already been terminated.  Spain's economic problems put the remaining 40,000 jobs at risk.  Meanwhile, soaring electricity prices forced other businesses to cut 2.2 jobs for every 'green' job created, says Calzada.  Spain's unemployment rate is now 17% and rising."(1)
Driessen's 25-year career included staff tenures with the United States Senate, Department of the Interior and an energy trade association; he has spoken and written frequently on energy and environmental policy, global climate change, corporate social responsibility and other topics.  He's also written articles and professional papers on marine life associated with oil platforms off the coasts of California and Louisiana–and produced a video documentary on the subject.  He received his BA in geology and field ecology from Lawrence University, JD from the University of Denver College of Law, and accreditation in public relations from the Public Relations Society of America.  A former member of the Sierra Club and Zero Population Growth, he abandoned their cause when he recognized that the environmental movement had become intolerant in its views, inflexible in its demands, unwilling to recognize our tremendous strides in protecting the environment, and insensitive to the needs of billions of people who lack food, electricity, safe water, healthcare and other basic necessities that we take for granted.
Renewable energy is still prohibitively expensive technology.  Shouldn't government agencies know what they are talking about when they say we must impose upon ourselves restrictions of personal freedom?  The idea that the earth is beginning a cooling cycle is beginning to attract more of the scientific community today.  According to NASA, it is the solar cycle that is responsible, not man, for climate change.   What was man doing, if he was responsible for climate change, 1,000 years ago when the climate was warm?
In Oakland, California, green regulations will be forcing homeowners to make their homes environmentally compliant by using specific building materials, forcing roof replacements, demanding replacement appliances, and more.  Such restrictions will cost homeowners and estimated $36,000.  The Cap N Trade bill contains a whole section on such restrictions for the nation.
At a time when the nation is only beginning to pull itself out of a deep recession, Rahm Emanuel announced his $7 billion plan.  Some of the funding will come from a newly created Chicago Infrastructure Trust, an initiative announced this month by Emanuel and former President Bill Clinton.  The trust fund will still require borrowing from investors, but in a way that hasn't been tested and will most likely cost more.
A President's Council on Sustainable Development was created by an Executive Order by Bill Clinton in 1993.  In 2005, The World Environment Day in San Francisco hosted Mayors from around the world.  They were asked to pledge their commitments to sustainable policies which were to be implemented on a specific time table.  Just one week later, the U. S. Conference of Mayors met in Chicago where they focused on Sustainable Development Policies.  At least 544 American cities, including Chicago, now pay dues to the International Council for Local Environmental Initiatives (ICLEI).  ICLEI is connected to the UN and the Agenda 21 .
Public/Private partnerships are government-sanctioned monopolies in which a few businesses are granted special favors like tax breaks, the power of eminent domain, non-compete clauses and specific guarantees for return on thier investments.  That means they can charge what they want and they can use the power of government to put competition out of business.
Former Chicago Inspector General David Hoffman has demanded that current Inspector General Joe Ferguson be empowered to investigate the Trust that will decide what projects to fund and what user fees to impose to guarantee five financing giants receive a sufficient return on their investment. There are serious questions about how Emanuel will be able to use this scheme to raise money to construct schools, pave streets, or build without creating new user fees… During a brief public comment session, a community activist raised the possibility of using the Trust to finance the $300 million renovation of Wrigley Field.  Although Wrigley is privately owned by the Ricketts family that owns the Cubs, the state could acquire it, as Tribune Co. Chairman Sam Zell once proposed.
"Mr. Emanuel's hurry-up plan to rebuild the underbelly of the city through a $7 billion fund… is about as transparent as one Mr. Daley's tax-increment financing schemes–which is to say not at all.  Where is the evidence that this public-private creation actually will benefit the city and taxpayers?  …Perhaps more important, where is the outside supervision?" Crain's Chicago Business
In Texas, using eminent domain, Public/Private partnerships attempted to take more than 580,000 acres of private land–sanctioned by the partnership with the Texas government to build the TransTexasCorridor.  Citizens united in Texas to expose the problems of Public/Private partnerships.  "Highway tolls are yet another form of regressive taxation, designed to push the burden of public costs downward onto the average taxpayer/driver, while the lion's share of the benefits go to the industries demanding state-subsidized mobility and infrastructure." Corridorwatch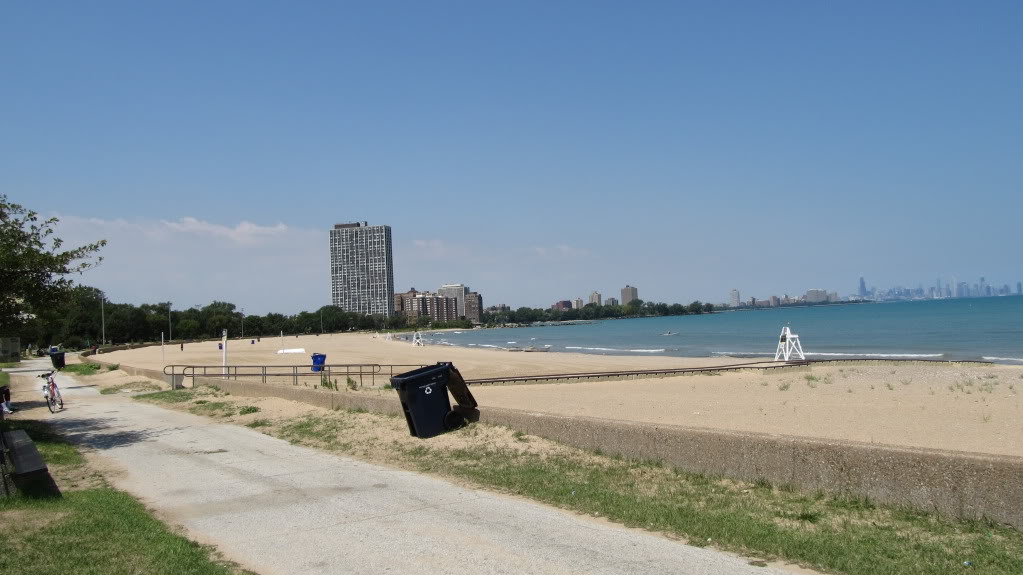 (Rainbow Park Beach; 8/1/12)
Last fall, as part of developing the city's "next recreational frontier," Emanuel announced that four new boathouses with concessions for kayaking on the Chicago River will be built within two years and the project was being funded half by private and half by city money.  "The feds will be putting other resources into the river, and they'll be coming back in a couple of weeks to do that," Emanuel reported from a South Side park, one of the future boathouse sites.
Today, even though the Chicago River is still considered very polluted, real estate on the river is among the priciest in Chicago.  The short kayaking season fed by "kayak touring" businesses on the busy, polluted Chicago River has led to some serious concerns for the community.
Along with boathouses and concessions, Illinois Paddling Council president Tom Lindblade has been discussing "water passes" and mandatory education and a tests for paddlers.  Only a handful of states even require paddle sports to register.  Maritime organizations like the American Whitewater Association(AWA) and the American Canoe Association(ACA) oppose boat registration and mandatory education for paddlers.
The depletion of natural resources, the growth of populations, and other similar concerns are not the primary problems with today's economy.  The biggest threats to our financial welfare are encroaching governments and a lack of morality.  Successful economies are not developed where theft, cheating, and lying are common.  People don't work freely and efficiently when promises are not kept.  Illinois is notorious for corrupt public officials. 
Current data suggests poor Americans are getting poorer, the middle class is eroding and wealthy Americans are getting wealthier.  This is a direct result of government policy.  Politics is about money, and the money comes from corporations and wealthy individuals demanding subsidies and tax breaks from the government.  We need to stop subsidizing the private sector.
Obama just celebrated his 51st birthday at his Kenwood home in Chicago.  Chicago's ABC News reported that on the same day Obama closed on his historic Kenwood house, Tony Rezko's wife bought the adjacent empty lot, meeting the condition of the seller who wanted to sell both properties at the same time.  At that time it was well known that Tony Rezko had been under investigation by the U.S. attorney and the FBI.  Rezko was indicted on corruption charges by a federal grand jury in a case that prosecutors say involved bribes, kickbacks and "efforts to illegally obtain millions of dollars," and he eventually got 10.5 years on corruption and extortion. (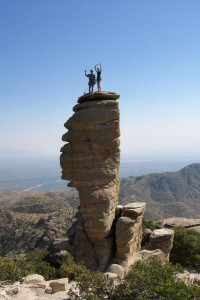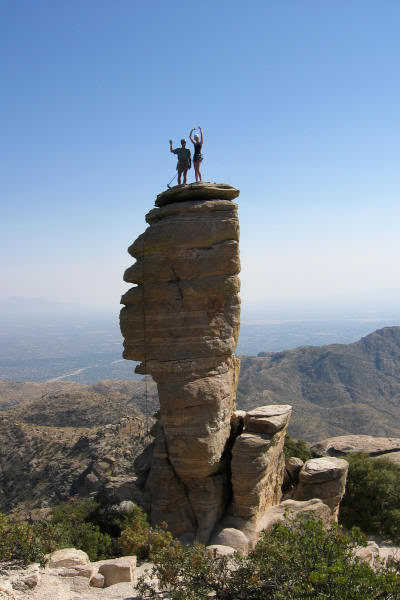 (Mt. Lemon, Tucson, AZ.)
Recognizing that outdoor recreation could become a "packageable good," more than 100 private sector organizations came together to form the American Recreation Coalition in 1979.
"Disney and others will be the ones who will build the amenities on public lands to service not just RVers but the tourists who will drive these newly paved roads to the newly built attractions.  The Forest Service will get all this for no cash expenditure of its own.  On the contrary, in exchange for providing the business opportunity, proving a long term lease for the lands–and constructing the roads at taxpayer expense–they will get their small piece of the action, just like they do with the ski resorts."  Alasdair Coyne
The American Recreation Coalition is a Washington-based non-profit organization that formed in 1979.  The program was imposed upon the American public in collaboration between ARC, the U.S. Department of Agriculture Forest Service Officials, and a group of corporate-financed congressional leaders.
ARC testimony to Congress speaks of arranging "for top marketing and communications executives from Disney, REI and other companies to work with the Enterprise Forest fee team in the design and implementation of that project." (The Enterprise Forest is U.S. Forest Service marketing-speak for the four Southern California national forests that are included in the Adventure Pass program.) REI story here.  (11)
The "user fee" initiative affects four federal agencies:
For a century the American people have had free public access to public land, but in 1996 both Democrats and Republicans conspired to change that. Advocates of Fee Demo insisted fees would supplement appropriations and the result would be substantial improvement in outdoor recreation serviced, leading to more support for fees.  In reality, federal land funding has decreased and recreation infrastructure is degrading.  Rather than improving our public lands, fees have existed to serve political agendas harmful to natural resource conservation and responsible use.
Federal land agencies lack funding because current leaders would rather provide tax breaks to corporations and the wealthy and direct subsidies to powerful special interests.  If tax funding is replaced with fees the government is able to flatten corporate and private income taxes, transferring the cost of government to working class Americans.
In the middle of the Clinton era, the Forest Service projected dramatic increases in outdoor recreation.  This fed into assertations of some environmental groups, who argued "pay to play" would demonstrate the desirability of adopting policies favoring recreation over resource extraction.  Under the Bush administration, however, the same US Forest Service claimed only about a quarter of projected recreation actually occurred.  (24)
"…The ruling, unless overturned, is a victory for several individuals who hike in the mountains who sued on behalf of other users. It overturns a ruling two years ago by a trial judge that the Forest Service was within its rights to charge $5 a day or $20 a year to those who park along the 28-mile Mount Lemmon Highway.  Arizona Daily Star
Idaho:  Rich Vaughn says paying the U.S. Forest Service a daily fee so he can take his boat onto the Salmon River in Idaho, where he used to play for free, hurts his sense of fairness more than it hurts his wallet.  "It's public land that's held in trust for the American people, and to charge a fee to access that land is wrong," Vaughn said.
Colorado's resolution says the recreation fees amount to double taxation, because Americans already pay taxes to support public lands. The fees "bear no relationship to the actual costs of recreation such as hiking, picnicking, observing wildlife or scenic driving," the resolution says, and they contradict "the idea that public lands … are places where everyone is granted access and is welcome."
Fees exist because special interests have asked politicians for them and the public hasn't resisted them.  Avoid places that charge user fees and refuse to cooperate with the user fee program.  Some places are beginning to advertise that user fees do not apply in their area.  Some state legislatures (Colorado, Montana, California, Oregon, Idaho, New Hampshire) have adopted resolutions opposing user fees.
I enjoy kayaking in Wisconsin (no registration for kayaks in WI).  I'll be taking a scenic detour through Lake Geneva to avoid some Illinois tolls en route … you'll understand.– Tolls went to illegally balance Illinois sate budget; employee swipes toll money.
References
 Unable to See Wind's Deficiences For Forests of Concrete and Steel, Paul Driessen; Bay Ledger News Zone, 7/27/09.
Fee Fighters Blast the Adventure Pass, by Juniper Davis, 6/7/99, High Country News.  National Forest Adventure Pass, Wikipedia.
 Forest Service to Drop Fees at Most National Forests, by Bettina Boxall, Los Angeles Times; 2/9/12.
 Mayor's Plan to Beautify Chicago Growing From A Joke Into Reality, Slevin & Lydersen; The Washington Post; 8/11/06.
 Emanuel Goes to Bat for Obama During Campaign, Lynn Sweet; 7/22/12, Chicago Sun Times.
 Illinois; Wikipedia.
 Lake Michigan Water Trail to be Dedicated as National Recreation Trail, Kurt Repanshek, 5/28/11, National Parks Traveler.
 Ex-Watchdog Doesn't Trust the Trust, Fran Spielman; 8/3/12, Chicago Sun Times.
 Corporate Interests are the Force Behind the Adventure Pass Program:  The Commercialization of American's Public Lands Los Angeles Times; Alasdair Coyne, 8/29/99.
 U.S. Steel; Wikipedia.
 Governor Quinn Announces Millennium Reserve Initiative in Calumet Region of Chicago–Largest Project of its kind…, Illinios Government News Network, 12/9/11.
 People and the Port, Encyclopedia of Chicago.
 Big Vision For Lakeside Site,  Real Estate Business Now Chicago; 4/11/12.
 South Works, Jacob Kaplan; Forgotten Chicago; 12/28/08.
 LSD Expansion Part of $7 Billion "Building a New Chicago" Program, Sam Gomez; Our Neighborhood Times; Issue 6/Vol. 5; 4/5/12.
 Obama Launches America's Great Outdoors Conservation Initiative,  Juliet Eilperin & Scott Wilson; 4/17/10, Washington Post.
 $7 Billion Public-Private Plan in Chicago Aims to Fix Transit, Schools, and Parks, John Schwartz, 3/29/12; New York Times.
 Rio+20 Earth Summit:  The End of International Environmentalism, Ronald Bailey; 6/26/12.
 Biden to Lawyers Here: What Would We Do Without You?, Abdon M. Pallasch, 7/30/12; Chicago Sun Times.
 Millennium Reserve Vision Project Morphs Into Calumet Reserve Project, includes video presentation by IDNR Kevin P. Murphy; 10/19/11.
  FBI Cheif Going to Disneyland, Stefano Espesito; 7/31/12; Chicago Sun Times.
 Purcell Trench Manufacturing Company ; Wilderness; Camping Manifesto; Kill the RAT; 1/21/2012.