By Mary Fairchild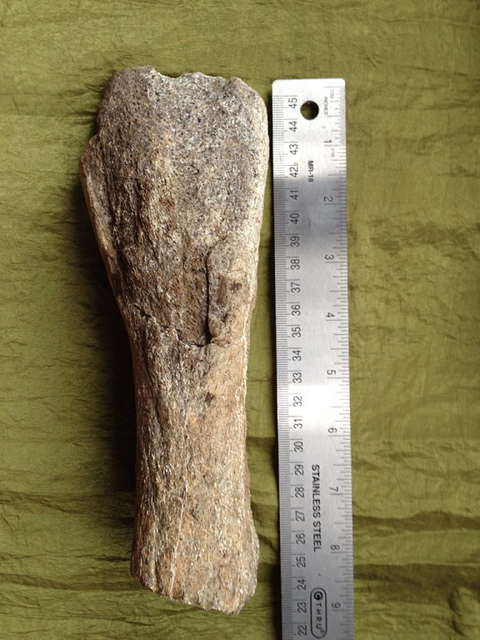 Is it dinosaur?  This fossil was found in gravel in northwest Iowa.  Flickr Picture Set
The huge continental glaciers that advanced and retreated across Iowa during the Ice Age picked up large volumes of rock and other sediments as they moved across the continent.  Today, reworked and transported Cretaceous fossils, which underlie large areas of the northern plains, are sometimes found in glacial tills and associated gravel deposits in Iowa, especially the western part of the state.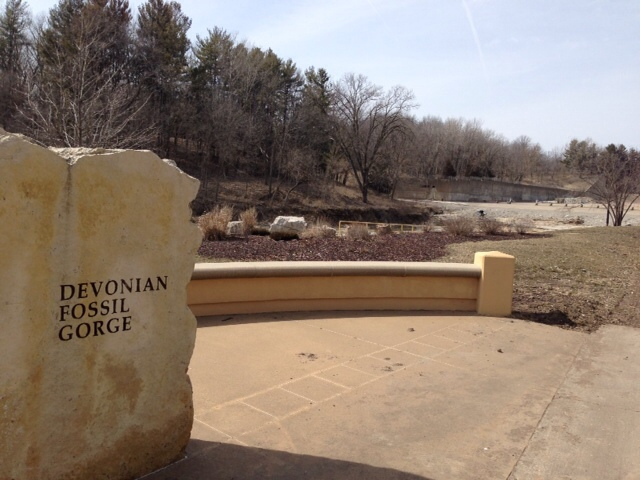 In 1993, and once again in 2008, flood waters exposed the rocks of the Devonian Fossil Gorge in Coralville, Iowa.
MAPS (Mid-America Paleontology Society)  has sponsored the National Fossil Exposition since 1979.  Corresponding with their new location in Iowa City, the theme for this year's show was "Devonian fossils." Nearby, the Devonian Fossil Gorge in the Coralville dam emergency spillway offered a unique view of the fossils that had been exposed there during 1993 and 2008 floods.  The bedding planes in the gorge show the sea floor in layers much like it was deposited rather than the typical verticle cuts through the bedding planes found in road cuts.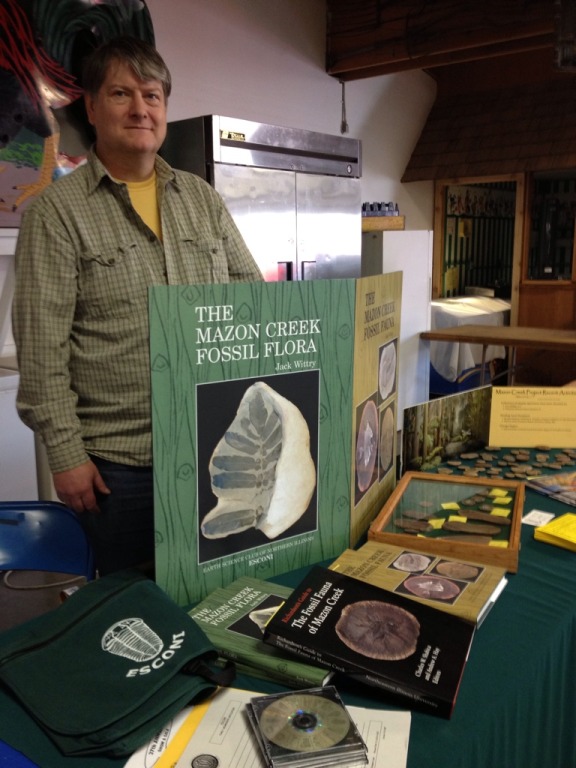 This was the ESCONI Club table display with all of the amazing books they have put together for Mazon Creek fossils.  I brought my son and his girlfriend on Saturday afternoon after I picked them up from Iowa State.  It was fun to watch him describe all of the different fossils to his girlfriend who had rarely seen fossils her whole life.
Walking up and down the aisles it was incredible to see so many fossils under one roof and have so many knowledgeable fossil enthusiasts nearby to answer our questions.  MAPS is a non-profit organization of amateurs and professionals from across the U.S. and several other countries.  Its purpose is to promote popular interest in the subject of paleontology and to encourage the proper collecting, studying, and preparation and displaying of fossils.
Perhaps one of the main benefits of attending a MAPS fossil exposition is the camaraderie and trading of fossils with other enthusiasts from around the world.  There is also a pre-show that serves as a source of non-fossil, as well as fossil, material for those who attend and many dealers set up for both shows.
The show offers a great range of items which makes fossils accessible to all interests.  I had been staying with our daughter in Waterloo and was able to bring her down to the show on Sunday.  She had some fun picking out amber for a necklace.  A few years ago, when she attended Western Illinois University, MAPS was held within walking distance for her.  This is the first year the show has been held somewhere else due to a lack of hotel space after a main hotel had closed.
School busses show up on Fridays when school groups are encouraged to attend.  There are children activities, programs on Friday evening and Saturday, silent auctions on Friday and Saturday, and a live auction on Saturday night. It is a perfect time to bring in any fossils you may have for help in identyfying them as well.
Tarbosaurus, an Asian T-rex, courtesy of Michael & Barbara Sincak was on display from Treasures of the Earth.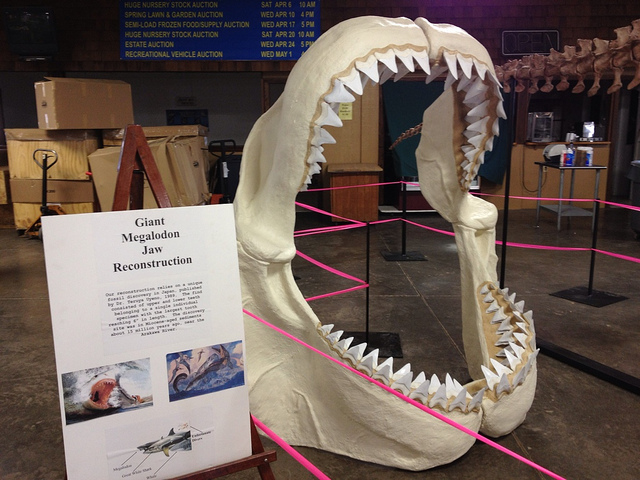 Behind the Asian T-rex display was the reconstruction of a giant Megalodon jaw that had been discovered in Japan in 1989 (pictured).  The find consisted of upper and lower teeth belonging to a single individual specimen with the largest tooth reaching 6″ in length.  Megalodon, which means "big tooth," is regarded as one of the largest and most powerful predators in vertebrate history.  Fossil remains suggest that the giant shark reached a maximum length of 15.9-20.3 meters (52-67′).  Scientists suggest it looked like a stockier version of the great white shark.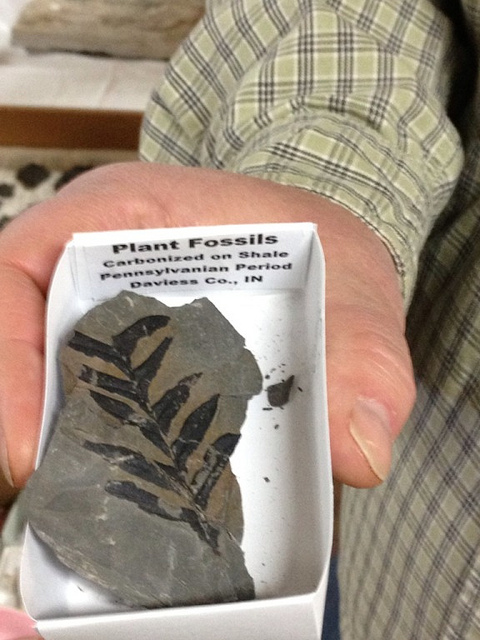 Jack Wittry explained to me that the plant material he just bought was important for study since spores and fine details could be easily seen (example above).
On Friday evening there was a lecture by Brian Witzke of the University of Iowa who spoke about the Devonian fossils of the Iowa area.  Five lectures where also held throughout Saturday including a brief introduction to the Devonian Period by ESCONI member John Catalani.
The Iowa Department of Natural Resources had a very nice table display with various educational materials and pamphlets.  Born and raised in Iowa near the locations where dinosaur bones and meteors had been found, Jim had already shared all he knew about those stories to me personally.  We currently have a specimen (pictured above) that was given to Jim.  His cousin, who has a welding business in Northwest Iowa, received it from a customer one day.  The customer had discovered it in the gravel he had been loading and they wondered if it was a dinosaur fossil.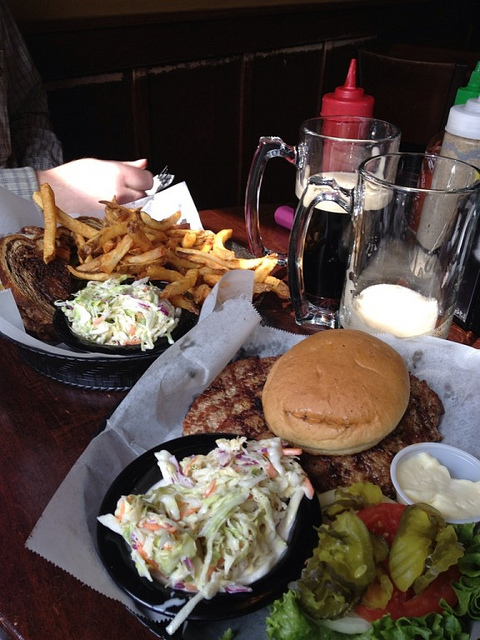 The new location at Iowa City this year for the MAPS show offered a nice variety of hotels and restaurants and the vendor in the Sharpless Auction Facility served up some great home town food including cinnamon rolls and Iowa pork tenderloin sandwiches.  Jim and I highly recommend Iowa pork tenderloin sandwiches.  Despite the sandwich's name, most are cut from the pork loin, not the pork tenderloin, which is only a couple of inches around and they are usually pounded paper thin.  On our way back to Illinois we purposefully re-visited the 11th Street Precinct in Davenport for their award-winning unbreaded version of this sandwich.
Related