By Mary Fairchild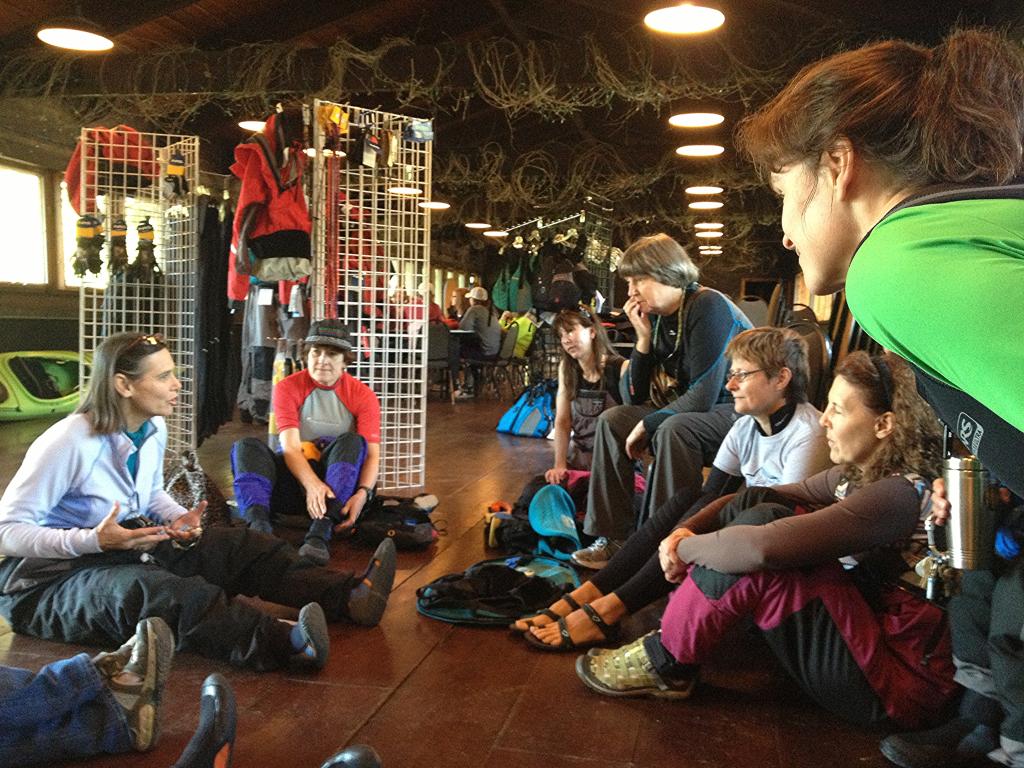 Can you feel the energy in this picture?  That's how our two days looked–everyone was beaming and having a lot of fun.  Flickr Pictures
Coach Bonnie Perry psyching up our group(above) before we head to the lake on our first day of training at the  Ladies of the Lake Sea Kayak Symposium 2013.  Bonnie Perry is one of four women in North America to have earned the 5 Star (Sea) Leader Award.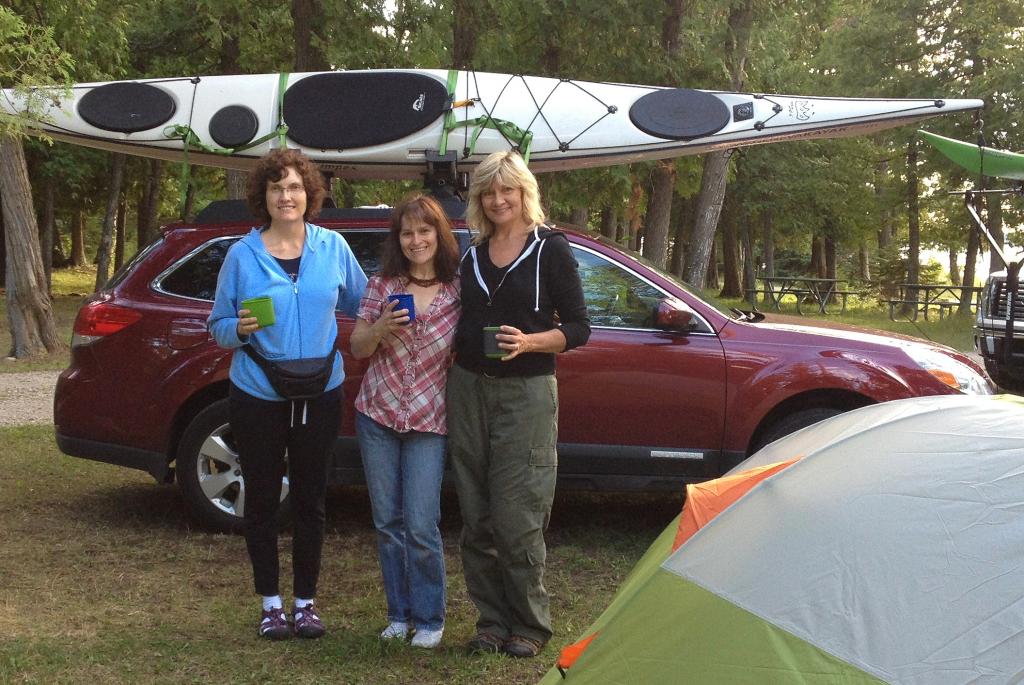 I drove up with Kay Riley and Luan Burton.  We had never met before.  Kay had posted on Facebook that she would like to share a ride and we all enjoyed camping in the Drummond Island Township Park–a very wooded campground on the lake that had fossil ledges along the shore.  It was also the closest location to the cell tower on the island.
It was great to see Kay try several boats and her first drysuit.  Down Wind Sports offered a 20% discount during the symposium and both Kay and Luan purchased drysuits.  By the end of the weekend Kay found the perfect boat as well.
During the BCU 3 Star class there was a lot of fine tuning going on.  When we discussed the high brace I was surprised how different it was from what I had learned previously.  It was more quiet and gentle and I learned to scoop the paddle forward and let my elbow down–something I had not been taught before.
We broke up into groups and did drills carving around floating objects.  It was interesting to catch yourself leaning the less efficient way rather than "showing your bum to the object and leaning away from it."  You can still turn more efficiently because you are on edge, but not as good.  Another tip for me was focusing more on weighting down my bum on the side I edge rather than just relaxing my leg down and thinking about the opposite knee pulling up.  Lots of little details that make a difference.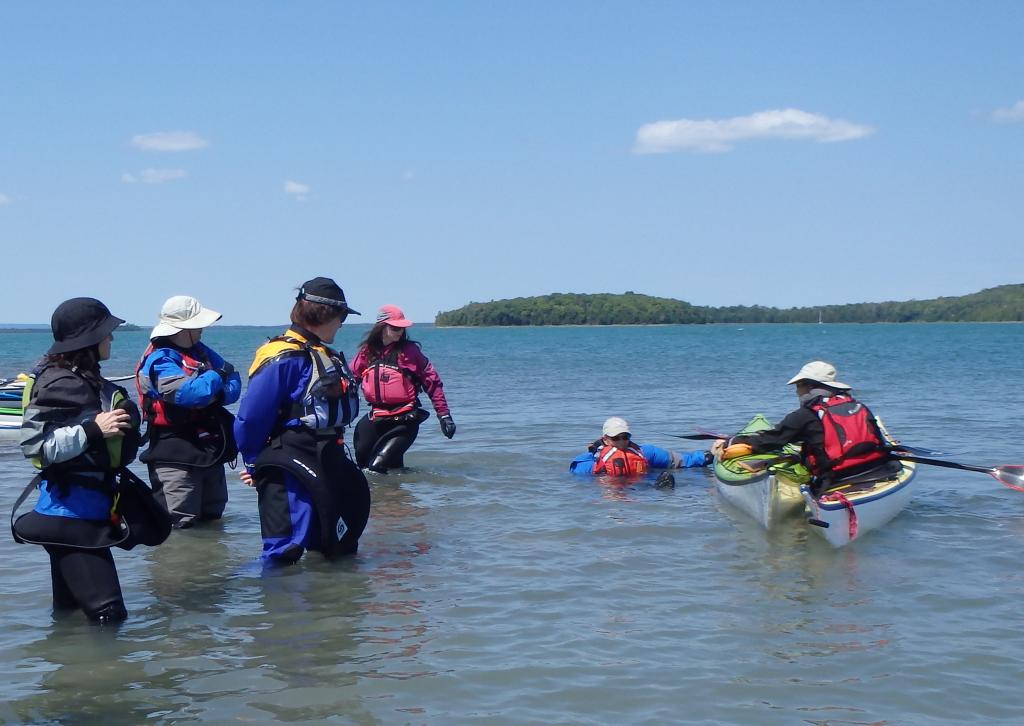 We practiced a new rescue that was called the corkscrew.  It can be a better choice rather than the heel hook if you have a larger person to rescue.  They hoist up on the back deck and then roll over centering their bum over the cockpit as they twist over they'll land right in with ease.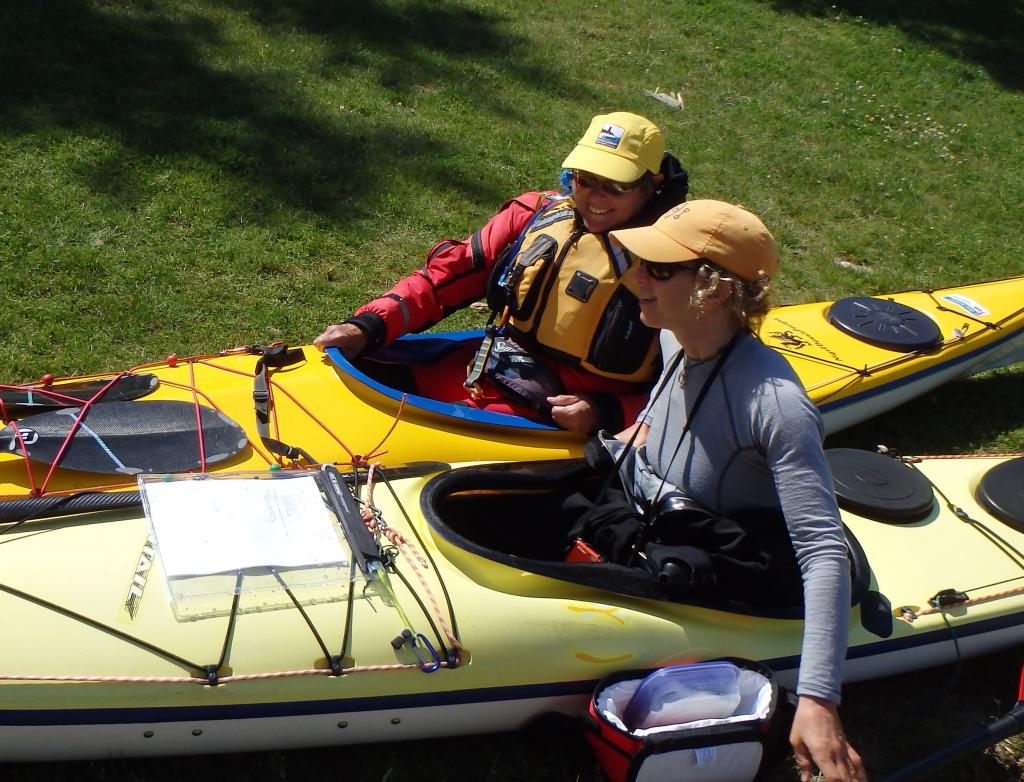 Gear check–my radio is way too big and I plan to just tether a non-floating radio to my jacket instead.  We got some new ideas on boat repair, too.  I had a boat repair kit and duct tape, but now electrical tape and flexible cutting boards from Target are added to my list for inner boat repair.  We rehearsed pulling each other's boats up on our decks and repairing them while the other person sat on our bow.  I had a few issues with getting my dry bag out from behind me so I decided I'd get two smaller bags next time with deck supplies and there is a small mini kit that can go on your PFD.  Details, details, details…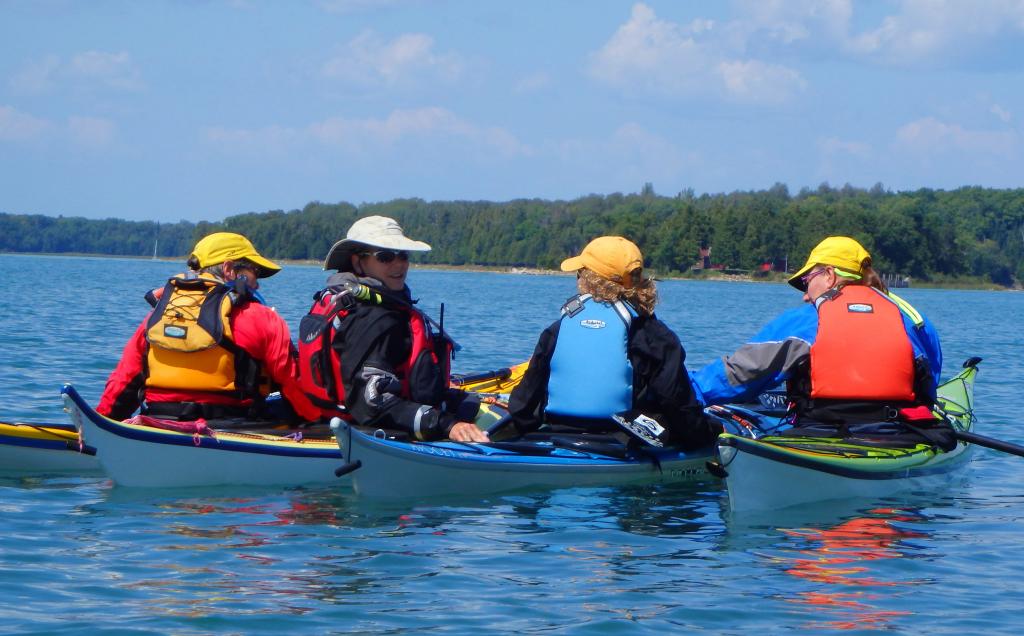 Coaches Lyn Stone, Bonnie Perry, Sharon Boyd-Peshkin, and Kris Koeffler plotting scenarios.
At the beginning of our second morning we all had to get in our boats on land and be prepared to get out emergency equipment as Bonnie described the emergency.  It was a good way to practice getting into the day hatch and quickly digging out the supplies and making sure you had all you needed.
On day two, after paddling a narrow route alongside a docked freighter by only paddling on one side we weaved our way through a series of posts to practice boat control.  We paddled out to a nearby island on both days.  On the first day we were lucky to catch some wind and waves for some lumpy rescues but the second day was very calm.  As we paddled to the island some of us were chosen to co-lead the group while the instructors plotted events for us to handle along the way.
At the end of the day we got to plot against the coaches and two of us(that'd be me and one other) were able to pull two coaches' boats over and force them to wet exit by surprise.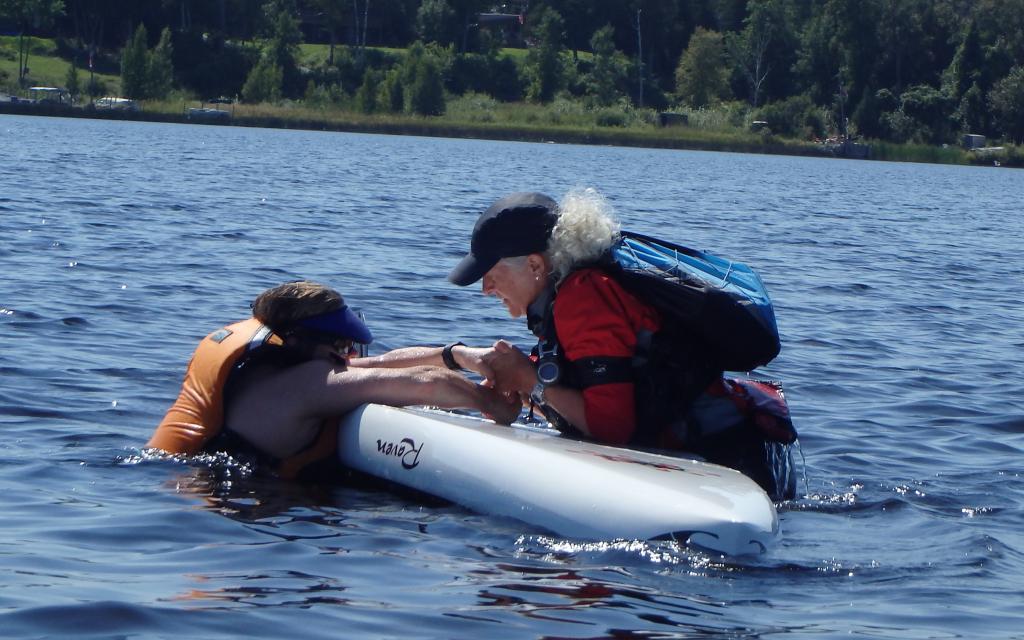 Coach Cindy Scherrer from Portland, Oregon demonstrates an SUP rescue that begins with the board flipped upside down and uses the momentum of flipping it upright to bring the paddler back aboard.  Cindy was Co-founder and owner of Alder Creek Kayak & Canoe for 19 years. As a member of the Shellbacks paddling team she has a tremendous amount experience in Pacific Coastal and Columbia River paddling. She enjoys helping women develop the mental and physical strength necessary to paddle well in challenging conditions.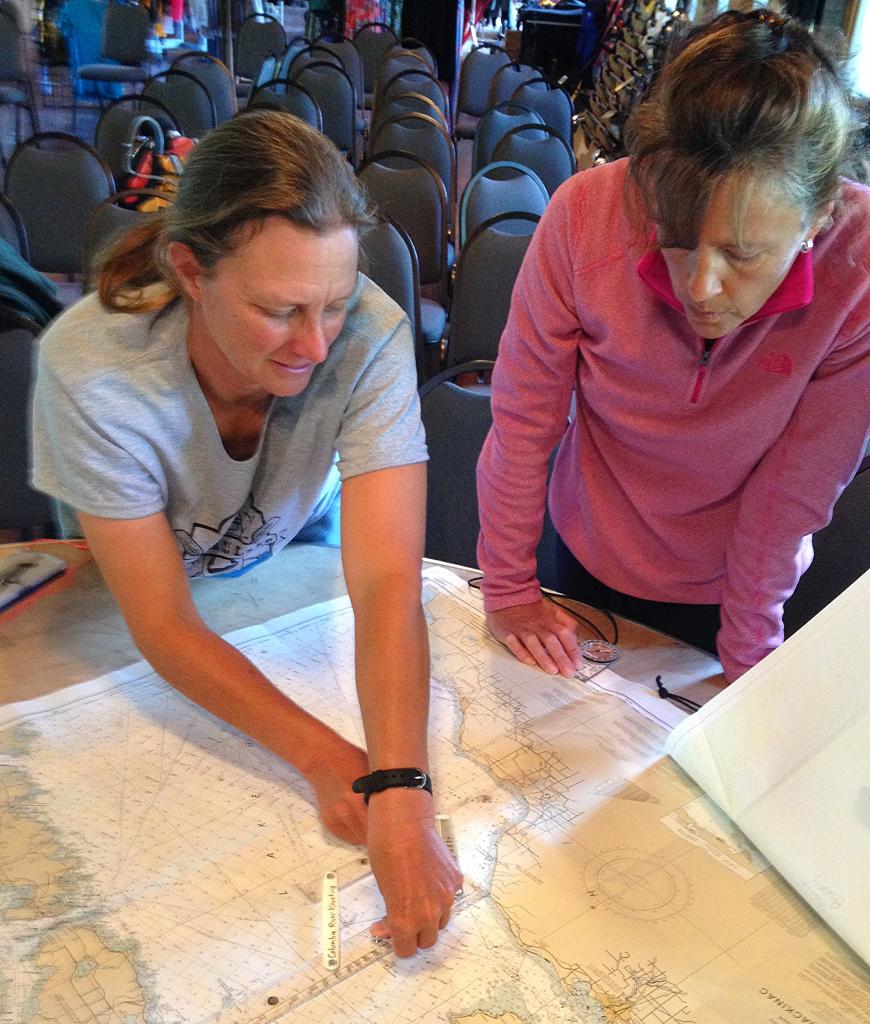 Ginni Callahan is a BCU 5 Star leader.  She divides her year between the Lower Columbia River in Washington, and the Sea of Cortes in Mexico.  I enjoyed meeting her last February in Baja at Sea Kayak Baja Mexico. One month later, Ladies of the Lake paddled the same area with Ginni. ( Baja Winter Kayak Expedition:  Wind, Waves, and Lipstick )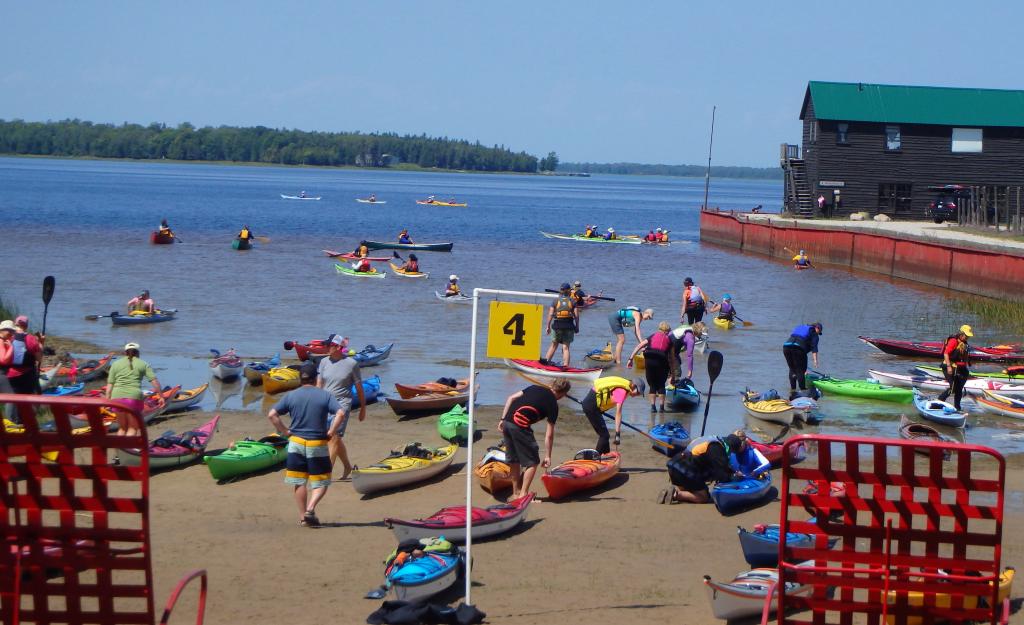 While I was on the beach I said hello to Marsha Henson from Sea Kayak Georgia and met Shawna Franklin of Body Boat and Blade , a 5 Star Sea Leader from Washington. (Tybee Island Sea Kayak Surfing )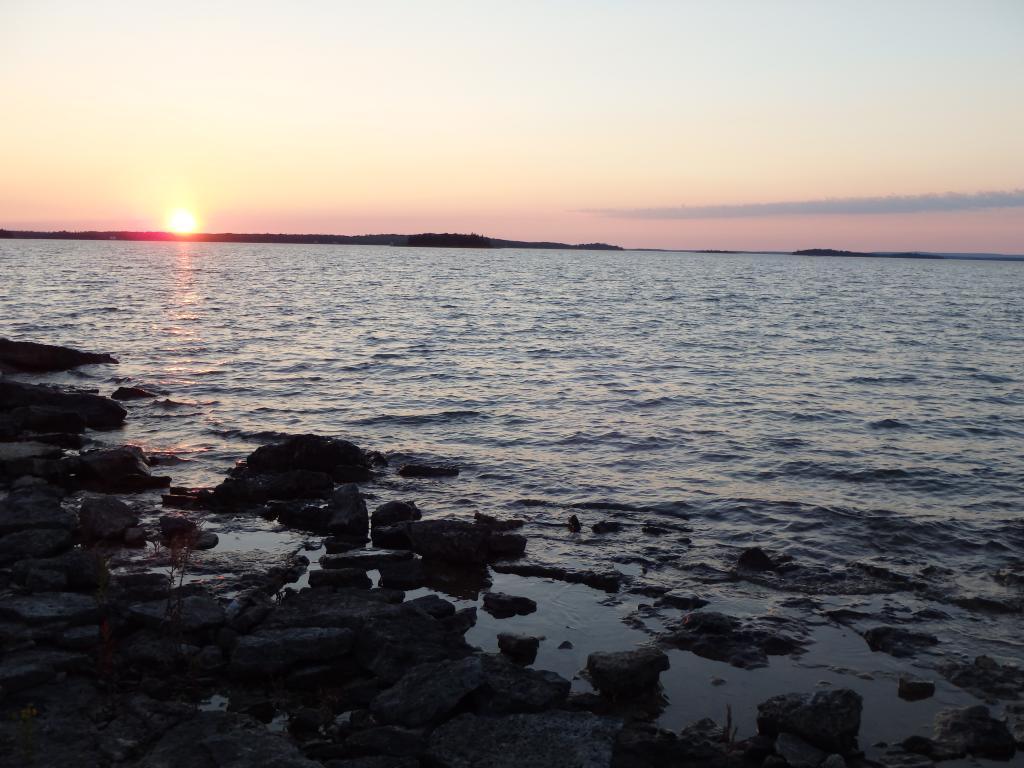 The sunsets on Drummond Island were beautiful.
Mfairlady Paddle/Play: