By Mary Fairchild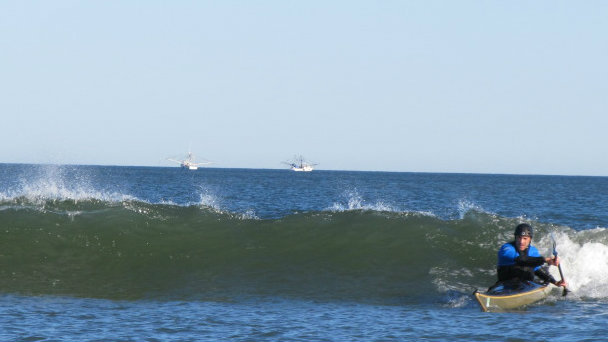 Dave Langowski; Stafford Beach, Cumberland Island. 11/02/12.
Surfers on Amelia Island shared with me that there are consistent spots along the eastern seaboard that bring in solid waves for three out of the four seasons.  Although I was hoping that Hurricane Sandy, which had already delivered swell from Florida to the Great Lakes(Sun Times story here), would keep things interesting, conditions were very flat at the start of our trip.
Our group met on Amelia Island and camped in Fort Clinch State Park for the first night.  We had originally planned to paddle up to Stafford Beach on Cumberland Island, but due to the conditions we decided to drive north of Cumberland Island and set up camp on Jekyll Island for our second night instead.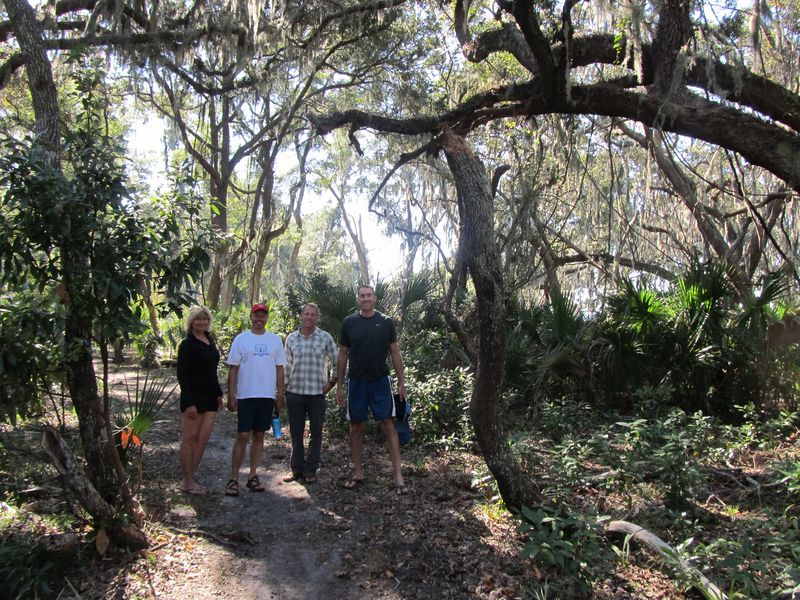 Hiking through maritime forests on Cumberland Island: Mary Fairchild, Paul Redzimski, Ryan Rushton, and Dave Langowski.
I teamed up with three men for this surf workshop who had prepared me for my first kayak expedition in 2007.  Ryan Rushton, owner of Geneva Kayak Center, Paul Redzimski, who taught my my first L1-2 lesson, and David Langowski, who paddled with me on my first expedition and also taught my son and his friends their first kayak lessons.  In 2011, Paul, Ryan, and I had some of the biggest surf and swell I've ever experienced off the coast of Maine(blog post here), but this week on Georgia's coast I looked forward to the warm, shallow, rolling surf to play in (Cumberland surf pictures from '11).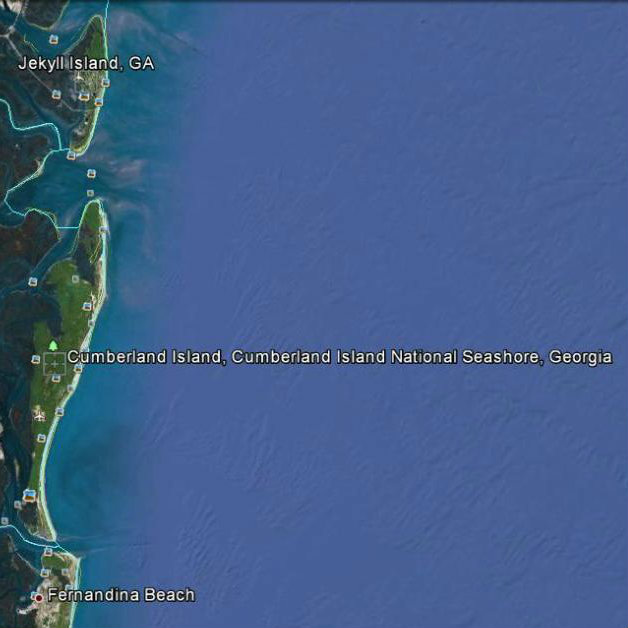 After setting up camp, we circumnavigated Jekyll Island and worked in the strong west wind which had steepened up a nice tide race for us as we made our way up Jekyll Sound.  We experienced sustained wind for most of our circumnavigation with some gusts up to 25mph and we were all pretty salty afterwards.  It was interesting to watch the clusters of salt crumble out of my hair when I touched it that evening.
We left our cars on Jekyll and ended up paddling Jekyll Sound three times and each time the conditions were very different.  Short, continual, breaking waves battered up against our boats on our first trip.  In the morning as we headed down to Cumberland Island the area was flooding and much of the shoreline was underwater creating very calm conditions like a big bathtub.  Then, as we returned on Sunday, I was reminded of the island's important archaeological sites when I was able to see the walls of oyster shells lining the west side of Jekyll Island as more land was exposed.
Jekyll, like Georgia's other barrier islands, was a popular hunting ground for Indians on the coast.  The construction of shell rings, or shell middens, is believed to symbolize the conversion of nomadic hunter-gatherers to coastal fisher folk and is considered a pivotal stage in the evolution of preEuropean contact culture in the United States.
Georgia's largest golf resort is built on an ancient Indian mound on Jekyll.  Jekyll Island is also where, in 1910, draft legislation was written in secret to create a central bank by some of the world's richest men–the U.S. Federal Reserve.
Forbes Magazine founder, Bertie Charles Forbes, wrote:  "Picture a party of the nation's greatest bankers stealing out of New York on a private railroad car under a cover of darkness, stealthily riding hundreds of miles South, embarking on a mysterious launch, sneaking onto an island deserted by all but a few servants, living there a full week under such rigid secrecy that the names of one of them was not once mentioned, lest the servants learn the identity and disclose to the world this strangest, most secret expedition in the history of America finance.  I am not romancing; I am giving to the world, for the first time, the real story of how the famous Aldrich currency report , the foundation of our new currency system, was written…  The utmost secrecy was enjoined upon all.  The public must not glean a hint of what was to be done."  (7)
President Woodrow Wilson:  "I am a most unhappy man. I have unwittingly ruined my country…  We have come to be one of the worst ruled, one of the most completely controlled and dominated governments in the civilized world.  No longer a government by free opinion, no longer a government by conviction and vote of the majority, but a government by the opion and duress of a small group of dominant men." (8)
The guys joked with me about the time, on my circumnavigation of Isle Royale in 2009, that I brazenly attempted some rock gardening that I was not supposed to.  Fortunately, I gracefully paid attention to their instructions to "turn around" at the right time and I didn't do anything "too stupid."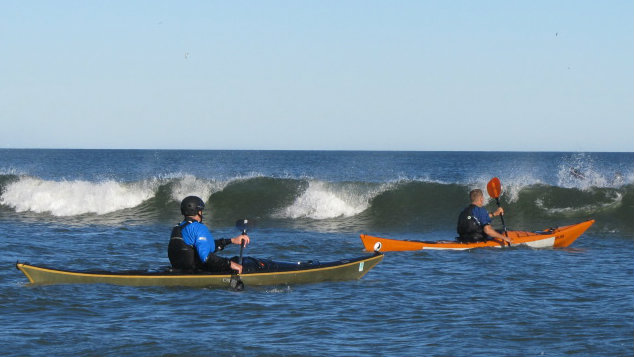 Dave Langowski and Ryan Rushton.
If you want to be good at something you not only have to practice, but sample the work of other people who have been doing it for a long time.  It has been proven that most people are not very good at estimating their own competence and that the amateurs are much more likely to think they are the experts than the experts are.  The more skilled you are, the more experience you have, the better you can compare yourself to others. (2)
As we paddled down to Stafford Beach on Cumberland Island, dolphins occasionally popped up along the way.  We had to keep an eye on boat traffic in St. Andrews Sound where the shrimp boats, in particular  seemed to change course and speed frequently.  After we stopped for lunch we spotted a couple of horses that came down on the beach to nibble on seaweed as we continued to paddle south along Cumberland Island.
Where we once crossed with a smooth, slack tide on our way down, nice 3-4′ wave sets where rolling in continually across the shoals as we approached St. Andrews Sound on our way back up to Jekyll our last day.  Travelling up to Jekyll proved to be a move "worth its salt."
Related
References
David McRaney, "You're Not So Smart." Dutten, November, 2011.
Jay DiMartino, "East Coast Surfers Dig Hurricanes," About.com
Sherpa Guides, "Jekyll Island State Park," Richard J. Lenz.
Sherpa Guides, "Island Life and Culture: Tracing Georgia's Roots," Beth A. Blaney.
Mary Fairchild, "Cultural Ecology of the Atlantic Coast: Shell Middens and Ancient Tidal Forests."
Wikipedia, "Jekyll Island."
Famous Quotations in Banking, " The Money Masters."