By Mary Fairchild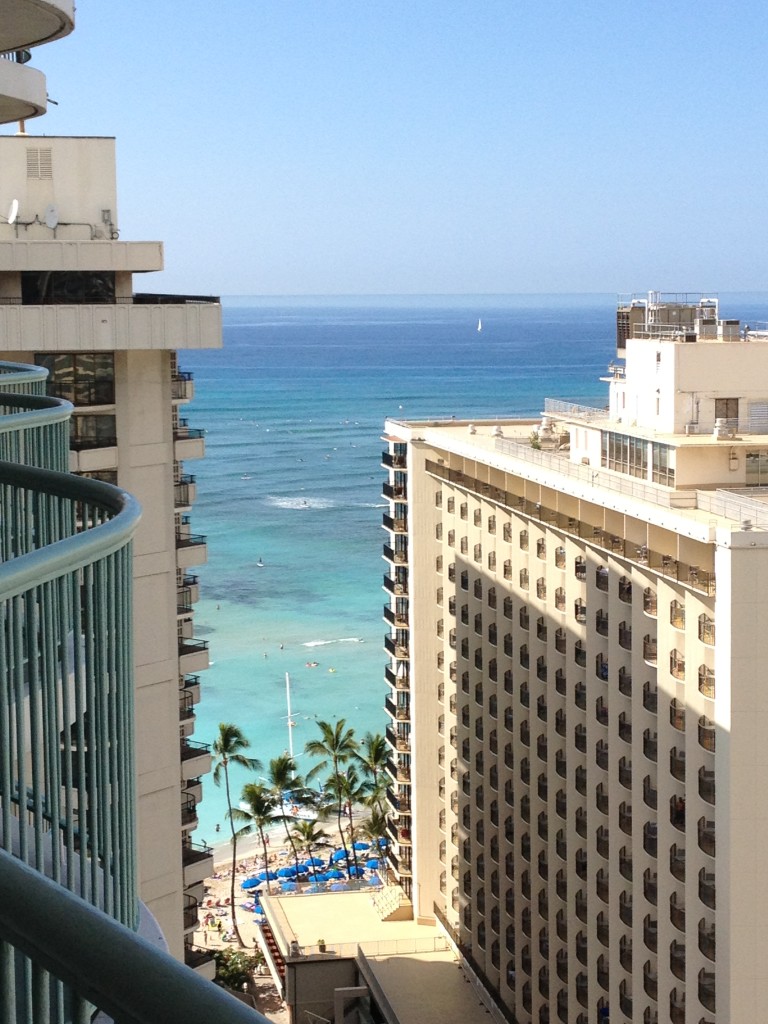 Waikiki Beach, Oahu, 12/30/2012
The Hawaiian Archipelago is the oldest and longest chain  of islands in the world.  When our family landed on Oahu it was just after sunset so we could not get a good feel for where we were.  It was Friday night and the traffic was very heavy as we made our way from the airport to the Waikiki strip.
The morning was a totally different story.  Our balcony had two views.  One way was the morning swell on Waikiki Beach where over two dozen surfers where perched on their boards waiting for the best wave.  The other way was the mountains with some lingering clouds just giving way to the new day.  Flickr Pictures.
The Saturday before we arrived in Waikiki, the Obama family dined at Morimoto's (Iron Chef) in the heart of the beachfront Waikiki strip.  Michelle Obama and White House chef Cris Comerford both appeared on Iron Chef America: Super Chef Battle 2010 to promote the Let's Move! Campaign.  After departing Washington for Oahu on the 21st of December, Obama returned to Washington on December 26th.  He returned again to Oahu just after the House passed the fiscal cliff bill on New Years. According to the Hawaiian Reporter, President Barack Obama and his family have taken a $4 million vacation in Kailua, Hawaii, each Christmas, since 2008, in which taxpayers are responsible to cover.  This year that trip was double.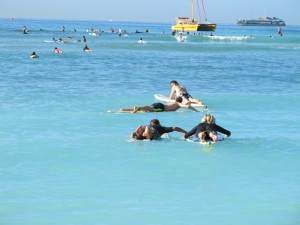 Heading out into the surf with my two boys on Waikiki.
The Hawaiian Reporter noted that while the President and family are in town his caravan of at least 22 vehicles including an ambulance can easily overwhelm the community that typically has single lane streets.  Since it is the holiday season, many families are on vacation and want to use their boats or surf and paddle in ocean fronting the Kailua homes where he stays, but residents living along the ocean and canal that surrounds the multi-million dollar homes at Kailuan Place where the President and First Family and their friends have stayed every year since 2008, had restrictions for 20 days beginning December 17 and running through January 6.  Street barricades fronted by U.S. Secret Service agents and Navy Seals and the U.S. Coast Guard were stationed in canal and ocean waters.
The President's staff and White House Press Corps typically stay at one of Hawaii's oldest and most elegant hotels, the Moana Surfrider. It is one of the most pricey hotels in the state and government rates are not available during the holiday season.  A conservative estimate with rooms at $270 (excluding a 9.25 percent Transient Accommodation Tax and a 4.712 percent General Excise Tax on each bill, meals, internet charges and other charges) means the taxpayers are covering more than $129,600 in hotel bills for some two dozen staff.
Local police, who are paid over time, have usually cost Oahu taxpayers $250,000.  The city ambulance that accompanies the President 24 hours a day through his entire visit is about $10,000 to city taxpayers as well.  Citing security, there are several costs the White House annually refuses to release.  The President's security usually rents an entire floor of an office building in Kailua on the canal during the president's stay; security upgrades and additional phone lines to several private homes where Obama and friends are staying. That includes bullet proof glass installed, home security systems disabled, new security measures put into place and additional phone lines added; the cost for car rentals and fuel for White House staff staying at a Waikiki Hotel; additional travel costs Secret Service and White House staff traveling ahead of the President.
Waikiki remained my favorite beach despite the weekend crowds.  It was wide open with a lot of space and everyone was on the water having so much fun in the continuous, playful surf.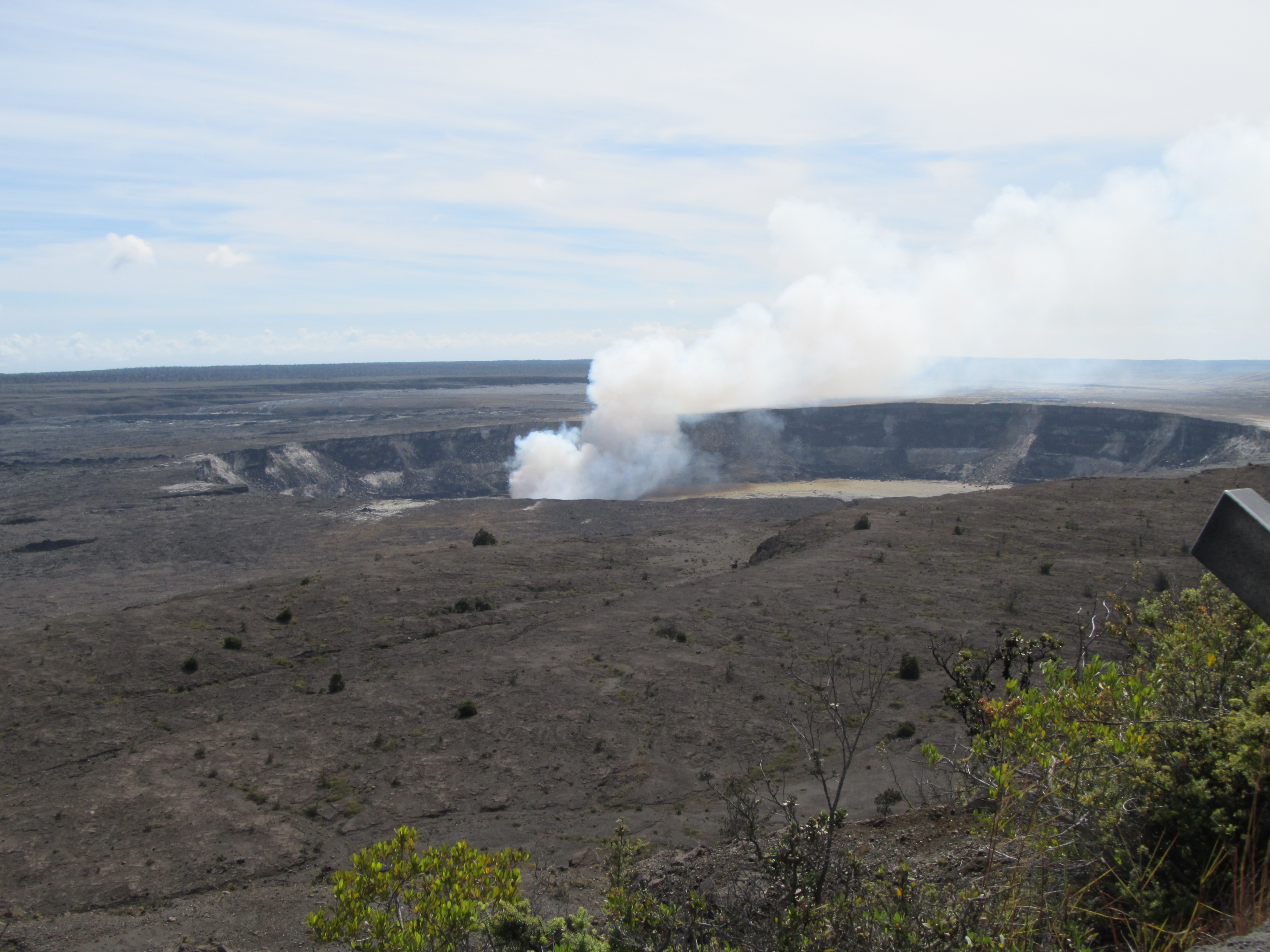 Kilauea
Volcanic eruptions remind us that the earth is ever-changing.  Kilauea and Mauna Loa, two of the world's most active volcanoes, continue to add land to the island of Hawaii.  The Hawaiian Emperor Chain is a vast  armada of volcanic of volcanic peaks made up of the highest mountains on earth.  The Hawaii Volcanoes National Park not only shows the evolution of the Hawaiian Island-Emperor Seamount  chain, but it is also a refuge for the islands native plants and animals.
The park has been named an International Biosphere Reserve and a World Heritage Site.  Disruptive invasive plant and animal pests are controlled and eliminated when possible.  Crews build fences to keep out feral animals, track and kill feral pigs, and destroy faya, guava, and kahili ginger.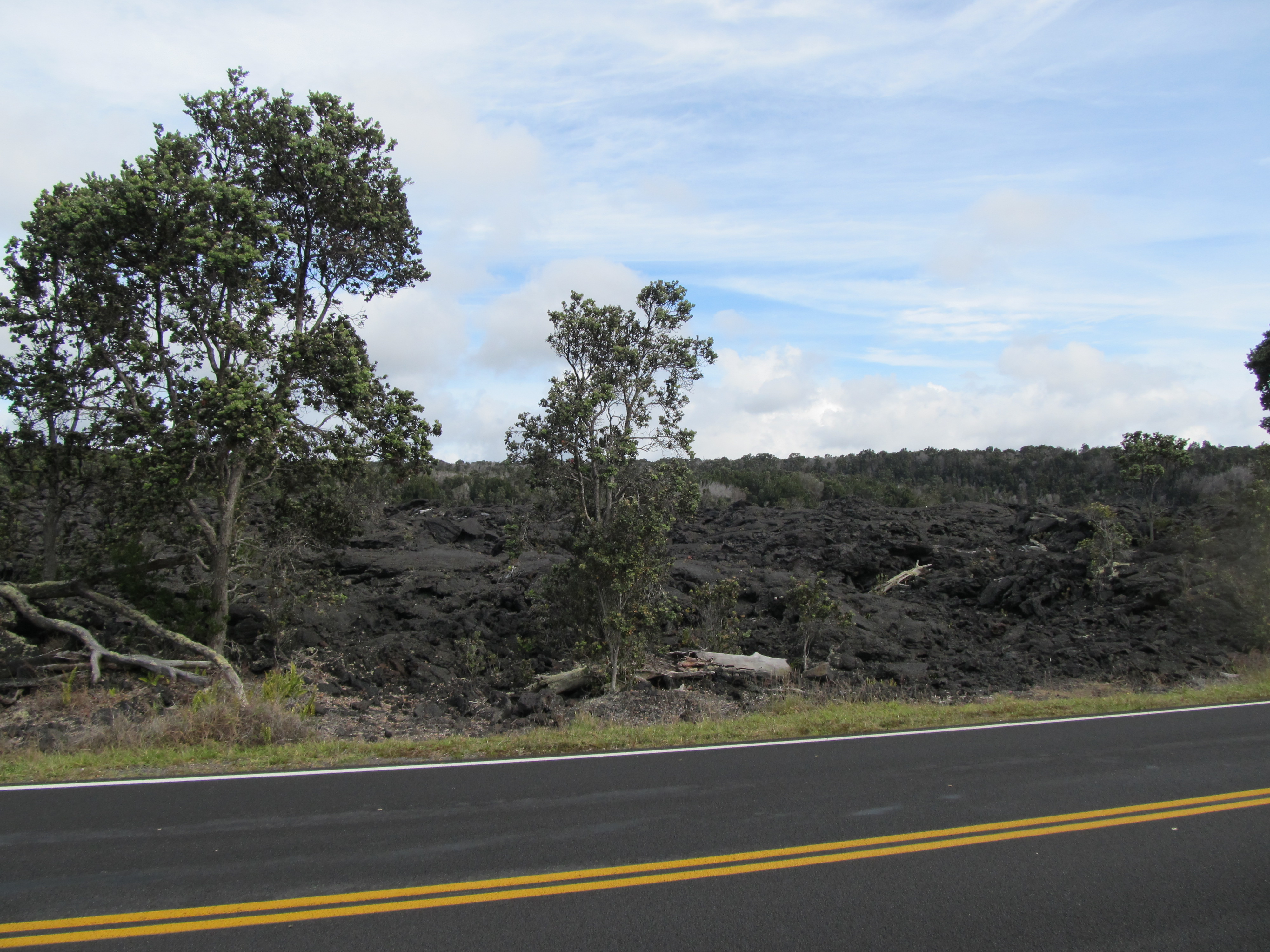 Each eruption, as pictured above along the roadside, reminds us of how natural processes can change the air we breathe, the ground we walk on, and the sea that surrounds  the island.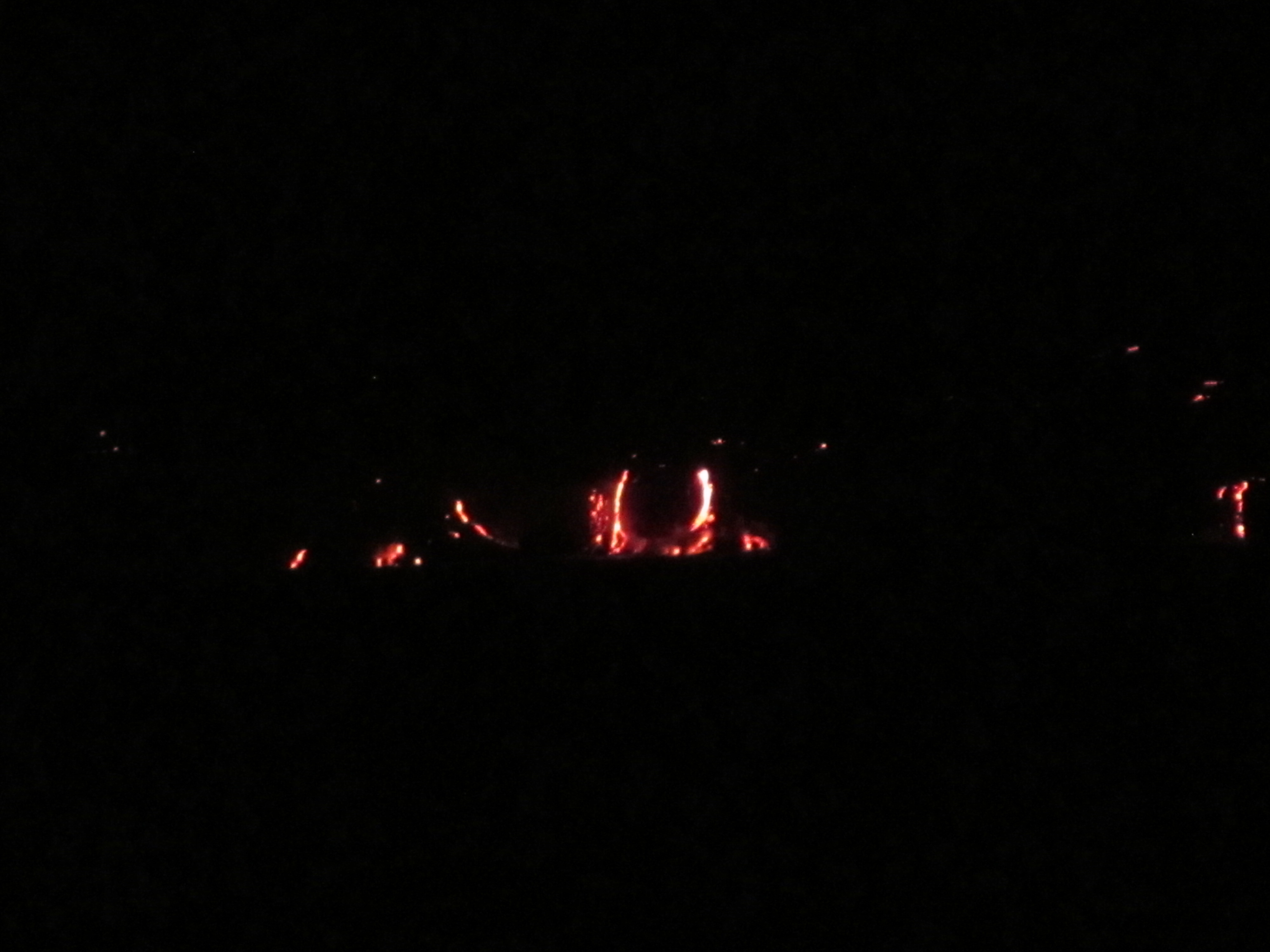 Kilauea spewing into the sea as our ship passes in the night.
The more fluid and less gaseous eruptions of Kilauea and Mauna Loa produce fiery fountains and rivers of molten lava.  More than 100 Hawaiian volcanoes have erupted from a deep undersea hot spot on the floor of the Pacific Ocean.  The slow drift of the earth's crust has produced a chain of volcanoes that stretches over 3,000 miles across the Pacific Ocean from the Big Island of Hawaii to the edge of Asia.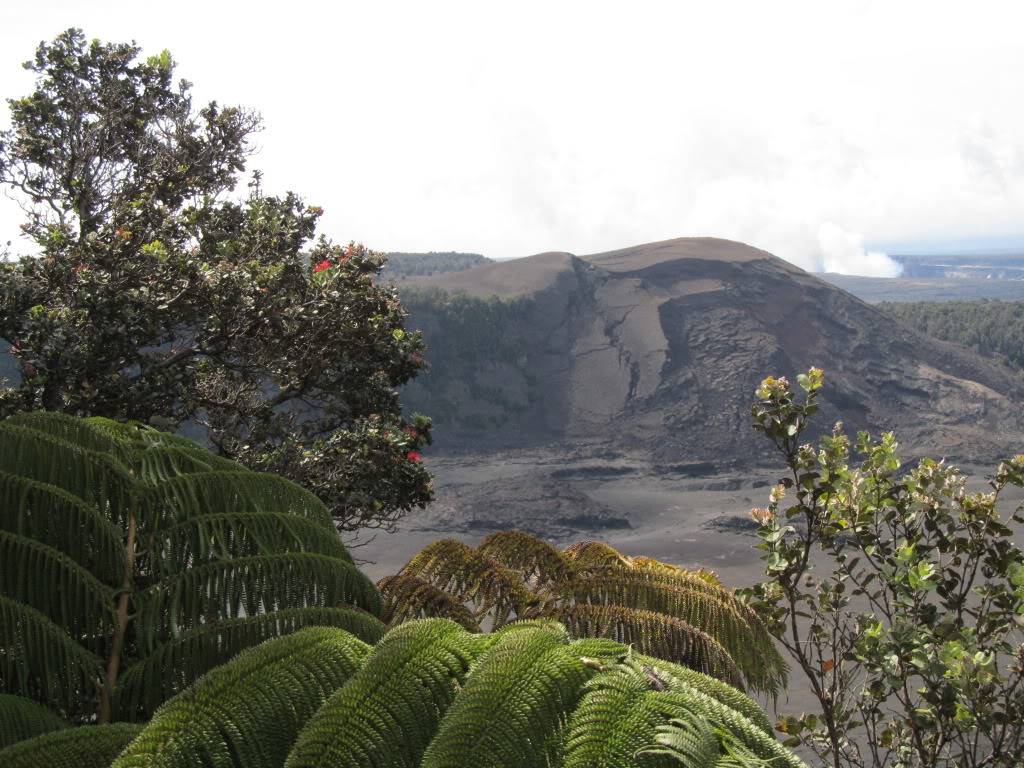 Air Force One departed from Hickam Air Force Base at 9:40pm on Saturday, January 5th, just a little over an hour before our flight took off.  Although we were only delayed about a half an hour, our pilot apologized and announced to our flight that we were lucky because earlier flights had been delayed up to three hours before the president departed.
According to Robert Keith Gray, who worked within the White House under three presidents and had close ties with two more, notes that while other presidents have taken advantage of perks, the amount of money spent on the first family has risen substantially under the Obama administration.  In comparison with the British spending $57.8 Million on its royal family last year, Americans spent nearly $2 Billion housing, transporting, entertaining, staffing, our First Family and paying a hefty portion of the president's campaign expenses.  Gray also notes, in his new book, the inequity of taxpayer dollars being spent by Obama for his re-election effort by using Air Force One to travel between campaign stops.
A Congressional Research Service report released in May 2012 said the plane typically used by the President, a Boeing 747, costs $179,750 per hour to operate. The U.S. Air Force has listed the cost of travel as high as $181,757 per flight hour. Travel time for Air Force One direct from Washington D.C. to Hawaii is about 9 hours or as high as $1,635,813 each way for a total of $3,271,622 for the round trip to Hawaii and back.  The biggest expense is President Barack Obama's round trip flight to Hawaii via Air Force One.  The cost for USAF C-17 cargo aircraft that transports the Presidential limos, helicopters and other support equipment to Hawaii has never been disclosed in the years the President has traveled to Hawaii, but the flight time between Andrews Air Force Base and Hawaii is at about 21.5 hours round trip  with estimated operating cost of $12,000 per hour. The United States Marine Corps provides a presidential helicopter, along with pilots and support crews for the test flights, which travel on another C-17 flight. That is $258,000, not including costs for the 4 to 6 member crew's per diem and hotel.
References