By Mary Fairchild (updated 10/2015)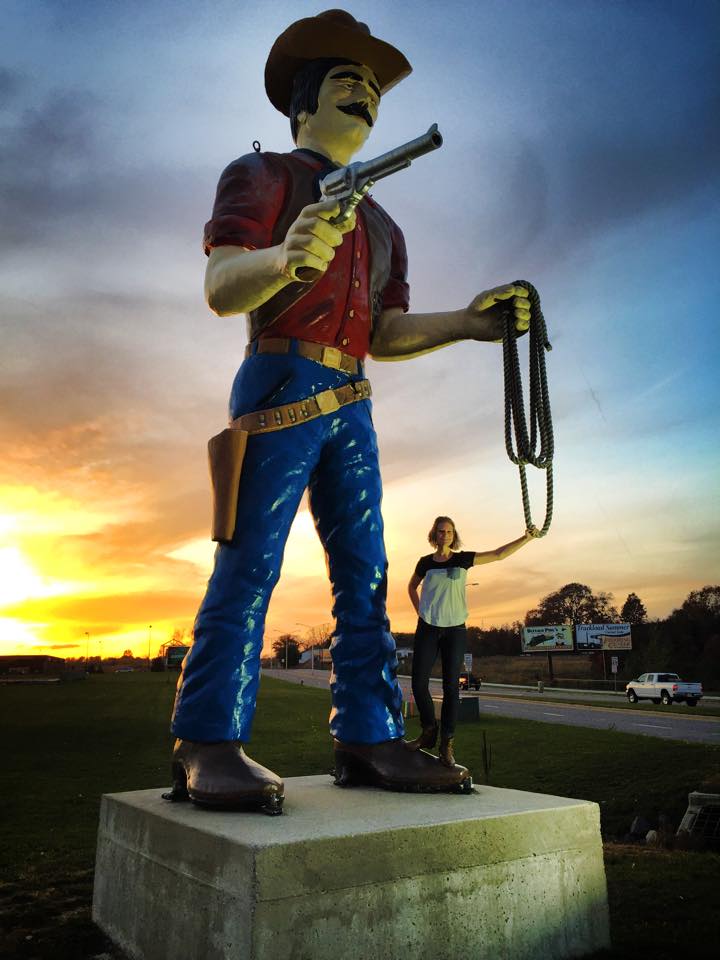 Until recently, this Muffler Man had been behind the Mobil Station near the Kalahari Resort in Wisconsin Dells, Wisconsin.  Now he's all groomed, repainted and stands "all lit up" by the Buffalo Phil's Pizza & Grille.  These giant fiberglass statues were designed to draw the attention of tourists in the latter half of the 20th century when the West opened up to the middle class as a vacation destination.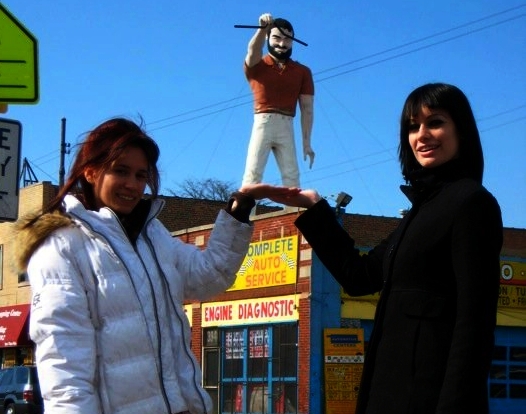 Giant Muffler Man near China Town in Chicago.
"Stop the taxi please! We need to get a shot of that Muffler Man over there!"
Perhaps appealing to the child in all of us, there is something very "Disneyland" about the large fiberglass statues that can still be found across the country.  Although several of us join in to help locate them for my daughter Chelsea, pictured above, she recently attained the Roadside America App for when she travels.  Roadside America.com provides maps and even a blog updating the latest sightings of the Muffler Men.
Giant fiberglass statues.
Muffler Men where created in the 1960s by a Californiafiberglass company for gas station chains.  "…The Classic Muffler Man features the trademark legs, torso and arms. The short-sleeved shirt often represents a service station uniform. The head is a strong American worker. He sometimes wears a service cap, but has also been seen in a king's golden crown. The Cowboy wears western duds and a Stetson, but is a close variant of the Classic, identifiable by lantern jaw, steely gaze, leg and arm position…The popular lumberjack or big woodsman type is often identified as a Paul Bunyan, with bushy beard and wool cap, ax in hand. " Roadside America

FAST Corporation, Sparta, Wisconsin.
Just a few hours north of the Wisconsin Dells, in Sparta, Wisconsin, the FAST Corporation is a premier manufacturer of fiberglass statues and themed water slides today.  Their used molds are laid out for visitors to see and explore in what has been called the "fiberglass graveyard."
Beaver Springs Park riding stables has several of their own fiberglass statues.  They also have several old Fort Dells fiberglass statues on their trails.  Fort Dells was a former area attraction in Wisconsin Dells originally patterned after Disneyland's "Frontierland." After opening in 1959 Fort Dells had guest appearances by actors Hugh O'Brien, TV's Wyatt Earp.  It also had several fiberglass statues.  The park closed in 1985, but most of the fiberglass statues can still be found throughout the Wisconsin Dells area.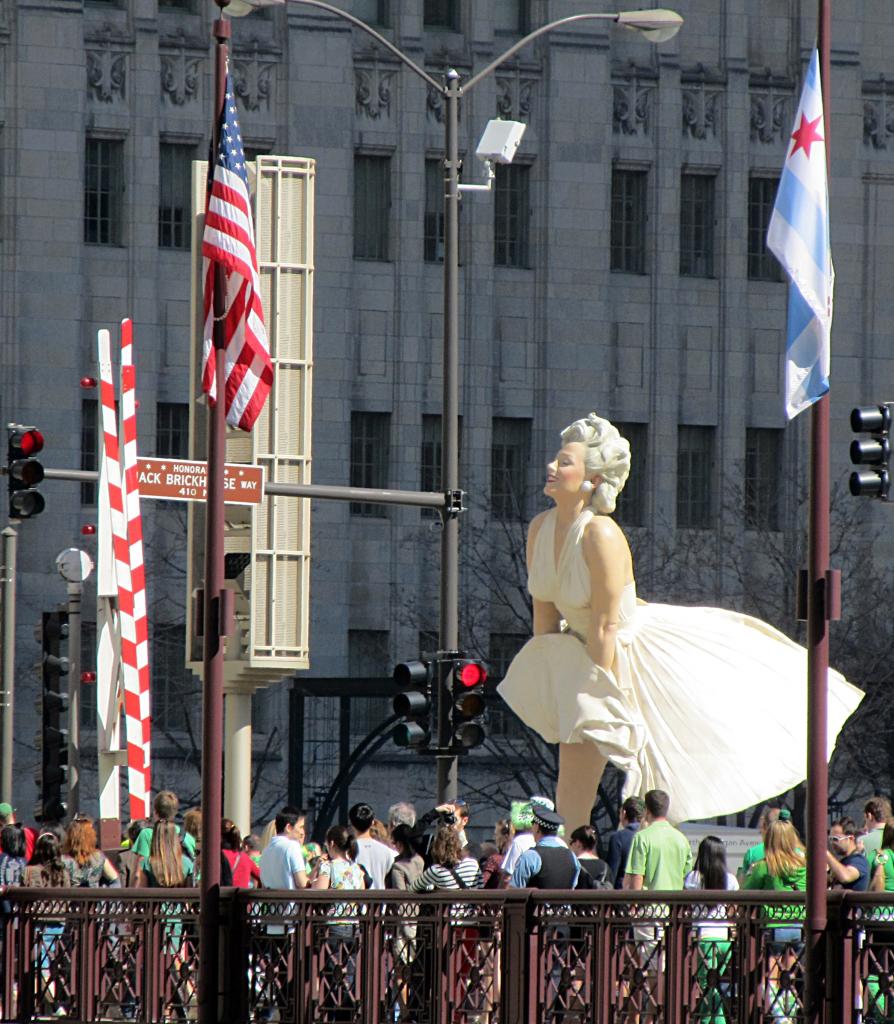 Marilyn Monroe traveling statue in Chicago, 2012.
In May of 2012, the Marilyn Monroe traveling public art project was set up in Palm Springs, California, where it is said to celebrate Hollywood's ties with Palm Springs.  Palm Springs was the playground of presidents Eisenhower, Ford, Kennedy, and Clinton.  Frank Sinatra made nearby Rancho Mirage his home and the whole Rat Pack followed for years of partying.  Prior to the 2012 presidential election, on St. Patrick's Day, the Marilyn Monroe statue was stationed by the Chicago River. (3)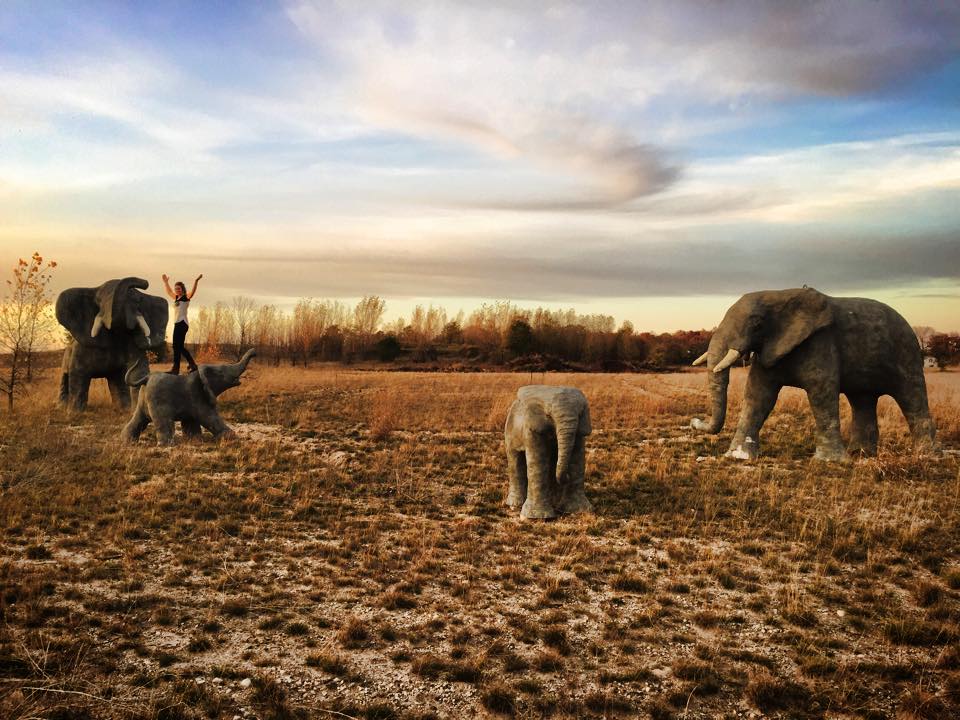 This is the latest gathering of fiberglass statues at the Kalahari Resort , in the Wisconsin Dells, which can be seen while traveling on Interstate 90.
Happy travels!
Related Posts