By Mary Fairchild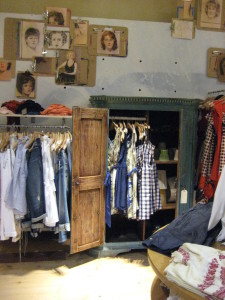 Perhaps it's the economy, or perhaps it's the younger generation finding a way to express themselves in the most unique and personal way. Whatever the case, even the popular mall stores like Anthropologie and Urban Outfitters have gotten on the band wagon…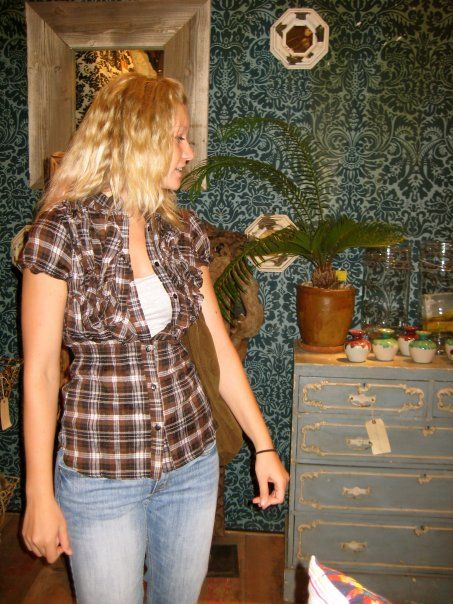 Create a look that is uncontrived and relaxed yet rich in detail—and it doesn't cost a king's ransom—just a few bucks spent here and there at secondhand sources….. curvy sofas, painted furniture, crystal chandeliers, and humble everyday objects can mingle effortlessly….  Flea Market Style Magazine 2009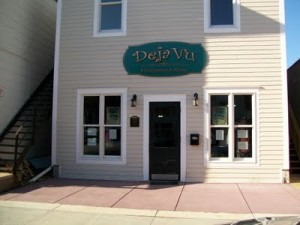 On the sign on the sidwalk just outside the old storefront in Evansville, Wisconsin, you'll read, "C'mon in..'it's fun!'"Our inventory is constantly changing." The new store, Deja Vu, is not much about "new" at all…. "Deja Vu is a second hand consignment store located in downtown Evansville, Wisconsin.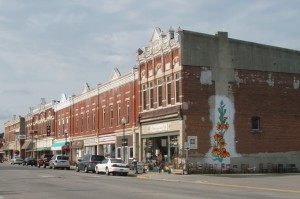 Laura Kirby's store, Gatherings & Gifts, in downtown St. Charles, Minnesota.
The St. Charles' annual festival of Gladiolus Days is held every August; it honors the late Carl H. Fischer, a local resident who developed many varieties of that flower. The area is well known for drawing tourists who come to see the rolling topography of Southeastern Minnesota. Gatherings & Gifts , 900 Whitewater Avenue, St. Charles, MN 55972, 507-932-GIFT (4438), is filled top to bottom with interesting and "unique" gifts.
Laura also teaches guitar lessons at her store where neighbors gather for coffee in the mornings.  She has a piano right in her store and invites local musicians, including her twin sisters who are known as The Bandanas, to perform on Friday evenings. She also hosts local fundraisers and other fun "gatherings" in her store.
Denise's Vintage Finds, Geneva, IL, 221 S. 3rd. Street. Denise's Vintage Finds carries a large variety of items ranging from old to new with a blend of traditional, vintage, antique, primitive, and cottage. The shoppe is wall to wall with up to date holiday décor, candles, jewelry, gifts and most of all jammed with decorating ideas that can be utilized by you while putting your own special touches on your own home.
Urban Outfitters has a new, limited-edition line of clothing and accessories made from vintage materials–they're even made in the United States…..
Anthropologie is an amazing vintage-style clothing store. Here is a link where you can browse through their monthly catalogs, which are pieces of art themselves. Enjoy the look back in to the classic style of the future. In the context of furniture, names like "shabby chic" also include distressed, rustic, and traditional furniture styles.
Just south of the Wisconsin Dells is the historic town of Baraboo which houses the Circus World Museum. In the busy downtown, just down the street from the old Ringling Theater you'll find a nice little cluster of antique and unusual stores.  Baraboo has a thriving central business district two blocks directly to the north of the Ringling riverfront.
Banbury Fair was originally constructed by area builder Friedrich C. Watermann in 1882. Many genterations of Watermanns lived in this "front and wing style" home at 211 Railroad Avenue, Bartlett, Illinois prior to its conversion to a commercial use. Banbury Fair specializes in FolkArt Painting Classes, related supplies and woodenware. They carry baby gifts, special occasion children's clothing, a wide assortment of florals, prints, candles and paper products for gift giving or your personal decor. They also have an antique barn that contains a wide variety of furniture, chairs, dishes, pictures, lamps and many decorative collectables.
The term "shabby chic" was coined by The World of Interiors magazine in the 1980s and became extremely popular in the US in the '90s with the revival of cult boho films such as 'Chocolate', 'Moulin Rouge' and a certain eclectic surge of decorating styles with paints and effects, notably in metropolitan cultural centres such as LA and San Francisco, with heavy influences from Mediterranean cultures such as Provence, Tuscany and Greece.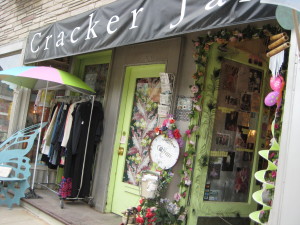 This is Cracker Jax "Cracker Jax" in Dekalb, Illinois. Cracker Jax began in 1984 as a vintage clothing store….  All senses are delighted as you shop 15 cases of new and vintage jewelry, eclectic clothing, soy candles, oils, incense, gemstones of every kind, unique gifts, stunning greeting cards, books, antique and shabby chic furniture, art and one-of-a-kind treasures.
The Country Spirit is located in a 100 year old two story house in downtown Tomah, Wisconsin. They carry a wonderful variety of gift items and home decor with a mix of country, rustic and primitive. They also have several local artists with a wide array of talents. Tomah is the home to the Warrens Cranberry Festival which is the world's largest cranberry festival. Cranfest boasts over 850 arts & crafts booths, 350 flea market booths and 100 farm market vendors. (picture: Oprah's magazine, Sept. 09 issue)
In partnership with Target stores, "shabby chic" was used as a name for a US company founded by Rachel Ashwell.  Shabby chic is also a general term which can be used to refer to a person who is stylish rather than fashionable, where their style reflects quality as opposed to newness. This style is now commonly associated with French country or Louis style furniture and Gustavian furniture. About.com writes, "Rachel Ashwell, founder of the popular Shabby Chic ® style, began her decorating quest in the late 80's, searching garage sales and flea markets for furniture with "good bones" and nice lines. Then she took it home and painted it all white. Upholstered pieces were dressed up in loose washable slipcovers, and vintage accessories were collected to complete the look."
"Shabby Chic(r) is a look that's easy to live with and remarkably versatile. It's a study in contrasts between casual and elegant, fresh and traditional, simple and ornate, plain and patterned, rumpled and tidy. And it is a style that easily merges a variety of objects into one harmonious whole through the liberal use of white and pastels. If you love to collect mismatched teacups, vintage lacy linens, soft floral fabrics, painted furniture, crystal chandeliers, and lots of white accessories, this may be the style for you. Like "comfort food" it seems to appeal to our "grandmother's house" sense of beauty and belonging."
Antique collecting: the assembling of items of aesthetic, historical, and often monetary value from earlier eras.  The term antique initially referred only to the preclassical and classical cultures of the ancient world. It is now applied to old artifacts of all cultures.
Legally and traditionally, an antique is usually defined as an object that is over a hundred years old. If you ever happen to meet James Mowery, you'll quickly learn he's really passionate about Chicago history and antiques. The owner of Chicago's Lincoln Square's Penn Dutchman Antiques has been an antique dealer for more than 40 years. For 33 of those years, he's sold collectibles from his current location on Western Avenue. Through the years, James has supplied countless movie crews and theater productions with props from appropriate time periods. Most recently, the crew from "Public Enemy," the new Johnny Depp movie about John Dillinger, came in and acquired items for their film shoots around Chicago. He supplied props for the quintessential Chicago gangster movie, "The Untouchables," and served as an extra. And he also worked with the crew for the John Candy film, "Uncle Buck."
Tea Thyme At Sadie's 2021 6th Ave S, Fort Dodge, IA. Owned and operated by Debra Lacina for over 14 years, Tea Thyme at Sadie's is an upscale, yet friendly dining experience in Fort Dodge, Iowa. A sole purveyor of Fitz and Floyd fine gifts, they also carry a full line of Republic of Tea products, gourmet coffee and candy.
At Crumpets Tea Room in Genoa, Illinois, not only expect to have your menu to include "crumpets," but to arrive in an antique book and your soup of the day will be served in vintage cups and saucers….  The British social custom of Afternoon Tea was introduced around 1840 by Anna the seventh Duchess of Bedford (1783-1857). Historians attribute to her the late afternoon ritual of snacking on sandwiches and pastries accompanied by tea. Afternoon Tea is generally served between 3:00 and 5:00 p.m. in order to quell hunger pangs between breakfast and dinner (which was typically served at 9:30 or 10:00 p.m. in England).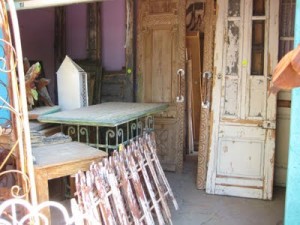 The Town Dump in Cave Creek, Arizona has one of the largest assortments of pottery, rustic antiques and numerous other unique items that can probably only be found in Cave Creek..
Notes from "Flea Market Style 2009" magazine:
1) PAINT: Don't be afraid to paint wood floors, furniture, or trim. Painting is the least-expensive, highest-impact change you can make to any room (p. 15). 2) PLATES: hung on a wall can become easy , inexpensive artwork. Look for vintage pieces at flea markets or pick up new ones from a discount store.
3) RECYCLED GOODS: Transform flea market objects into pretty and practical décor and your home will never be short on personality.
4) ARCHITECTURAL SALVAGE: add character to plain rooms with vintage shutters… use salvaged building materials such as windows, doors, and moldings to add architectural flair to a room…(p. 42)
5) BATHROOM MIRROR: instead of boxy medicine cabinets, create an instant focal point by using an ornate mirror above the sink.
Flea market fanatics are always asking themselves, "How can I make this more interesting?" Being ever-resourceful, scour flea markets, trash heaps, and garage sales to find treasures to bring home. Items with character—or at least a good story—are especially prized. Create a look that is uncontrived and relaxed yet rich in detail—and it doesn't cost a king's ransom—just a few bucks spent here and there at secondhand sources. In true French fashion, curvy sofas, painted furniture, crystal chandeliers, and humble everyday objects can mingle effortlessly…. (p. 26).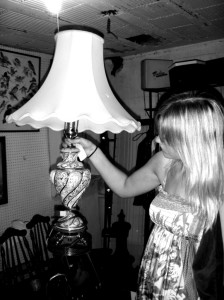 Collecting Lamps: It's not always easy to get your hands on an antique lamp. Every ounce of effort though may all be worth it once you get the antique piece of your dreams. Lamps from a long time ago aren't just exquisite decorative pieces. They are also valuable links to great historical times.
Here are some tips for you to remember when collecting old lamps:
Study Lamps Per Era: Simply saying that you want an antique lighting fixture is too general. Different lamps from different time periods have different characteristics and identifying marks.
Buy in the Right Places: Antique lighting pieces can be found almost anywhere. If you are a good scavenger, you might just find the best pieces at auction sites and garage sales. It is however, usually only a good idea to buy from these places if you are an expert at assessing antique pieces. If you are not, you could end up getting scammed. Instead of buying from unknown sources, you can instead proceed to reputable antique shops or dealers. Local auctions may also hold sales for authentic antique pieces.
Related Posts