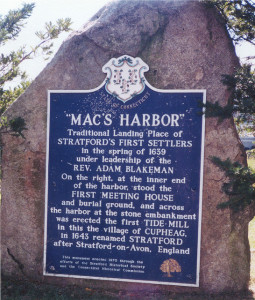 Mac's Harbor, Stratford, CT.
"Early Stratford and Fairfield society seems to have been more free than Puritan communities elsewhere."
"The earliest shelters of the settlers at Cupheag(Stratford) were "cellars" dug into the banks at Stratford (Mac's) Harbor, or "English wigwams," a cross between the Indian wigwam made of thatch, bark or hides, and the English charcoal burner's hut…. The first reference to the name Cupheag is in a June 1640 court order to Mr. Ludlowe, Mr. Hopkins, and Mr. Blakeman to "sett out the bownds betwixt the Plantations of Cuphege and Uncoway." On April 13, 1643, the Records first referred to it as Stratford." (36; Knapp, p. 6)
The original Indian name of Stratford was Cupheag. It was purchased from the Indians by Mr. Fairchild in 1639, and settlements were commenced at the same time. Mr. Fairchild came directly from England, and was the first person vested with civil authority in the town. The first principal persons in the town were john and William Eustice, and Samuel Hawley, who were from Roxbury, and Joseph Judson and Timothy Wilcoxson, who were from Concord, Massachusetts. A few years from the commencement of the settlement, Mr. John Birdsey removed from Milford, and became a man of eminence, both in the town and church. There were also several of the chief planters from Boston, and a number by the name of Welles, from Wethersfield. "Mr. Adam Blackman, who had been episcopally ordained in England, and a preacher of some note, first at Leicester and afterwards at Derbyshire, was their minister, and one of the first planters. It is said that he was followed by a number of the faithful, into this country, to whom he was so dear that they said unto him, in the language of Ruth, 'Intreat us not to leave thee, for whither thou goest we will go; thy people shall be our people, and thy God our God.'" (42; Barber, p. 404-5)
"The following spring seventeen families, including about sixty persons, on foot and on horse-back, threaded their way through the wilderness from Wheathersfield, forded the Pootatuck, and halted at the red man's Cupheag and named it home. How familiar to us are many of the names on the lips of the settlers that day as they addressed one another—Blakeman, Fairchild, Curtis, Sherwood, Judson, Wilcoxson, Beardsley—a real Stratford in miniature, small in numbers but not in extent, as the original township embraced most of the land afterwards…They were landed at the mouth of Mack's Creek where the settlers made a temporary abiding place—huts, tents and meeting-house—until the division of the land could be affected." (39; Stratford's 250th Anniv.)
"Old histories say that seventeen families, sixty-five souls, made the trek in 1639 with Reverend Adam Blakeman from Wethersfield to this site, but the true story is long lost, and only cryptic notes in the Colonial Records of Connecticut and other scattered records give us hints of how many really came and for what reasons…. Adam Blakeman was born in Staffordshire in 1598. In 1617 he matriculated at Oxford's Christ Church College where only a few years earlier some of forty-seven scholars had labored to produce a new Bible for King James the First. Some of these men were doubtless Blakeman's teachers. He was ordained a priest of the Church of England, with parishes in Leicestershire and Derbyshire in a period when the Authorized Version of the Bible was influencing English life and knowledge of the gospel…. "

"Thomas was buried in the plot by the first meeting house on the shore of Mac's Creek. Without a doubt he and his first wife were removed to the present Congregational Burying-place, opened in February 1677-8."
"Early Stratford and Fairfield society seems to have been more free than Puritan communities elsewhere. This tolerance made possible the founding of Episcopal (Anglican), Methodist, and Baptist church in the area between Fairfield and Stratford, called by early settlers 'Stratfield' and now called Bridgeport." (38; Orcutt, p. 15)
… Thomas Fairchild, a native of England who…became one the leading pioneers of the place, being named by both Barber and Hollister as the first magistrate there…. It is likely that the name was originally Fairbairn, and that the family went to England from Scotland at a very early period. Thomas Fairchild, the pioneer settler at Stratford, was twice married and had several children. (37; CBR)
Thomas was married twice, his first wife being Emma Seabrook, daughter of Robert Seabrook, whom he married in England before coming to America. In 1669 he is appointed one of the purchasers of Patatuck for a plantation, but the project was then abandoned for many years. From 1667-1670 he was a member of Mr. Chauncey's Church, who differed in religious views which eventuated in the forming of a second church in Stratford, and whose 17 adherents removed to Pomperaug, thus forming the Woodbury Plantation. His name was on the tablet in the 200th anniversary of the Woodbury Church as a signer of the Fundamental Articles of the Church Covenant. He did not remove to Woodbury, but Thomas Jr. married and settled on the land taken up by his father in that plantation. Thomas was buried in the plot by the first meeting house on the shore of Mack's Creek. Without a doubt he and his first wife were removed to the present Congregational Burying-place, opened in February 1677-8." (Stratford Historical Society)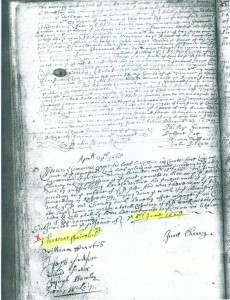 Thomas Fairchild signature, 1668; spelled ffayerchild at that time. Click image to enlarge.)
It has been very exciting to find the Fairchild signatures in records dating back to the late 1600s as well as many historical books that included them in the libraries of Connecticut. What limited stories and pictures I do have I would like to make available to others.
After touring Connecticut with the family, we drove up to New York before we headed back home. Little did we know that in the fall of the following year the Trade Towers, which are the back drop in our pictures and video, would be gone. As we would visit the family farm year after year, we didn't think to such a day when we could no longer experience the farm and all of its buildings, but sure enough, the farm was sold and the old farm house has recently been razed—gone. One day we will lose our time we have with each other as we all are called home. What kind of legacy will we leave for our future generations? I hope they will seek and find many strong and courageous Fairchild relatives to inspire their short stay here until we are all united once again.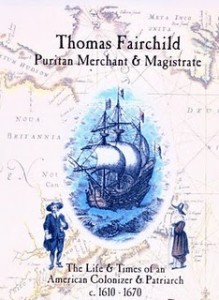 Book available about Thomas Fairchild @ fairchild@hargray.com.
"We have strong proof of the high character, culture and civilization of the first settlers of Stratford…. In 1646 Stratford gave f614s. to maintain scholars at Cambridge, evincing wonderful zeal and self-sacrifice in behalf of learning, when the burdens of settling and protecting themselves had been well nigh too great to bear. 5th In the choice of a name, which, unlike Fairfield and Milford, has no local significance, and is suggestive, we believe, of their liberal and scholarly taste…. It is worthy of notice that the first institutions set up by our fathers were courts, so that all controversies could be promptly and legally disposed of. Our fathers believed in law and liberty, or "liberty under law," and courts were necessary at the start." (39; 250th Anniversary of Stratford; pp. 82, 83.)
The Descendants of Thomas Fairchild:  Thomas (c. 1610-1670), Samuel (c. 1640-1704), Edward (c. 1685-1767), Jonathon (c. 1715-1783), Seth (c. 1741-1815), Daniel Sr. (c. 1768-1835), Rev. Dan (c. 1818-1870), Eli (c. 1835-1892), Milton (c. 1864-1916), Enos (c. 1894-1950)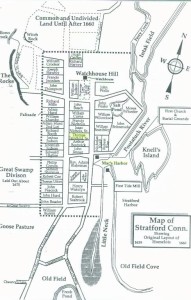 "Bridgeport was first settled in a scattered fashion after 1660 by farmers from the adjoining towns of Fairfield and Stratford. These parent towns had been settled twenty years before. Each had developed close to a good natural harbor with trade connections to interior farms, and highways such as Black Rock Turnpike allowed farmers to bring their goods to the water for sale and shipping. Bridgeport did not exist as a corporate entity until 1821. Park Avenue, then named Division Street, served as the dividing line between Fairfield and Stratford…"
"..The first house within the present day boundaries of Bridgeport was built by Thomas Wheeler at Black Rock harbor in 1644. Wheeler also built a small fort equipped with two guns, which were aimed at the harbor and at the Indians who had built their own stockaded fort nearby. Fears of an Indian uprising persisted. In a series of relocations over a long period of time, these Golden Hill Indians were moved to ever-smaller reservations. In 1659 the tribe exchanged their land for an eighty-acre reservation on Golden Hill, the vicinity of present Washington Avenue…"
"..Another example of the insecurity of early settlers was the witch hysteria of 1651-53. Several women were accused of having conversations with the devil. Witnesses argued over whether certain body marks were 'witch signs' or merely birthmarks, Judge Roger Ludlow accused two women, Goodwife Knapp and Goodwife Staples, of being witches. Goody Knapp was tried and hung. Goody Staples' husband, infuriated by Goody Knapp's senseless death, sued Ludlow on behalf of his wife for defamation of character. Staples won the suit, and Ludlow left the colonies forever. Goody Staples was acquitted. Local feminist history today commemorates Goody Knapp, who has become a symbol of the ongoing struggle for women's rights." (38; Orcutt, p. 15)
The Fundamental Orders governed Stratford and the state until 1818. Under this constitution, the General Court established capital punishment for twelve crimes; worshiping false gods, witchcraft, blasphemy, murder through malice, murder through guile, bestiality, homosexuality, adultery, rape, kidnapping, false witness causing loss of life, and insurrection. For other crimes, jailing, fining, whipping, pillories and stocks, and branding or cutting off ears sufficed…
"The men who settled Stratford were workingmen. Ships' registers list them as weavers, masons, joiners, smiths, and husbandmen, or as servants and apprentices….it appears that most of Stratford's settlers came from (or through) Essex, Suffolk, Kent, and Hertfordshire, in eastern England…. They sailed from London and from Ipswich ports for Massachusetts Bay. The statement that they came directly usually means they came to Massachusetts Bay, and transhipped or traveled overland to Connecticut from there. The names of the fence owners in the Old Field in Stratford, listed in the earliest town records, were recorded in 1649 or 1650….they came, in large part, from eastern England, and that they followed Church of England ministers who sought a more basic religion—Thomas Hooker and Adam Blakeman." (36; Knapp, p. 12, 13)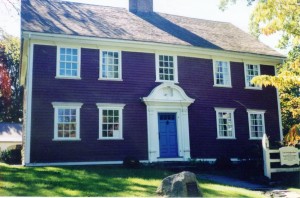 Judson House Museum, Stratford, CT.
Thomas was elected deputy of the General Court: was four times nominated for Assistant Governor, and served on various committees. He was a merchant and owned a home and store on what is now Elm Street, Bridgeport. In 1966 he was appointed a Commissioner to settle the sale of land between the Indians and the English in Fairfield. The first settlers appear to have located themselves about 150 rods south of the Episcopal Church, the first chimney being erected near this spot; it was taken down about two years since. The first burying ground was near this spot. Mr. William Judson, one of the first settlers, came to Stratford in 1638. He lived at the southwest corner of Meeting-house hill or green, in a house constructed of stone. Mr. Abner Judson, his descendant, lives on the same spot, in a house which has stood 113 years, and is still in good repair. The whole township, which formerly was quite extensive, was purchased of the natives. The purchase was, however, not completed till 1672. There was a reservation of good lands for the improvement of the Indians, at Pughquonnuck or Pequannock, Golden hill, and at a place called Coram, in Huntington. (42; Barber, p. 405)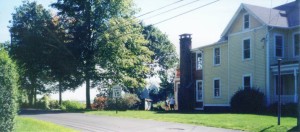 This yellow house is on site of first church and burial ground, 2000. "The most important building had always been the meetinghouse. It served as church, town house, and fort, and probably as school." (36; Knapp, p. 13.)
"Today the little burying ground laid out around the first meetinghouse at Cupheag is gone…. In 1678 the planters began a new and larger cemetery, the present Congregational burying ground…. The dead who could be located were exhumed and taken to the new location, unmarked graves were lost: In later years, when foundations and wells were dug stark remnants of the old burying ground reappeared. In 1919 workmen digging in the street uncovered the bones of one ancient settler, and laid him back to rest.
"When Henry VIII removed England from the Church of Rome n 1531-33, followers of the Calvinistic doctrines that took shape in the Protestant Reformation hoped for a return to fundamental Christianity in England, but even Elizabeth, the last Tudor, retained the pomp and dogma of her father's church, and turned away from these "Puritans" in annoyance…. When James the First (or Sixth) came down from Scotland to be king he treated the Puritans with greater tolerance, but when his son, Charles I, succeeded him in 1625, England suffered from a trinity of ills: in religion, in government and in economy. The Church of England moved toward greater pomp and ritual—as put by a dissenting Parliament, to 'Popery, or Armenianism ….disagreeing with the true and orthodox Church.' Fundamentalist Thomas Hooker hid at Little Baddow, then, under pressure from the tyrant bishop William Laud, fled to Holland. When Laud was elevated to Archbishop of Canterbury by the king in 1633, Hooker crossed the sea to Boston."
"King Charles suspended trial by jury and in 1629 adjourned the Parliament for eleven years. The country writhed beneath the despot's rule. Meanwhile, in 1630 and 1631, harvests were bad and poverty prevailed…. Between 1629 and 1643, New England colonists increased from three hundred to fourteen thousand…. The record of the Blakeman family's passage is lost, but hey followed Thomas Hooker and their people followed them…. Reverend Adam Blakeman matriculated at Christ Church College, Oxford, on May 28, 1671. His instructors must have included the very scholars who wrote the Bible for King James…. The Church was the colony and the Church was the town. Only church members could become voters. The Fundamental Orders of Connecticut clearly state: 'where a people are gathered together the word of God requires that to mayntayne the peace and union of such a people there should be an orderly and decent Gouernment established according to God, to order and dispose to the affayres of the people…. [We join] to mayntayne and presearue the liberty and purity of the gospel of our Lord Jesus wch we now profess, as also the discipline of the Churches, wch according to the truth of the said gospel is now practiced amongst us."
"By 1600 the majority of the country gentlemen and of wealthy merchants in the towns had become Puritans, and the new views had made great headway in both universities, and at Cambridge had become dominant," and he further says that our fathers belonged "to that middle-class of self-governing, self-respecting yeomanry that has been the glory of free England and free America."
"The Fundamental Orders governed Stratford and the state until 1818. Under this constitution, the General Court established capital punishment for twelve crimes; worshiping false gods, witchcraft, blasphemy, murder through malice, murder through guile, bestiality, homosexuality, adultery, rape, kidnapping, false witness causing loss of life, and insurrection. For other crimes, jailing, fining, whipping, pillories and stocks, and branding or cutting off ears sufficed…." (36; Knapp, p. 11, 12, 16.)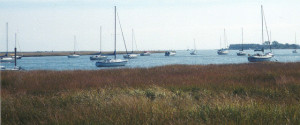 Nell's Island.
"Samuel Fairchild (c. 1640-1705), at age 60 he testified, May 1701, that in younger days he was often at Knell's Island." (40; Jacobus, p. 195)  "Samuel was a ship's carpenter…" (47; Gilmore, p. 3)
Our fathers were Puritans; and, speaking of the Puritans generally, John Fisk says: "By 1600 the majority of the country gentlemen and of wealthy merchants in the towns had become Puritans, and the new views had made great headway in both universities, and at Cambridge had become dominant," and he further says that our fathers belonged "to that middle-class of self-governing, self-respecting yeomanry that has been the glory of free England and free America." We have strong proof of the high character, culture and civilization of the first settlers of Stratford:
1st. In these old town records, which show how well versed in composition, writing, and knowledge they were.
2nd. In the plan and layout of these wide, straight streets, and large commons, which show how public-spirited and far-seeing they were.
3rd. Look at these wide thoroughfares, radiating from this location—north to Huntington, northwest to Trumbull, and west—the old King's highway—to Fairfield, and think how much they did to make this place like old Rome—all roads leading to it.
4th. In 1646 Stratford gave f614s. to maintain scholars at Cambridge, evincing wonderful zeal and self-sacrifice in behalf of learning, when the burdens of settling and protecting themselves had been well nigh too great to bear.
5th. In the choice of a name, which, unlike Fairfield and Milford, has no localsignificance, and is suggestive, we believe, of their liberal and scholarly taste…. It is worthy of notice that the first institutions set up by our fathers were courts, so that all controversies could be promptly and legally disposed of. Our fathers believed in law and liberty, or "liberty under law," and courts were necessary at the start. Our fathers were agitators. Under that marvel of a constitution, of 1639, the General Courts met twice a year "to agitate the affairs of the commonwealth;" they were vigilant, and did not content themselves with biennial sessions.
THE FIRST GENERATION: Thomas Fairchild (c. 1610-1670) m. (1) Emma Seabrook (c. ABT 1608-1661) d/o Robert & Alice (Goodspeede) Seabrook. She died between 1653-1662 Stratford, CT. (Wingrave, Bucks Ch. Rec. England); m. (2) Katherine Craig Dec. 1662 London, England. (Pre-nuptial agreement 22 Dec 1662). She married (2) Jeremiah Judson 8 Nov 1675 Stratford; d. May 1706 Stratford. Children of Thomas and Emma: Samuel b. 31 Aug 1640, Sara b. 19 Feb 1641/2; m. Jehiel Preston, John b. 1 May 1644, Thomas b. 21 Feb 1645, Dinah b. 14 Jul 1648; m. Benjamin Corey; d. 1703, Zechariah b. 14 Dec 1651, Emma b. 23 Oct. 1653; m. Hackaliah Preston 20 Apr. 1676 Stratford; d. 25 Feb 1732/3 Woodbury, CT. Children of Thomas and Katherine: 1) Joseph b. 15 Apr. 1664, 2) John b. 8 June 1666, Priscilla b. 20 Apr. 1669; m. Benjamin Peat 1688. (47; Gilmore, p. 1) Zechariah Fairchild had land by gift from brethren Samuel and Thomas Fairchild and Jehiel Preston, and mother Mrs. Katherien Judson [Stratford Deeds]. (40; Jacobus, p. 194.)
THE SECOND GENERATION: Samuel Fairchild (c. 31 Aug.1640 Stratford-Jan. 1704/5 Stratford) m. Mary Wheeler (c. 1655-1747). Mary is the daughter of Moses and Miriam (Hawley) Wheeler; m. Benjamin Beach 5 Dec 1705 Stratford; m. Thomas Yale 31 July 1716 Wallingford, CT. Children of Samuel and Mary born in Stratford, CT: 1) Robert b. 1681; d. before 1716, 2) Samuel b. 1682, 3) Anna b. 168__; m. Benjamin Coney 18 Nov 1702 Stratford, CT; d. 23 Jul 1703 Stratford, CT, Edward (c.1685-1767) m. Elizabeth Blakeman/Blackman 1710, Jonathon b. 10 Oct 1692. On 10 Dec 1674 Samuel's lands were recorded. He had received from his father 30 Dec 1668, land received by gift from his grandfather Seabrook and land he had received in exchange with brother Thomas. Samuel was a ship's carpenter and a member of the Congregational Church in Stratford.
THE THIRD GENERATION: Edward Fairchild (c. 1685-1767) m. Elizabeth Blakeman/Blackman (b. 25 Jan 1710-1 Stratford d. Newtown, CT) 1710. She is was the daughter of Ebenezer & Patience (Wilcoxson) Blakeman. Children of Edward and Elizabeth: 1) Mary b. 6 Apr. 1713; m. Robert Seeley 1734 Newtown, 2) Jonathon b. 2 Aug 1715, 3) James b. 19 Sep 1720, 4) Moses b. 1 Oct 1723, 5) Elizabeth b. 19 July 1726; m. Daniel Crofut, 6)Ebenezer b. 1729. Edward received land in 1705 in the distribution of his father's estate. As of Apr. 1711 he was of Stratford when he sold 6A of land. Jan 1713/4 he was of Newtown when he disposed of land in Stratford.
THE FOURTH GENERATION: Jonathon Fairchild (c. 2 Aug 1715 Newtown, CT-12 Jan 1783 Newtown) m. Hannah Beardsley 25 June 1740 Newtown, CT. Hannah (c. 7 Feb 1715 Stratford-1805 Newtown, CT). She is the daughter of Josiah & Mary (Whitmore) Beardsley. Children of Jonathon & Mary: 1) Seth (c. 8 Mar. 1741-1815, 2) Josiah b. 11 Nov. 1754, 3) Zadock b. 1760. Administration of Daniel Bachen's estate was granted to widow Hanna 27 June 1738. Distribution was ordered 13 May 1743 to the widow, now Fairchild, and the children Mary, b. 13 Jul 1737, and Hanna b. 27 Jan 1738/9. Jonathon's will, written 12 Sep 1782 and proved 12 May1783, names his three sons and daughter Catherine. Hannah's will, dated 24 Feb 1798 and proved 20 Sep 1805, names daughters Hannah and Mary Bachen and her three sons.
THE FIFTH GENERATION: Seth Fairchild (c. 8 Mar 1741 Newtown, CT-28 Apr 1815 Butternuts, Otsego co., NY) m. Catherine Wheeler (c. 1743 Newtown, CT-____). Catherine was the daughter of Andrew Wheeler. Children of Seth and Catherine: 1) Jonathon b. 3 Sep 1767, 2) Daniel b. 2 Feb 1768, 3) Levi b. 1770, 4)Isaac b. 1772, 4) Abel b. 1774, 5) Betsey b. 1775, 6) Molly b. 1777, 7) Hannah b. 1779; m. Thomas Roberts, Jr. 1792 Newtown, CT. On Nov 1782 the estate of Andrew Wheeler of Newtown was distributed. Daughter Catherine Fairchild is among those named. That same date the heirs of Andrew quit-claimed their interest in the estate, and Seth and Catherine are among the names. Elizabeth is named as widow of Andrew, but whether she is mother of Catherine is unknown. Seth was in Newtown when he and Catherine deeded their house and barn to Philo Fairchild 9 Apr. 1796. Their Newtown land was deeded the same date to Joseph Fairchild. They were still in Newtown 14 Feb 1799 when Seth was grantor to Adonirum Fairchild of Newtown. Seth was of Wawarsing, Ulster county, NY, when he quit-claimed 25A in Washington and Roxbury, CT. on 29 Nov 1806. On 20 Apr 1807 he was still in Wawarsing when he sold land in Washington, CT. for &1, 128.46. Seth moved to Otsego county, NY after 1807. His will was dated 28 Apr 1815 and was probated 29 June 1815. Named are the widow and all eight children. The sons accompanied their parents to Otsego county, NY.
THE SIXTH GENERATION: Daniel Fairchild Sr. (c. 1768-1835) m. Amy (c. 1769-1834).
THE SEVENTH GENERATION: Rev. Daniel Fairchild (c. 1810-1870) m. Lucy Hemmingway (c. 1813-1891) 10/14/1830.
THE EIGTH GENERATION: Eli Fairchild (c. 1835-1892) m. Clarissa Demarest (c. 1836-1920)
THE NINTH GENERATION: Milton Fairchild (c. 1864-1913) m. Emma Firebaugh (c. 1864-1945) Milton was born 1/18/1864, d. Sept. 16, 1916, at Potomac Cemetery. When the family moved to Iowa, they moved his body to Spencer Memorial Cemetery. When his wife died, he was moved to Storm Lake Cemetery where she was buried. m. 3/5/1884, Emma Firebaugh, b. 5/31/1864, d. 1/20/1945, at Albert City, IA.
THE TENTH GENERATION: Enos Fairchild (c. 1894-1950) m. Bess Schaeffer (c. 1862-1989). Enos was born in Danville, IL., Jan. 10, 1894, near Snider, d. July 1, 1950, in Terril, IA., m. Jan. 26, 1921, at Spencer, IA, Bess Schaeffer, b. Oct. 21, 1893, at Esterville, IA. Enos was a farmer and raised hybrid seed corn. Children of Estel and Bess: 1) Mary Louise "Lou", b. 1/1/1922, in Rembrandt, IA, m. 7/27/1945, Rev. Ralph Plautz, b. in Hannibal, MO, d. 1975. Mary Lou is a graduate of music from Morningside Conservatory, Sioux City, IA, and a teacher. Rev. Ralph received his degree in Jan. 1945, from Concordia Seminary, St. Louis, MO. Children of Mary Lou and Ralph: Daniel Mark, b. 10/17/1946, Rebeca Lou, b. 4/12/1950; 2) Leaila Jean, b. Sept. 21, 1923, in Rembrandt, IA, m. Erwin Bridson, b. Apr. 1, 1923, in Terrill, IA. 3) Daniel Milton, b. 9/16/192__ in Terrill, IA, m. Sally Rielly. Dan was a postmaster of Terrill for several years. Children of Daniel and Sally: Riley, b. 9/18/1956, Jon, b. 9/20/1958, Timothy, 9/5/1959, Dana, b. 10/151960, Franklin, b. 4/20/1963, Ann, b. ___. 4) Estel Glen, b. 10/6/1929, in Terrill, IA, m. 2/13/1953, Audrey Fransen, b. 10/17/1930. (47: Gilmore, p. 128-9) 

NEWTOWN, CONNECTICUT: "The oldest people in Newtown, Newtown born, are of the sixth generation in direct line of descent from the first settlers, so that information they can give of the town's earliest history must be from reminiscences or as gathered from the earliest of the town records. When Jeremiah Turner and Samuel Sanford were each in turn given liberty to set a grist mill in the west part of town on "Quanneapague Brook," and were to have two parcels of land, one of which was a sixteen-acre tract "lying in ye crotch of Quanneapague pond," we have the evidence that our beautiful inland lake, nestled down between the hills for aught we know "since the morning stars first sang together," was known by that name when the white man looked upon it for the first time. If it was handed down to the first and second generation of our ancestors, it long since became obsolete, but when the land now comprised in the town of Newtown was purchased it was known by the Indian name, Quanneapague. To prove this, we copy from the first volume of town records five separate transactions of sale of petition rights, each independent of the others in 1710 and 1711. The question may arise, "What is meant by petition rights?" In 1708, the General Court of the colony of Connecticut granted to certain petitioners "that all that tract of land lying on the west side of Stratford and part of Fairfield, westerly by Danbury and a line running from the southeast corner of Danbury to Fairfield bounds, northerly by New Milford Purchase,shall be on entire town, called by name of Newtown." ( Newtown library reference)
"For two centuries the prolific Fairchilds built homesteads, farmed and raised sheep on what was called Great Hill Grazing Farm. Over 15 homesteads are available today for tours which were built by succeeding generations of Fairchilds. In the Taunton Hill Cemetery 109 Fairchilds, their wives and relatives are buried." (43: Mitchell, p. 103)
EDWARD FAIRCHILD acquired land in three successive pitches; he eventually assembled the entire Fairchild Farm comprising the Taunton District, approximately 1500 acres. The architect, J. Federick Kelly of New Haven, now deceased, but an authority on Colonial Houses in Connecticut, provided advice on restoring this house and established the date. At Edward's death, the homestead passed on to his grandson Zadok who had 10 sons. "In haying time we loved to watch Zadok followed by his boys, according to age, going round and round the fields swinging their scythes in perfect rhythm." This tale came from another letter kindly made available to us by the owners. (43; Mitchell, p. 106)
"A letter written by the great niece of Wheeler Fairchild who built this house (50 Great Hill Rd.), recalls what Thanksgiving was like in the early 1800s. 'We were allowed to stay home from school to watch the butchering. The scalping, scraping and freeing of the fat together with the shouts of the men made it a thrilling day. Very early Father built the fire in the big brick oven and then drove to fetch Black Betsy, a famous turkey and pig cook. Mother had the pumpkin pies baked and made the rice and Indian pudding in big pans holding six quarts each. Then the luscious crusted chicken pies went into the brick oven with the pig, when the oven cooled somewhat and the pig neared its brown perfection. Guests arrived and above the clatter were heard shrieks from the kitchen. Black Betsy stood with the oven door in hand, crying: 'Oh, the pig! What shall I do?' Flames and smoke were coming out the door. Mother smothered them with Father's old coat. The pig was only singed. When Father lifted it out, it was so large that two platters were necessary, its front feet on one and hind feet on the other. In its mouth an ear of corn and tail tied with red ribbon. When all was over, teams came with hot bricks and warm buffalo robes for the guests to be tucked in. Then we four little girls, all cousins, went to bed laying crosswise with a cushioned chair for our feet. The two middle ones thought it warm, and the two end ones got cold packs. But at last we slept. Thanksgiving was over for another year." (43; Mitchell, p. 103)
TIMELINE
33-312—The Church permeates the Roman Empire. Christians are persecuted through the emperors and Jewish leaders. 321—Christianity becomes the religion of the empire through Constantine, but the "patchwork" of Christianity, called Christendom, included many pagan beliefs and was not pure Christianity. (29; Foster)
500-1200—Barbarian Europe is converted—Europe, England, and Scotland.
625-1436—Islamic hoarders ravage Asia Minor, Africa and Europe.
1345—A plague descends on Europe; 30-50% die. John Wycliffe begins a grassroots revival which is countered by the humanism of the Renaissance and neoclassical paganism which permeates the Catholic hierarchy. (29: Foster)
1500s—Many Spanish ships crossed the ocean to the NEW WORLD to merely conquer and discover gold.
1517—The Reformation begins through Martin Luther, John Calvin, and John Knox. This is countered by "the divine right of kings" and millions are killed in 100 years of religious wars.
1540s—The burning of religious heretics was still a way of life in Scotland. As the nobility and Cardinal took their padded seats to watch the burning of George Wishart, little did they know that Wishart's bodyguard and friend, John Knox, would liberate Scotland in another decade. As the flames rose, Wishart declared to the Cardinal, "He who from yonder place beholds me with such pride, shall within a few days lie in the same as ignominiously as he is now seen proudly to rest himself." Sure enough, not long after the execution, the Cardinal's enemies broke into his chambers and ran him through. John Knox (c. 1505-1572) became Wishart's successor, trying to bring true Christianity to Scotland, though he was an improbable leader. From obscure origins, a defrocked priest, ugly, undiplomatic, socially graceless and full of fire, John Knox seemed ill-equipped to face off a thousand years of Catholic rule. Before he could even get started, he was captured by the French and place in a French warship as a galley slave (oarsman). When he was released he was forced to flee to the continent where he spent four years strengthening his mind and soul in Geneva, under the teaching of the great Calvin at his school of reformers. When Knox returned to Scotland in 1588, he was shot at and chased at from place to place, but he proclaimed Christ's Lordship and, within two years, he defeated the Roman Church and the Godless Queen Mary herself. He had done so largely by preaching and converting the people to the truth, not just by the power of the sword. Under Knox's influence Scotland became a "people of the book" and adopted Presbyterian church government. This Christian heritage that brought the government of God back to the people and elders, as opposed to the King and the Pope, became the major force for the founding of the republican government in America a century later. The reformation of Scotland under John Knox resulted in the exile of Mary, Queen of Scots, to England. She was placed under arrest for twenty years as a danger to Queen Elizabeth's throne (her cousin). As the Spanish Armada was threatening the destruction of Protestant England, Elizabeth was convinced to behead Mary. To cover her guilt, Elizabeth blamed her secretary, Davidson, for tricking her into signing the death warrant. He was thrown into prison, and his young assistant, who might have had a successful future at court, lost his position and went back to Scrooby Manor. This young assistant secretary to Queen Elizabeth was William Brewster. (29; Foster)
1588—The Bible is printed in the language of the common man, bringing revival to England. Unreached nations are left in darkness through ignorance of God's Word and Truth.
1603—WILLIAM BREWSTER took over his father's job as the postmaster of Scrooby in 1603 and started an underground church which met in the basement of the manor house. In that same year, a young boy from a dysfunctional family in a village 12 miles from Scrooby began to attend the church. He was 13 years old, and his name was WILLIAM BRADFORD. William Bradford was unofficially adopted by William Brewster and his wife Mary. He and about 38 others met secretly until about 1607, when King James I began to persecute them out of England. 1608, the little congregation moved to Holland and settled in Leydon. Here William started a clothing business at age 20, and married a young English exile, Dorothy. For 10 years they struggled to survive as exiles, as William moved into leadership of the church along with Pastor John Robinson and William Brewster. (29; Foster)
1492-1620—America is opened up after 5,000 years of isolation and Christianity is brought to its shores. The Gospel is deflected away from much of Europe as Christianity is countered by the Enlightenment, European rationalism and the French Revolution. Many people believed that reform was needed in England's national church. It was a Protestant church run by the House of Bishops and the head was the English monarch. The rulers of England tried to force all of the people of England to believe the same things about God and those who disobeyed were persecuted. Many people wanted worship services to include Bible readings and personal prayers and they wanted to do away with many of the rituals. The Puritans remained loyal to the Church of England, but they wanted to purify it and the Separatists "separated" themselves and began their own worship services. The bishops viewed the separatists as a threat and many were persecuted in England so they left. (29; Foster)
1620—THE PILGRIMS (separatists) land at Cape Cod. Landing off course left them with the need to settle their own authority. William Bradford set up the elected form of government which was called "The Mayflower Compact," this is the prototype for our national liberty. This was the first time that free and equal men had ever entered a covenant to create a new society, based on Biblical principles. One of these principles was that "all men are created equal in the sight of God." A second was that "a government must only govern people who agree to submit to it." These two principles became the cornerstones of America's constitutional government. Bradford became governor of the Plymouth Colony for the first of 31 terms. He wrote the only complete history of the Plymouth settlement in a diary stretching 40 years. He turned the colony from Communism to free enterprise, insuring its prosperity. Threatened with starvation, Squanto helps the pilgrims survive and they celebrate their first "Thanksgiving Day." (29; Foster)
1630—A group of about 1,000 settlers landed in Massachusetts Bay and founded the city of Boston. Within 20 years of the first Puritans arriving in America there were 20,000 English people living in Massachusetts. Some moved to Rhode Island and Connecticut.
1636—HARVARD UNIVERSITY is founded in Cambridge, MA. When the Pilgrims came over on the Mayflower they brought history books and theology books and thought that it was all you need to start a university. Theology is the study of God and His Word and history is the study of God and His Word worked out in time and space.
1638—THOMAS FAIRCHILD (c. 1610-1670) ARRIVES from Barnstaple, England. He buys a parcel of land from the Indians and settles in the town of what is now called Stratford, Connecticut. The name "Fairchild"is of Scottish origin derived from "Fairbairn" meaning "fair-born' or "fair-child." (38; Orcutt, p. 15) Thomas—deputy (Stratford) to Connecticut Apr. 1646, Sept. 1654, May 1655, Oct. 1655, Oct. 1658, May 1659, Oct. 1659, May 1664, Oct. 1665, May and Oct. 1666, May 1667; Commissioner for Stratford, 1664, 1666-70; war committee for Stratford, Oct. 1654. Mr. Thomas "ffayrechilde" d. at Stratford, 14 Dec. 1670. He was a merchant, an original and prominent settler of Stratford. Will 7 Dec. 1670; wife Katherine; son Samuel (his ferry land); son Zechariah; dau. Dinah; son Thomas; dau. Ema; Inv. 10 Jan. 1670 [1670/1]. (Stratford Deeds) Robert Seabrook was an elderly man, one of the early settlers in Stratford, he did not long survive. His will is not found, and our only knowledge of it comes from mention made of it in Stratford Deeds, where land was entered to the following persons which they had by gift from their grandfather Robert Seabrook:–Samuel Fairchild, Thomas Fairchild, Jehiel Preston, John Wheeler's wife, Samuel Stile's wife, and perhaps others not noted. From this we deduce that he had daus. who m. Thomas Fairchild, William Preston, and Thomas Sherwood; the wives of Wheeler and Stiles were daus. of Sherwood. Preston was from Chesham, co. Buckingham, and the name Seabrook is common in that country, where at Wingrave a Robert Seabrook m. 12 Sept. 1596, Alice Goodspeed, bapt. 19 Aug. 1576, dau. of Nicholas Jr., and Margaret Goodspeed. She was a cousin of Roger Goodspeed, the Barnstable settler. If this was the emigrant Robert, he may have married more than once; but unless research in England is made, we have only vague surmise on which to build. Children (perhaps others): 1) Mary, b abt. 1601, living in 1680; m. (1) abt. 1635, William Preston, and came with him to New England in 1635 ae. 34; m. (2) Thomas Kimberly, of New Haven and Stratford. Dau. b. by 1620; m. by 1639, Thomas Fairchild, of Stratford, Sara, b. abt. 1623; m. by 1642, Thomas Sherwood, of Stratford. (40; Jacobus, p. 523). Thomas Sherwood came to Boston in the Frances, Apr. 1634, ae. 48, with wife Alice, ae. 47, and children Anna (14), Rose (11), Thomas (10),and Rebecca (9). He came to Wethersfield with the first settlers, 1635, was a carpenter, and sold his lands to George Wyllys, 25 Mar. 1640. He removed to Stamford, where he lived until 1648, when he sold to John Holly, and settled in Fairfield. He may have been related to Thomas Morehouse, whose holding adjoined his in Wethersfield, and who accompanied him in his subsequent migrations. If the age of the son Thomas was misstated in the ship's list, he could have been Thomas son of Thomas and Alice bapt. At St. Michael's, London, Eng., 23 Jan. 1630. Will 21 July 1655, proved 25 Oct. 1655; children by former wife, Thomas, Jane, Tamsen, Margaret, Sarah, Hannah, Rose, Rebecca; wife Mary, and children by her, Stephen, Matthew, Mary, Ruth, Abigail, Isaac. Fairfield Deeds mention 18 Jan. 1658 [1658/9] that "John Banks hath married Mary Sherwood the relict." His widow Mary m. (2) John Banks and d. in 1694. (40; Jacobus, p. 549)
1640—SAMUEL FAIRCHILD IS BORN and is the first white child born in Stratford, CT. Born at Stratford, 31 Aug. 1640; d. there in 1705. (40; Jacobus, p. 195). June 11 General Court orders Adam Blakeman, William Hopkins, and Roger Ludlowe to establish boundary between Cupheag (first use of name) and Uncawaye (Fairfield). 1643—April 13 General Court orders magistrates to go to Stratford (first record of that name) and Uncoway to execute justice. (36; Knapp) 1648—MOSES WHEELER operates first ferry across the Housatonic. (36; Knapp) Samuel Fairchild (c. 1640-1704) m. Mary Wheeler (b. 13 Sept. 1655), daughter of Moses. She m. (2) Benjamin Beach Apr. 5, 1705, and (3) Thomas Yale 31 July 1716. (40; Jacobus, p. 195) Moses m. Miriam Hawley—Joseph Hawley was her brother. He was deputy for Stratford, May 1658-June 1687. Commissioner for Stratford 1682-91. (40; Jacobus, p. 264). 1650—Oldest existing list of proprietors is a list of fence owners. Richard Mills sells "Mills Lordship" to Joseph Hawley. (36; Knapp) 1651—Goodwife Bassett tried and hanged as a witch, probably in May. (36; Knapp)
1653—First mill built at Old Mill by John Hurd and THOMAS SHERWOOD. Earlier mills were at Little Neck Creek and Nesumpaws Creek.. (36; Knapp) 1662—Charles II signs Connecticut's charter, includes New Haven, April 3. 1664—New Amsterdam becomes English New York. 1665—BLAKEMAN dies in September, Israel Chauncey becomes next minister. A school is authorized. (36; Knapp) 1671—Lieutenant Joseph Curtiss and William Hawley purchase all remaining Indian land in town, May 25, for 10 coats, 5 lb. powder, 5 lb. lead. (36; Knapp)
1685—EDWARD FAIRCHILD IS BORN IN STRATFORD, CT, the son of Samuel and Mary (Wheeler) Fairchild. "About 1720 Edward Fairchild removed from Stratford to Newtown, and made his home at the place afterward occupied by Arunah Fairchild, and later, in 1887, by John I. Hughes. (37;CBR)
1715—JONATHON FAIRCHILD IS BORN IN STRATFORD, CT, the son of Edward and Elizabeth (Blakeman/Blackman) Fairchild. "Jonathon Fairchild, the great-great-grandfather of the gentleman who opens this sketch, had three sons, Seth, Josiah, and Zadoc. Of these, 1) Seth remained in Newtown until 1796, when he removed to Ulster county, NY, with his sons, Jonathon, Abel, Daniel, Levi and Isaac. Some years later he sold his farm there, and with his eldest son, Jonathon, located at Butternuts, Otsego Co., NY, where he died in 1815. His other sons settled in Pennsylvania and Ohio…. Jonathan remained at the "Butternuts" for six or eight years after the death of his father, and then went to Ohio with his three sons, Seth, Zerah and Elam. 2) Josiah, mentioned above, had five sons: Adoniram, Wheeler, turges, Ira and Josiah." (37;CBR) 1734-1820—In 1775 Kentucky was bought from the Cherokee Indians. Daniel Boone was chosen to mark a trail for the pioneers to go to Kentucky. He led 30 men by chopping trees with axes called the "wilderness road."
1741—SETH FAIRCHILD IS BORN IN NEWTOWN, CT. 3/8/1741. He married Catherine in Newtown in 1766 and died in Gilbertsville, NY 4/28/1815. He had five sons: Jonathon, David, Levi, Isaac, Able; and three daughters: Bessy, Molly Camp, and Hanna Roberts. His will can be obtained at: Office of Surrogate of Otsego Co., Cooperstown, NY—request Vol. E p. 282 of Otsego Co. Wills (Barber 1813-1836; p. 4). Will was probated 6/29/1818 (p. 282) and 2/3 of estate was willed to Jonathon. (44; Wyman)
1742-1796—THOSE WHO TOOK THE FREEMAN'S OATH: Edward Fairchild (1742), Obadiah Wheeler (1742), Jonathon Fairchild (1747), Seth Fairchild (1763)…. It was a period of 54 years in which freemen came before a justice of the peace and took the oath of fidelity showing to the world, and posterity, that they were willing to sacrifice, in defiance of principles set forth by the Declaration of Independence. The oath of fidelity to which freemen were obliged to subscribe before they could exercise the rights that accrued to them when they had taken the freeman's oath: "You do swear by the ever-living God that you will truly and faithfully adhere to and maintain the government established in this state under the authority of the people, agreeable to the laws in force within the same, and that you believe in your conscience that the King of Great Britain hath not, nor of right ought to have any authority or dominion in or over this state, and that you do not hold yourself bound to yield any allegiance or obedience to him within the same, and that you will, to the utmost of your power, maintain and defend the freedom, independence and privileges of this state against all open enemies or traitorous conspiracies whatsoever, so help you God. And no person shall have authority to execute any of the offices aforesaid after the first day of January next, until he hath taken said oath, and all persons who hereafter shall be appointed to any of said offices shall take said oath before they enter upon execution of their offices. And no freeman within this state shall be allowed to vote in the election of any of the officers of government until he hath taken the aforesaid oath in the open freeman's' meeting in the town where he dwells." (41; Johnson)
1758—Noah Webster began writing the first American dictionary in 1807. He is also the writer of the first American textbooks for children.
1768—DANIEL SR. FAIRCHILD IS BORN IN NEWTOWN, CT, 2/2/1768, d. 9/12/1835, Danville, IL. He was the second son of Seth and Catherine. Daniel if buried in the Fairchild Cemetery in Danville, IL. 1776—Captains Robert Fairchild and Daniel Judson attend October General Assembly in New Haven to approve Declaration of Independence. Under General Benedict Arnold, Captain David Hawley commands schooner Royal Savage in October 12 battle against British on Lake Champlain. (36; Knapp)
1776-1783—THE AMERICAN REVOLUTIONARY WAR. "At the time of the American Revolution, Bridgeport was composed of only eleven houses, two stores, and two wharves serving four ships at Newfield, site of the present downtown area. Much of the land was too marshy for settlement, so Black Rock served as a commercial center. Black Rock had the second deepest harbor in Connecticut. When war with England broke out, Fairfielders fortified Black Rock to guard this approach to their town. Privateering and smuggling by Americans were common activities during the war; in retaliation, in 1779, British troops landed and burned Fairfield, Norwalk, and New Haven. After the Revolution, Fairfield and Stratford again turned to the sea and established a profitable coastal and West Indian trade." (38; Orcutt p. 15)
American colonists fought for their freedoms from England. THE DECLARATION OF INDEPENDENCE was approved on July 4th, 1776. In this paper Americans said they were free from the rule of the king of England. (15; Pensacola) Although some professing Christians were instrumental in colonizing the continent early on, the U.S. government was never formed to establish a Christian nation. In truth, many of the framers of the Constitution were at best Freemasons who were also church people, and at worst deists who denied the Lord Jesus Christ and even the very nature of the personal God. Yet, they wrote that document for a biblically-oriented people. Today the biblical ethic is no longer the guiding force for American society. But, in reality, every nation is always "under God." (23; Dager)
1776-1783—Subtle strategies of compromise begin to spread as churches were infiltrated by half-truths and deception through Unitarianism, evolution, Marxism, and a classic revival of neo-pagan immorality. (29; Foster)
1780—Washington meets Lafayete in Stratford on September 19, then goes to Lebanon to meet Rochambeau, then on to Battle of Yorktown.
1790—THE FIRST CENSUS IS TAKEN IN THE UNITED STATES.
1796—AGING DANIEL FAIRCHILD, SR. PREPARED HIS FAMILY TO MOVE WEST. They traveled via New York, across Pennsylvania to the Ohio River, and then to Evansville, IN. They stayed there a short time. (41; Wyman)
1810—REV. DANIEL FAIRCHILD IS BORN IN GILBERTSVILLE, NY. 5/9/1810, d. 5/21/1870, Danville, IL. He married Lucy Hemmingway b. 12/27/1813, New York, d. 1/10/1891 Danville, IL.

1828—THE FAIRCHILDS MOVE TO THE BLOUNT AREA (DANVILLE, IL). Two of Daniel's sons came out and took up land, cleared a small area, and built a cabin. Then, in the fall they brought their families back to Illinois. Daniel and Amy were quite old when they came to Illinois. Daniel was almost blind. The Fairchild neighborhood is formed. It consisted of old Daniel Fairchild, Sr., and his wife Amy, their sons Orman, Lyman, Zenas, Timothy, Daniel (Rev.), Rasel, and twin daughters Lavina and Lulina. They were all married and with their young families earnestly seeking to make homes in the new country. Rev. Dan became a noted Methodist minister and his wife, Lucy, and Orman's wife, Hannah, hand-made the bricks from clay quarried from Daniel's farm. These bricks were used to build the first Fairchild Church which was built across the road from the Fairchild Cemetery. The church, built in 1849, was 30 ft. by 36 ft. and stood in this location until 1880 when it was razed and the bricks were used to build the foundation for a new Fairchild Chapel, about one-quarter mile east of Daniel and Lucy's home. This home known as "The Old Red Brick," was just recently razed…. The local Indians came to the house in the early days. At that time, before the local tribes were rounded up and moved out and moved west, about 1,500 Indians lived in the area. During the long years of Rev. Dan's busy life, he was engage in preaching the Gospel up and down through that part of the country….he did more to keep alive the spirit of vital religion than almost any man in the vicinity. He and his wife, Elizabeth Lucy Hemmingway Fairchild, reared a family of 14 in the brick house; two of their sons died in the Civil War. (41; Wyman)
1835—ELI FAIRCHILD IS BORN IN VERMILLION CO, IL.
1861—CIVIL WAR begins at Fort Sumter, South Carolina.
1862—THE HOMSTEAD ACT offers free government land and draws many settlers to the Great Plains. Many were not successful or did not survive the elements. Billy Sunday becomes a famous evangelist who left a promising career with the Chicago White Sox to win people to Christ. With the increase and success of industry, people had more time to spend.
1891–More leisure meant more time for sports. Basketball was first played in North America in 1891. Proper rules for football and baseball were also introduced. (15; Pensacola)
1863—Abraham Lincoln delivers the GETTYSBURG ADDRESS at the dedication of the Gettysburg National Cemetery in Pennsylvania.
1864—MILTON ELLSWORTH FAIRCHILD IS BORN IN DANVILLE (VERMILLION CO), IL. 1Milton was born 1/18/1864, d. Sept. 16, 1916, at Potomac Cemetery. When the family moved to Iowa, they moved his body to Spencer Memorial Cemetery. When his wife died, he was moved to Storm Lake Cemetery where she was buried. M. 3/5/1884, Emma Firebaugh, b. 5/31/1864, d. 1/20/1945, at Alber City, IA. Emma Fairchild's services were held from the home of her daughter, Eva. Rev. Russell Ingram of Minnesota had charge of the services. She was buried at Buena Vista County Memorial Cemetery near Storm Lake, IA. While in Illinois, they lived northwest of Snider Store, where their children were born. After her husband's death, she moved her family of five children to Iowa where one daughter, Oda, and her husband lived near Rembrandt. (47; Gilmore, p. 126-7)
Monday, March 18, 1946—The Commercial News: Milton Ellsworth Fairchild, second son of Eli and Clarissa Fairchild, and grandson of Rev. Daniel Fairchild, a pioneer Methodist minister was born in January 18, 1864. He died September 23, 1916, aged 52 years, 8 months and 5 days. He joined the church in 1883 and was always a member of the Fairchild Chapel M. E. Church. He was a licensed exhorter in the church and at the time of his death was a class leader, which position he had held for a number of years. He was united in marriage to Emma Firebaugh in 1884 and to this union was born six children. Enos Eli, William Ray, Eva, Myrtle Marie and Clara Zola, all at home and Mrs. Walter Vandervort, of Terril, IA. Two grandchildren also survive. He had lived in the vicinity of Henning all his life and was well known as a kind neighbor and loving husband and father. Funeral services were held Monday at the Fairchild Chapel. The pastor, Rev. A.L. Simmons officiated, assisted by Rev. J. R. Warlick of Broadlands. Burial was in the Potomac cemetery. (Vermilion County Museum)
Former Snider Woman Dies in Iowa at 80: Henning—Word had been received by Mrs. Howard Wyman, Danville Route 2 that Mrs. Emma Fairchild, 80, formerly of the Snider Community, died Jan 21 in the home of a daughter, Mrs. Eva Guttell of Albert City, IA. Mrs. Fairchild is the widow of the late Milton E. Fairchild, who preceded her in death several years ago. Funeral services were at 2 p.m. Wednesday with burial in Spencer Cemetery. Surviving Mrs. Fairchild are two sons. Ray and Enos, and four daughters, Mrs. Oda Vandervoort, Mrs. Marie Cronk, Mrs. Eva Guttell and a younger daughter Zola. (Vermilion County Museum)
1865—SLAVERY IS ABOLISHED. Lincoln is assassinated. 1865—The United States becomes a world power.
1869—The FIRST RAILROAD LINKING EAST WITH THE WEST COASTS of the United States is completed. 1870—Congress passes the 15th amendment granting the right to vote regardless of race, color, or previous condition of servitude.
1873—P.T. BARNUM OPENS HIS CIRCUS, "The Greatest Show on Earth," in New York. Phoebe Fairchild married Philo Barnum. They had four children. Philo married Irene Taylor and their first son was P.T. Barnum. (41; Wyman)
1874—THE FIRST AMERICAN ZOO IS ESTABLISHED in Philadelphia.
1876—ALEXANDER GRAHAM BELL is granted the first U.S. patent for the telephone. Dr. David Grandison Fairchild was a botanist in Michigan. He married Daisy Bell, Alexander's daughter, and assisted Alexander in developing the first sign language for the deaf. (41; Wyman)
1876—THE BATTLE OF LITTLE BIG HORN. The Sioux Indians, led by chiefs Sitting Bull and Crazy Horse, defeat General Custer and the Seventh Calvary.
1877—The phonograph was invented by THOMAS EDISON.
1885—Stratford graded school opens September 4, replacing one-room schools. (36; Knapp)
1886—COCA-COLA appears on the market in Atlanta, GA and is advertised as a remedy for fatigue.
1891—BASKETBALL is first played in North America as the success of industry brought more time for leisure. Proper rules for football and baseball were also introduced.
1894—ENOS ELI FAIRCHILD IS BORN IN DANVILLE, IL. b. Jan. 10, 1894, near Snider, d. July 1, 1950, in Terril, IA., m. Jan. 26, 1921, at Spencer, IA, Bess Schaeffer, b. Oct. 21, 1893, at Esterville, IA. Enos was a farmer and raised hybrid seed corn. Children of Estel and Bess: 1) Mary Louise "Lou", b. 1/1/1922, in Rembrandt, IA, m. 7/27/1945, Rev. Ralph Plautz, b. in Hannibal, MO, d. 1975. Mary Lou is a graduate of music from Morningside Conservatory, Sioux City, IA, and a teacher. Rev. Ralph received his degree in Jan. 1945, from Concordia Seminary, St. Louis, MO. Children of Mary Lou and Ralph: Daniel Mark, b. 10/17/1946, Rebeca Lou, b. 4/12/1950; 2) Leaila Jean, b. Sept. 21, 1923, in Rembrandt, IA, m. Erwin Bridson, b. Apr. 1, 1923, in Terrill, IA. 3) Daniel Milton, b. 9/16/192__ in Terrill, IA, m. Sally Rielly. Dan was a postmaster of Terrill for several years. Children of Daniel and Sally: Riley, b. 9/18/1956, Jon, b. 9/20/1958, Timothy, 9/5/1959, Dana, b. 10/151960, Franklin, b. 4/20/1963, Ann, b. ___. 4)Estel Glen, b. 10/6/1929, in Terrill, IA, m. 2/13/1953, Audrey Fransen, b. 10/17/1930. Children of Estel and Audrey: Kathy Bess, b. 10/17/1954, Mary Estelle, b. 11/17/1956, James Rolland, b. 2/13/1960, m. Mary Turuc, b. 10/12/1960. (47: Gilmore, p. 128-9)
1903—Orville and Wilbur Wright successfully fly a powered airplane in KITTY HAWK, NC.
1905—Albert Einstein formulates the THEORY OF RELATIVITY with the equation E=mc2.
1908—Henry Ford manufactures the first MODEL T automobile.
1909—LINCOLN-HEAD PENNY is issued. On the 100th anniversary of Abraham Lincoln's birth the Philadelphia mint replaces the Indian-head penny.
1912—THE TITANIC SINKS. The unsinkable luxury liner making its maiden voyage from England to the United States, collides with an iceberg and sinks, killing 1,513 people.
1920—During the economic boom of the "ROARING TWENTIES," the traditional values of rural America were challenged by the Jazz Age, symbolized by women smoking, drinking and wearing short skirts. The average American was busy buying automobiles and buying household appliances "on credit," and speculating in the stock market.
1920—Congress passes the 19th amendment guaranteeing WOMAN SUFFRAGE. In the 1800's middle class women were expected to marry and obey their husbands. They had to know how to manage their servants so the house was run properly. They could not take a job because it was not considered respectable. God had ordained hierarchy of man being the head, but it was ordained without sin. It worked perfectly in love and sin is what has polluted it. There is still a hierarchy of headship in the church and the family, but when done in the love of Christ it is not abusive.
The term "FASCISM" was adopted in Italy during the 1920s by followers of Benito Mussolini. Later it was applied to Adolf Hitler of Germany. Fascism glorifies the state at the expense of the individual. It embraces and authoritarian leader, who embodies the state, and often involves racist ideologies, exalting one group at the expense of another. Unlike communism, under which all property is owned by the state, fascism encourages industrial and financial magnates. Like communism, it oversees individual and business activity, employing secret police to insure compliance with the state. Mussolini came to power with the help of a private army of thugs who beat up rival political candidates. In 1922 he led a successful coup d'etat and established himself as II Duce, the leader. Fascism's only appeal was its ability "to provide order." Adolf Hitler won a following with a similar promise. He charged that "the unpatriotic leaders had sold out his country at the Versailles conference."
Germany had surrendered to the Allies in WWI while German troops still occupied France. In 1923 Hitler tried to seize the Bavarian state government. After his revolt failed, he decided to gain power by lawful means by attracting voters by promising to make German people prosperous, to ignore the Treaty of Versailles, and to rebuild Germany's armed forces. By 1933 Hindenburg appointed Hitler chancellor and he soon overthrew the constitution and began to create a dictatorship. He permitted only one political party—the Nazi Party. (20; Microsoft '96 Encyclopedia)
1929—ESTEL GLEN FAIRCHILD IS BORN IN TERRIL, IA.
BLACK TUESDAY—on Black Tuesday, October 29, 1929, the stock market crashed triggering the Great Depression. It spread from the United States to the rest of the world, lasting from the end of 1929 until the early 1940s. More than 15 million Americans became unemployed. President Herbert Hoover, a strong believer in rugged individualism, did not think the federal government should offer relief. Focusing on a trickle-down economic program to help finance businesses and banks, Hoover met with resistance from the business executives who preferred to lay off workers. Most Americans were able to provide for themselves, and others received help from family, friends, and private charities. Certain leaders, however, began to convince people that the government should solve their financial problems and many people began to depend on it for their financial needs. By 1932, the Depression was at its worst, and many people were open to socialistic ideas of government control and economic planning. (15; Pensacola)
When Franklin D. Roosevelt took the oath of office the Great Depression had reached its lowest depths. In the proposals that FDR made to congress, he followed the advice of a group of close advisors, mostly college professors, who came to be known as the "Brain Trust." They urged the adoption of untried and unproven economic theories of John Maynard Keynes. Keynes was a British left-wing economic theoretician who advocated central planning and massive economic and social intervention on the part of government in order to bring a nation out of economic recession or depression. Keynesian economics and New Deal legislation were aimed at "spending the nation into prosperity." This set a precedent for direct government intervention and involvement in the lives and property of the American people moving them away from Thomas Jefferson's dictum, "That government is best which governs least." (15; Pensacola)
1933–On April 19, all privately held gold was to be turned into the Federal Reserve banks in exchange for paper money. Taking the country off the gold standard shook public confidence in the U.S. monetary system. This abandonment of the gold standard helped create a "managed currency" in the United States. In 1934, in an attempt to stimulate the economy by creating inflation, the federal government reduced the gold value of the dollar to 59.06 cents, or 59.06 percent of its former value. Now paper currency, which was already unredeemable, was only partially backed by gold. The American tradition of free enterprise and individual initiative, which had made the country great, was being replaced by an ever-expanding, paternalistic federal bureaucracy. The staggering cost and long-term inefficiency of the New Deal also brought it much criticism. The national debt soared upward and unemployment remained a problem. (15; Pensacola)
1936—"Most Terrific Blizzard in Many Years," The Terril Record, 2/13/1936 (*See Aunt Bessie's newspaper clippings).
1946—In 1946, with the end of Soviet Communism, Winston Churchill had delivered a speech at Westminster College in Fulton, MO, proclaiming: "From Stettin in the Baltic to Trieste in the Adriatic an iron curtain has descended across the continent." Forty-six years later, on May 6, 1992, Mikhail Gorbachev returned to Fulton as the last leader of the Soviet Union. Gorbachev had fostered the reforms that went beyond his own expectations and led to the dissolution of the Soviet Union. (20: Microsoft Encyclopedia)
The ultimate weakness of Soviet Communism can be traced to many sources. Despite their ideological commitment to human equality, the Communists established a party elite in the Soviet Union, leaders who were, as George Orwell commented in his allegorical fable "Animal Farm," "more equal than others." As an economic system Communism was also found lacking. Allowing little scope for human initiative, Communists failed to draw out the best efforts of the Soviet peoples as producers and distributors of goods. Communism relied on "controlled press" that printed only what the government wanted the people to hear. Romania even required its citizens to register their typewriters.  (20: Microsoft Encyclopedia)
The Nazis called their government the "Third Reich" (Third Empire). The first was the Holy Roman Empire and the second was the German Empire. Many were attracted to National Socialism because it linked everything, or nearly everything, together—the workers "by brain and by hand" were no longer apart, employers and employees were no longer opponents, and town and country were merged in the nation. Romantic talk of Blut and Boden, "blood and soil," and the simple life of the farmer…Folk dancing and the residential settlement movement…and "Strength through Joy" allowed many to join in and give them identity. Within the labyrinth of modern society the Nazi dictatorship opened up spaces where no law applied, except the Fuhrer's command. The past meant nothing; at best it was a dark period that had to be overcome—the Hitler youth referred to old people as mere "cemetery vegetables." (14: Sturmer)
The guardian state supplied universal care, but also intrusive supervision. Concentration camps, Gestapo, block wardens and Party bigwigs all existed, but it was better to look the other way. For those with doubts, there was a defensive mechanism in the phrase: "If only the Fuhrer knew…" The Nazis seized control of the nation's courts, industries, newspapers, police, and schools. Many children were taught to spy, even on their parents, for the Nazis. Those who opposed the Nazi dictatorship were murdered, imprisoned in concentration camps, or beaten up by Hitler's private army of hoodlums, called storm troopers. (12: World Book Encyclopedia)
Goebbels (the Gauleiter of Berlin) recorded that the vegetarian Hitler "has little regard for homo sapiens. Man should not feel so superior to the animals." Josef Goebbels was a pupil of the Jesuits from the Cologne region who became "Reich Minister of Public Enlightenment and Propaganda." (14; Sturmer)
Some people embraced Darwinism for philosophical reasons; they wished to remove God from their thinking. Others simply believed that it was scientific. But Darwin's philosophy of evolution had little to do with science. In fact, one of Darwin's first supporters was a liberal Anglican clergyman and socialist, Charles Kingsley, who worked hard to integrate the ideas of evolution into Christian practice—most scientists were skeptical because they realized that it was based largely upon speculation rather than scientific fact. The acceptance or rejection of evolution was not dependent upon one's scientific knowledge or aptitude, but upon one's readiness to find a materialistic explanation for life (one's faith). This caused a dramatic shift away from the traditional Judeo-Christian worldview toward a naturalistic worldview. Instead of being a special creation of God, mankind became regarded as a mere animal, with no more worth than any other part of nature. Right and wrong became to be thought of as relative, defined either by the whims of the individual or by the will of the majority. (2: Sarfti)
Just 150 years ago, the evolutionary theory combined with societal circumstances drastically shifted our attitude toward time. Time was once arranged by families as in European history when we had the Stuarts, Hapsburgs, Bourbons, and so on. Now we speak of the sixties, seventies, and eighties. The industrial revolution brought a greater need for schedules with the railroads and factories. Greenwich, England became the prime meridian in 1884. This fixed the exact length of a day and divided the globe into 24 time zones. In the 1859 census, age was not yet included. Even birthdays were neither mentioned nor celebrated before the mid-nineteenth century. (23: Dager)
With the onset of evolutionary thinking, progress soon became synonymous with the passage of time and students were segregated by age. Students were now judged to be either "ahead" or "behind" their peer group (*See the Aunt Bessie's 1942 Des Moines Register newspaper article on the "one-room schoolhouse."). The one-room school house had been the norm since there was no impetus to segregate based on maturity level. At the turn of the twentieth century, Granville Stanly Hall used the social applications of Darwin's work in Biology and suggested that individuals evolve through the same stages through which human history has evolved. Infants and toddlers were associated with pre-savage periods of human history; he counseled parents and teachers to leave their young children to Nature and encourage play which fosters motor development. Likened to the early pygmies and other savages, a crisis period of transition led to the pre-adolescent years of 8-12; these children could be drilled and disciplined in school. Then another period of crisis came at adolescence, which he deemed the most critical period in one's life. In his greatest work, Hall developed this theory in which he called his "recapitulation theory" in a two-volume tome titled "Adolescence: its Psychology, and its Relations to Physiology, Anthropology, Sociology, Sex, Crime, Religion and Education. (24: Hunt)
Rebellion was actually viewed as a positive thing as Hall taught that each generation is or should be superior to the previous one, and therefore needs to break free from those which precede it. Hall's renowned follower, John Dewey, later applied these theories to the public school system. Dewey taught a generation of teachers and school administrators through his laboratory school for progressive education at the University of Chicago. He created high schools to segregate teens from other children and from adults. Within a generation after Dewey, an adolescent sub-culture immerged. By the 1950s, teens had their own music, language, and dress. The fifties' James Dean's movie "Rebel Without a Cause" contained the theme that the nobility of youth suffers at the hands of an evil older generation which lacks understanding. Elvis Presley would soon promote certain hair styles, dress, and attitudes that became legendary. Then, Dustin Hoffman would deal the final blow at parental authority and respect in movie "The Graduate." Today the youth culture is the "dominant culture." (24: Hunt)
Identical to the New Age Movement of today, the Nazi worldview also grew out of the same occultic root: theosophy. In fact, the New Age Movement could easily bring forth another Adolf Hitler as well as another holocaust. Joseph Carr, in his book "The Twisted Cross," exposes that the Nazi's worshipped pagan gods and the Gestapo conducted Mystery initiation rites and swore blood oaths to Satan, and the top Nazi leaders were dedicated students of the black magic arts and witchcraft. The Nazis also believed in evolution, karma, and reincarnation, which are all New Age concepts. (33: Bailey)
Although occult literature calls the "New World Order" a "Golden Age," the Bible describes it as a time of sorrow. Aurelio Peccei, co-founder of the Club of Rome, hold an occultic worldview, biases against Christianity, and believes that orthodox religious beliefs are primitive: "One of the greatest socio-political and economic differences between the future and the present is that the increasingly intertwined structures of the entire global system will produce 'A Progressive Convergence of the Futures of all Peoples.' All societies will be bound together even more closely by a network of vital interlinkages, which will condition their relationships with each other for better or for worse. Breaking these links will no longer be conceivable. It would throw the whole system into chaos—which no one would want." If these links of which he speaks are truly unbreakable, individual freedoms are very much a thing of the past. Peccei also justifies the establishment of a new universal religion: "….Certain points of doctrine…. have been magnified, provoking schisms, apostasy,.. 'Without A Sincere Spiritual Awakening, The Renaissance of our True Humanity Will Be Impossible.'" (35: Peccei)
The act of unifying underlies all of occultism. It is a false syncretistic unity instead of true unity in Jesus Christ. The dangers of trying to gain control over society should be self evident. Those who feel we should so will be receptive to a dictatorship that the antichrist will ultimately impose. Under the new world view, national sovereignty will be unjustifiable. National sovereignty is the right of each individual nation to act as an individual nation, making its own laws and executing its own laws among its people. To the internationalist, national sovereignty is the epitome of global selfishness. Nations need to share their wealth and resources with other nations to eliminate present problems of other countries. To the new world advocate, there is no other viable alternative to the future survival of civilization than of a new global community under a common leadership! (34: Carr)
During the 1960s Americans desperately sought alternatives to their parent's religious lifestyles. These religious seekers "looked within" for truth and wisdom. Meditation was widely incorporated along with witchcraft covens, communal gatherings, Zen retreats, and new movements like Transcendental meditation and Krishna Consciousness. Family relationships, diet, fashion, and exercise were all areas in which "good" and "bad" were measured by their effects on self-knowledge and personal growth. Whereas religious and political leaders once held back the occult in America, moral authority is now increasingly located in the self rather than in family, church, or nation. A morality-free society was pushed and the results were the ingestion of drugs, sexual experimentation, rebellion against conformity to society's norms, and a gradual dissolution of differences between men and women. To a large degree, mass media promoted the rejection of the traditional morality. (28: Pensacola)
2000–Today, both Communism and the Arabs are a threat to our society. Not only was 9/11/01 a wake-up call, but today we are aware, with the many mosques going up across the country, that some are secretly preparing jihad to the United States. Although we brought down the Soviet Union, the agenda of that corrupt system is alive and well in this country's academia, media, governments and churches.
Today, individual liberty means individual license to do as one pleases. "You can't legislate morality" is their cry, in spite of the fact that most governments that have ever existed have based their laws upon a moral framework that distinguishes between right and wrong. Those that do not will fall into despotism, creating havoc and poverty for their citizens. (3; Mooberry)
Colonials disapproved of blending Christianity and astrology and saw magic as evil and demonic. But after 1720 immigrants from Europe challenged the Protestant worldview and irrevocably changed the cultural landscape of America. People were encouraged to shape their own destinies and this optimism and emphasis on personal experience became a basic assumption underlying mid-nineteenth alternative religious movements. The reformist agenda was initiated by a transformed social and economic landscape and revivalism's emphasis on the ability of humans to direct their own lives and to perfect the world around them. The Second Great Awakening (1800-1830) was also a time of spurred interest in many alternatives to Christianity. The "psychic highway" followed the Erie Canal through New York west of the Catskills and the Adirondack Mountains. Rochester and Utica became known as the "Burned-over District" as religious revivals spread across the district. Early Mormonism was started there as well as Spiritualism, which eventually developed in different directions.
During the years from 1812-1860, a "hothouse" atmosphere surfaced for social experimentation and religious creativity. As our country moved into commercial greatness, crowded cities staged popular speakers and held demonstrations were political and religious ideas were exchanged. (10; Pike)
Today, right and wrong have lost their meaning because, according to modern psychology, none of us is responsible for anything we do. We are all victims, driven to do whatever we do by the traumas we suffered as children, traumas which have created hidden motives and urges buried in the unconscious and are thus unknown to us and beyond our control. Before Freud, no educated adult could find a plausible reason to avoid responsibility for his actions. Left to psychoanalysis and psychodynamic psychology, man has become blameless. It is not done by covering his faults, but by tracing them back to his childhood, when he was morally innocent… (24; Hunt)
A "Reader's Digest" article commented: "….Sin isn't something many people spent much time worrying about in the past 25 years. But…sin…at least offered a frame of reference for behavior. When the frame was dismantled during the sexual revolution, we lost the guide wire of personal responsibility… The United States has problems with drugs, high-school sex, AIDS and rape. None of these will go away until people in positions of responsibility come forward and explain, in frankly moral terms, that some of the things people do nowadays are wrong." (Reader's Digest, May 1992, reprinted from the Wall Street Journal).
On December 5, 1980, the United Nations General Assembly formulated the Global Education Project. Based on UN assistant secretary-general Robert Muller's World Core Curriculum, a model for global education for every nation was set up in Costa Rica called the University for Peace. Stressing "thinking skills" rather than academics, it is designed to instill non-competitive group consciousness, critical thinking, and global citizenship. Muller is an evolutionist who believes man is about to take a quantum leap toward becoming a new species. He believes that the earth is going to be transformed into the "planet of God." To him God is the "planetary age" or the "age of Aquarius." He agrees with the Hindus in calling the earth God. This is the foundation of our radical environmentalists today. They are striving for a spiritual at-one-ment with nature—a unified world system where the individual is subordinated into the whole. This World Core Curriculum promotes Eastern meditation techniques, including "guided fantasies into space," which is also called "out-of-body travel" or "astral projection." Muller's concepts are actually taken from occultist Alice Bailey's writings which were channeled the spirit guide Djwhal Kuhl, also known as the Tibetan. These channeled spirit guides are from an alleged group of evolutionary beings who have attained a high degree of evolutionary perfection which released them from bondage to the material world. This holistic view of life views the planet as interconnected, with no life form having any greater standing than any other life form. Imperfect while we are still man, our next stage is said to take us to a level that is psychologically, spiritually, and physically superior where we will be a true "planetary citizen." (27; Dager)
The overall paradigm shift:
1) Patriarchal (Father God)—– Matriarchal (Mother Earth—Gaia)
2) Hierarchical Leadership—–"Decentralized"—Totalitarian in a Crisis
3) Accountability to God—–Accountability to fellow man/earth
Scripture tells us that man's inward thoughts and intents of the heart are corrupt (Jeremiah 17:9). Scripture also tells us that the love of many will grow cold toward the end of the church age and that sin will abound (Matthew 24:12). Even in the Millennium Jesus and His saints will need to rule with a "rod of iron" against those who will rebel against His government (Rev. 2:27; 12;5, 19;15).
God always allows evil to exist in the world to test the hearts of men so that none will be without excuse. We are not to take for ourselves what He has not ordained. Western Civilization has largely been shaped by the esoteric philosophies of secret societies working through the influence of members in strategic political positions. Most secret societies are based on the basic philosophy of deism which is based on human reason rather than revelation (Freemasonry, Rosicrucianism, Illuminsim, etc.). They all plan to establish a one-world society based on human reason and personal freedom. A democracy can be easily changed into a world society, especially if wars can be used to persuade the masses to seek safety and peace in a world federation of states.
One classical scholar featured on a recent History Channel DVD noted about Pompeii: "These people did not have a book to follow…they didn't have something to give them a set of rules to obey….they didn't have a 'Bible' per say, in which to guide them and so we find that their value system was extremely different than what we have in America….parents could kill their children….there was rampant sexuality….and a huge gap between the rich and the poor and no one in between; no middle-class."
According to the late great philosopher/theologian, Francis Schaeffer, the Greeks popularized humanism, man's attempt to solve his world without God, the Romans popularized the Greek culture and humanism spread until the time of Christianity, and then Catholic thought took the position of the dominant thinking of the ages.
For ancient Rome, society was the absolute. All values had meaning in reference to the city-state (Socrates chose death over exile), but this proved to be an insufficient base to build a society. When they shifted to the worship of finite gods as grounds of accepted values, they found that the gods were limited. The gods were only amplified humanity, not divinity. There was no sufficient reference point intellectually—not big enough or permanent to which to relate their thinking or living. Their weak value system could not bear the strains of life. As a result of the collapse of ideals, Julius Caesar became dictator (100-44 B.C.) and in response to civil disorder, Augustus had authoritarian rule (63 B.C.-A.D. 14; declared Pontifix Maximus in 12 B.C.). As they maintained a facade of republican constitution, they claimed to give peace. The people were ready to accept absolute power for peace.
In time the emperor was seen as god. Although religious toleration was supported, the people also had to worship Caesar. Christians were persecuted for not worshipping Caesar and there was a growth of cruelty, decadence, rampant sexuality, and lust for violence. A general apathy was seen in the art and with an expensive government the economy declined. As internal rot weakened the society, barbarians invaded with ease.
Christians are to love all men and allow them to live as they wish. Everyone, in essence, makes a choice about their religious beliefs and spiritual condition, but amongst brothers and sisters in Jesus Christ, Christians are called to use discernment and edify one another. If ungodly behavior and/or false doctrine is found it should be exposed and reproved (Eph. 5:11; 1 Thes. 5:21). God said we are not to be unequally yoked, to have no fellowship with the fruitless deeds of darkness, but rather reprove them; bad company corrupts, a little leaven leavens the whole lump. To reprove something is to show the error with the hope that people will see the snare and avoid it. Christians are not to compromise and be involved in things that bring dishonor to Christ or which have a purpose that is not in keeping with Biblical doctrine. For Herod and Israel, the consequences of the birth of Jesus could have involved war, or restrain their lusts, thus, even all of Jerusalem desired no king but Herod at that time.
Matthew Henry, the great Bible commentator, notes: "The slavery of sin is foolishly preferred by many to the glorious liberty of the children of God, only because they apprehend some present difficulties that necessary revolution of the government in the soul. To Herod and Jerusalem, the kingdom of the Messiah would clash and interfere with the secular powers. To the wise men, however, the star that proclaimed Him king plainly intimated that His kingdom was heavenly, and not of this lower world."
Turn now to John's gospel…. listen to how the glorious Son of God entered into the realm of mankind and yet he is still a light: "In the beginning was the Word and the Word was with God and the Word was God (the name for Jesus Christ—the Word). He was in the beginning with God. All things came into being by him and apart from him nothing came into being that is come into being. In him was life and the life was the light of men. And the light shines in the darkness and the darkness did not comprehend it. There came a man sent from God whose name was John. He came for a witness that he might bear witness of the Light that all might believe through him. He was not the Light, but came that he might bear witness of the Light. There was the true Light which coming into the world enlightens every man." (John 1:1-9).
"And the word became flesh and dwelt among us and we beheld his glory. Glory as the only begotten of the Father full of grace and truth" (John 1:14). Have you responded to that light? If you have never trusted in Christ for your salvation—if you have never received Him personally, then you as yet have not responded to the Light (the Light that God sent).
Because he says in verse 12 "As many as received Him to them he gave the right to become the children of God even to those who believe in His name." All that's necessary for you to do for you to go to eternity "in judgment" is nothing—we're all headed that way because of our sin, but God gives you the opportunity to respond to the Light. Jesus Christ came—he declared… he clarified the grace of God. He says that you can have a right relationship with God, "you can be assured of eternal life if you receive Him." He's the one who died for you and He is alive evermore. Everyone will meet Jesus Christ one day—everyone who has ever lived will meet him either as their Saviour or as their Judge. Reach out "in faith" and say "I take you Lord Jesus as my Saviour." (3; Mooberry, "The Vision of the Glorified Son .")
Related
Sea Kayaking Narragansett Bay: Native American Footpaths and Soul Freedom
References
1. Terrell, Richard, "Resurrecting the Third Reich."
2. Sarfti, Jonathon, "The Nazis Planned to Exterminate Christianity," "The Holocaust And Evolution," Creation Magazine #24, 2002.
3. Mooberry, Pastor Jim, "The Faithful Word: Creation Fact or Fiction." ,"The Vision of the Glorified Son."
4. Shirer, William, "The Rise and Fall of the Third Reich."
5. "The Rise of the Fourth Reich: Funding the Hitler Project," http://watch.pair.com/riech.html .
6. Pinalto, Judy, "Unholy Hands On the Bible," http://watch.pair.com/unholy.html .
7. Sutton, Anthony C.,"How the Order Creates War and Revolution," Ch. 1.
8. Psychosocial Manipulation of Human Populations: http://www.connectcorp.net/~trufax/menu/mind.html
9. Burdman, Mark, "Eugenics Society: Masters of Genocide," http://www.bosnet.org/archive/bosnet.w3archive/9407/msg00211.html
10. Pike, Sare M., "New Age and Neopagan Religions in America," 2004.
11. World Book Encyclopedia B, 1969, "Black Forest."
12. World Book Encyclopedia G, 1969, "Germany."
13. World Book Encyclopedia A, 1969, "Austria-Hungary."
14. Sturmer, Michael, "German Century," 1999.
15. "America Land I Love," Pensacola Christian College, 1994, http://www.abeka.com/
16. World Book Encyclopedia Y, 1969, "Yugoslavia."
17. A Beka Book, "Biology: God's Living Creation," 1997; http://www.abeka.com/
18. Herbert, James A., "The Ancestors & Decendants of Johann Heeg & Catherine Graebner," 2000, 676 Dillon Drive, Omaha, NE, 68132-1906, 1-402-551-6375.
19. The World FactBook: Serbia and Montengro. http://www.cia.gov/cia/publications/factbook/geos/yi.html
20. Microsoft '96 Encyclopedia: "The Rise of Fascism and World War II (1920-45).
21. Schaeffer, Francis, "How Then Should We Live?" Crossway Books, 1976.
22. Schlect, Christopher, "Critique of Modern Youth Ministry," Canon Press, 1995.
23. Dager, Al, "Allegiance: To Whom Do We Pledge?" Media Spotlight Vol. 25—NO. 3, http://www.mediaspotlight.org/
24. Hunt, Dave, "Occult Invasion," Harvest House Publishers, 1998; http://www.thebereancall.org/
25. The Aragon; http://www.catoe.org/aragon.html
26. "Fall in Yugoslavia," God's World News, 10/27/2000.
27. Dager, Al, "Education Reform," Media Spotlight; http://www.mediaspotlight.org/
28. "Revelation, Church History, and Things to Come," Pensacola Christian College, 1993, http://www.abeka.com/
29. Marshall Foster & Ron Ball, "Christian Home Learning Guides," Zane Publishing, 1997.
30. Cutler, Irving, "Chicago Metropolis of the Mid-Continent 3rd ed.," Kendall/Hunt Publishing Co, 1973.
31. "The Chicago Fire," www.chicagohistory.org/history/fire.html
32. WTTW11, "Riverview," http://www.wttw.com/chicagostories/riverview.html
33. Bailey, Foster, "Things to Come (London: Lucis Press, 1974).
34. Carr, Joseph J., "The Twisted Cross (LaFayette, La.: Huntington House, 1985).
35. Peccei, Aurelio, "One Hundred Pages For the Future" (New American Library, NY: 1981). 36. Knapp, Lewis G., "In Pursuit of Paradise" (Phoenix Publishing, published for The Stratford Historical Society, 1989).
37. Commemorative Biographical Record, Stratford and Bridgeport Library reference.
38. Orcutt, "The History of Stratford and Bridgeport 1639-1886 pt. 1 & 2.
39. Stratford's Celebration Two Hundred and Fiftieth Anniversary of the Settlement of Stratford (Bridgeport Library reference).
40. Jacobus, Don, "The History and Genealogy of Old Fairfield, vol. 1," 1930; (Bridgeport Public Library HR 929.12 C752F).
41. Johnson, "Newtown's History," Newtown library reference: R. 929.2New.
42. Barber, "Connecticut Historical Collection," ref. Stratford Library, HR 974.6 B234.
43. Mitchell, Mary,and Albert Goodrich, "Touring Newtown's Past," 1996, Newtown Historical Society.
44. Wyman, Gladys McCoy, "The Family of Daniel Fairchild Sr.," 1963.
45. Cullen, Kevin, "As You May Recall," Old Town Preservation Assoc., Danville, IL 61832; 1997. 46. Fairchild, Timothy Marsh, "The Name and Family of Fairchild," Higginson; 1944. (Ref. bibliofind.com 10/00, Stratford Historical Society.
47. Gilmore, Jean, "Early Fairchilds in America," Gateway Press,Inc. 1001 N. Calvert Street, Baltimore, MD, 21202; 1991.
48. Thoms, "Yale Men & Landmarks in Old Connecticut 1701-1815," copy of page from this book on file at the Stratford Historical Society.
49. "Stratford's Celebration: Two Hundred & Fiftieth Anniversary of the Settlement of Stratford;" Bridgeport Library, 103.1889; 1890; p. 82-3.
50. Town Clerk's Office (records 1639 to present), Stratford Town Hall, 2725 Main Street, Stratford, CT, 06615, (203) 385-4020.
51. Stratford Historical Society: 967 Academy Hill, Stratford, CT 06615-0382, (203)378-0630. 52. Stratford Library Association (Congregation Cemetery is behind library): Historical Reference Collection, 2203 Main Street, Stratford, CT 06615, (203) 385-4164.
53. Bridgeport Public Library: Historical Collections, 925 Broad St., Bridgeport, CT, 06603, (203)576-7417.
54. Newtown Historical Society: 44 Main St., Newtown, CT 06470, (203) 426-5937.
55. New York Historical Society: Cooperstown, NY.
56. Office of Surrrogate of Otsego Co.: Cooperstown, NY.
57. Vermillion Co. Museum: 116 N. Gilbert, Danville, IL, 61832
58. Fairchild Cemetery—Danville, IL: From Danville, take US 150 west to Henning Rd. (co. road 1300 east). Turn north about 6 miles to co. road 2300 N. and turn west. Proceed to the first road—County Road 1270 E. Turn right for 1 2/10ths mile. The cemetery will be on the right in the area of the old Crawford farm.