By Mary Fairchild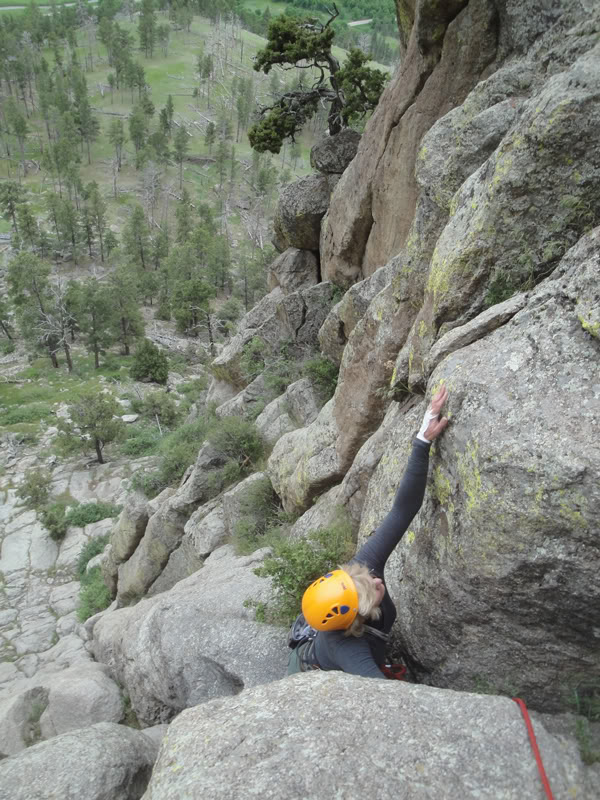 "Mary Reaching"; picture by Andy Petefish
"To me, climbing lifts my spirits more than any other activity… When I climb the tower and I get up on top there, I'm fully engaged with nature, and I'm actually feeling it and touching it and wedging my body into it." Andy Petefish, Devils Tower, Wyoming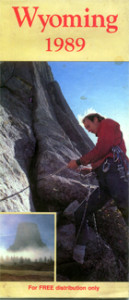 (13; Andy Petefish, WY roadmap–another lap on Mr. Clean, 5.11)
After hiking the trail around the Tower before I met with Andy for our orientation, I stopped for coffee in a family run steakhouse nearby called the Crook County Saloon and the owner told me that a lot of the climbers come in with their guides and that she knew Andy and she confidently said, "He's the best."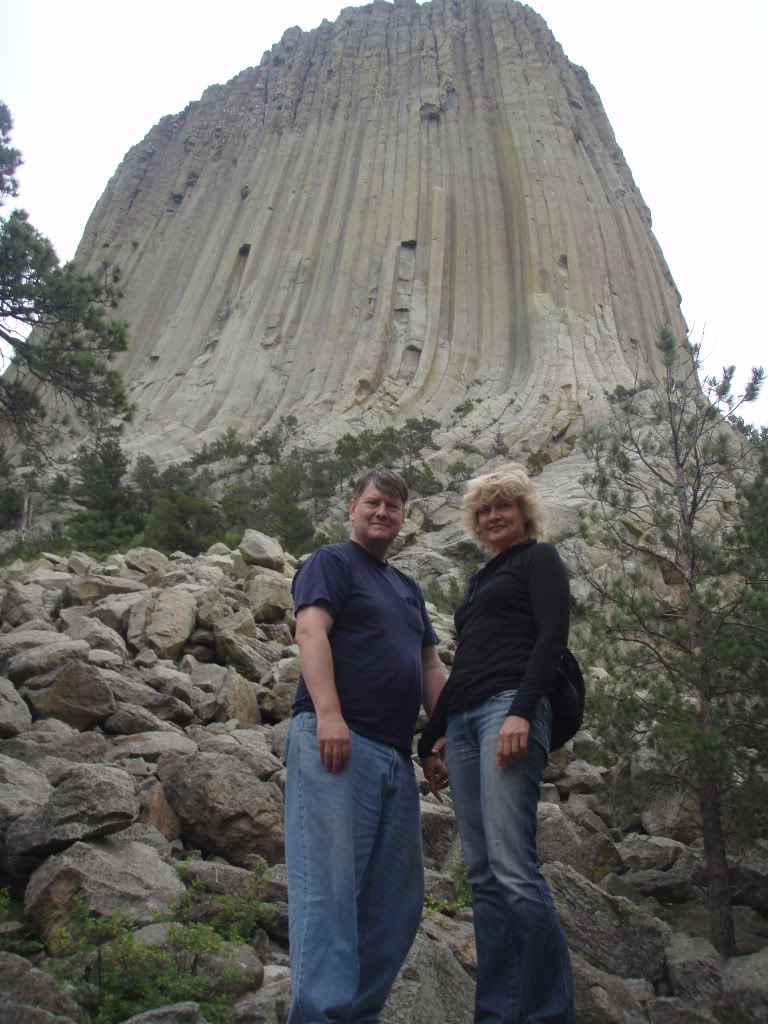 Two years ago I climbed the Cathedral Spires and my guide suggested we try Devil's Tower next. When he was not able to guide me at the Tower in June, due to a voluntary climbing ban, I met Andy Petefish of Tower Guides. He is a certified Mountain Guide, distinguishing himself from other guide services by his full commitment to formal training and certification through the American Mountain Guides Association (AMGA). (16)
As I looked over my climbing and mountaineering books (The American AlpineJournal, Vol. 35) the week before our trip, I began to spot his name in them…. and a great picture of him stemming on Devils Tower (p. 70, "How to Rock Climb," by John Long).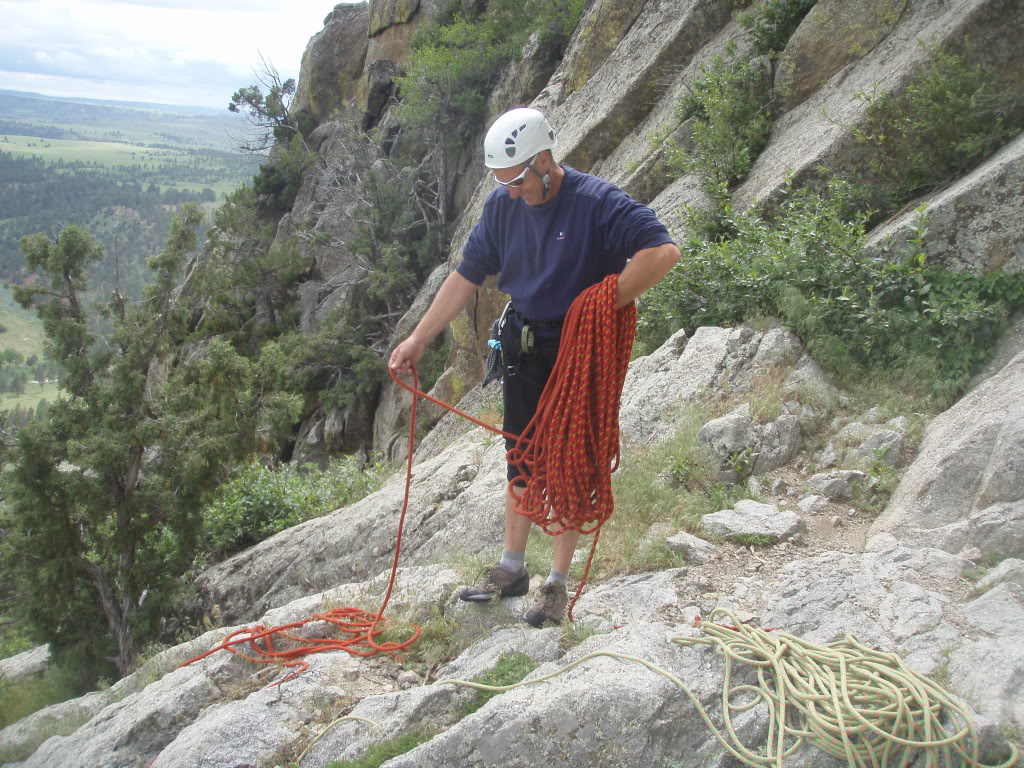 Andy Petefish
For the most part, the Tower was not being climbed much at all mostly due to storms every day. We had seen quite a few climbers out on the weekend before the weather rolled in. Hiking to and from our climbing route each day the busloads of tourists would be unloading and many would be all excited for us and asking us in all excitement "What was it like?" "Have you ever fallen?" I came to see the Tower as a great visual for others to see how fun and exciting climbing can be.
"I feel that every guide lives that life that a lot of us wish we had, and that most of us dream about from time to time. Guides live out the passion for what they do, and have made the choices and sacrifices to do their life work. Guides push innovation in the functional design of climbing equipment. Mountain Guides push limits in modern technique, grades, and stimulate a new or continual interest in climbing by novices, and those of us who have been climbing for years… To all the guides, keep living the 'life unordinary'! Climb light, but fast!" Lance Johnson (director of Mountain Guide Bureau; Hire a Mountain Guide )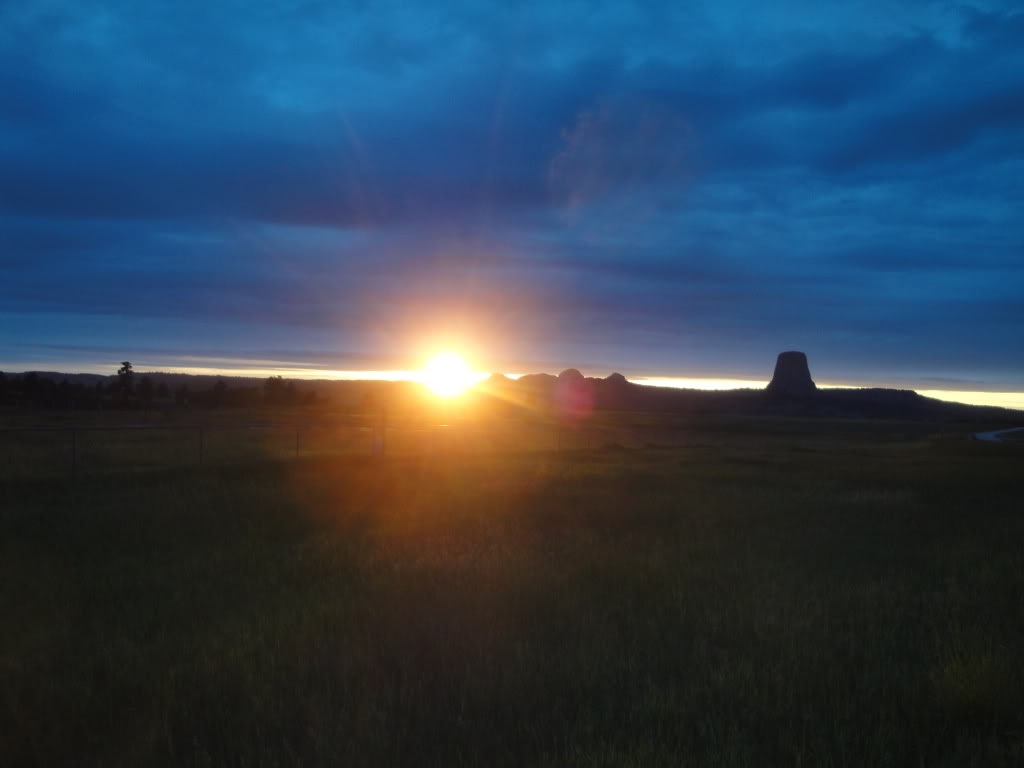 Devil's Tower Picture by Andy Petefish.
Casper, Wyoming:  "There are nearly 200 separate climbing
routes up t
he granite face of Devils Tower National Monument, and Andy Petefish will be able to guide you up any one of them this month – thanks to a ruling by a federal judge….
Petefish and other climbing guides have won the first round in what looks to be a long court battle between commercial climbers and Native Americans at Devils Tower. U.S. District Court Judge William Downes granted a preliminary injunction June 8 that stops the National Park Service from prohibiting commercial climbing during the month of June. The Park Service had tried to limit climbing activity to protect religious use of the area by Native Americans, but Downes ruled that any ban would amount to entanglement of church and state.  Such regulations require climbers to conform their conduct in furtherance of those American Indians' religious necessities. This amounts to impermissible government entanglement with religion," Downes wrote." (14)
"It's not about money verses Indian religious beliefs," Mr. Petefish said. "It's about freedom that is guaranteed in the Bill of Rights."(23)
"While the government has the right and even the obligation to accommodate American Indian religious practices at Devils Tower, it cannot do so by forcing guides to refrain from leading ascents of the tower in June solely because some Indians find the activity offensive, Downes wrote in his decision…. He also hinted that any attempt by the Park Service to make mandatory a voluntary June moratorium on private climbing at the tower (HCN, 4/15/96), as the agency has suggested it might if individuals continue to climb in large numbers, will meet with similar action on his part."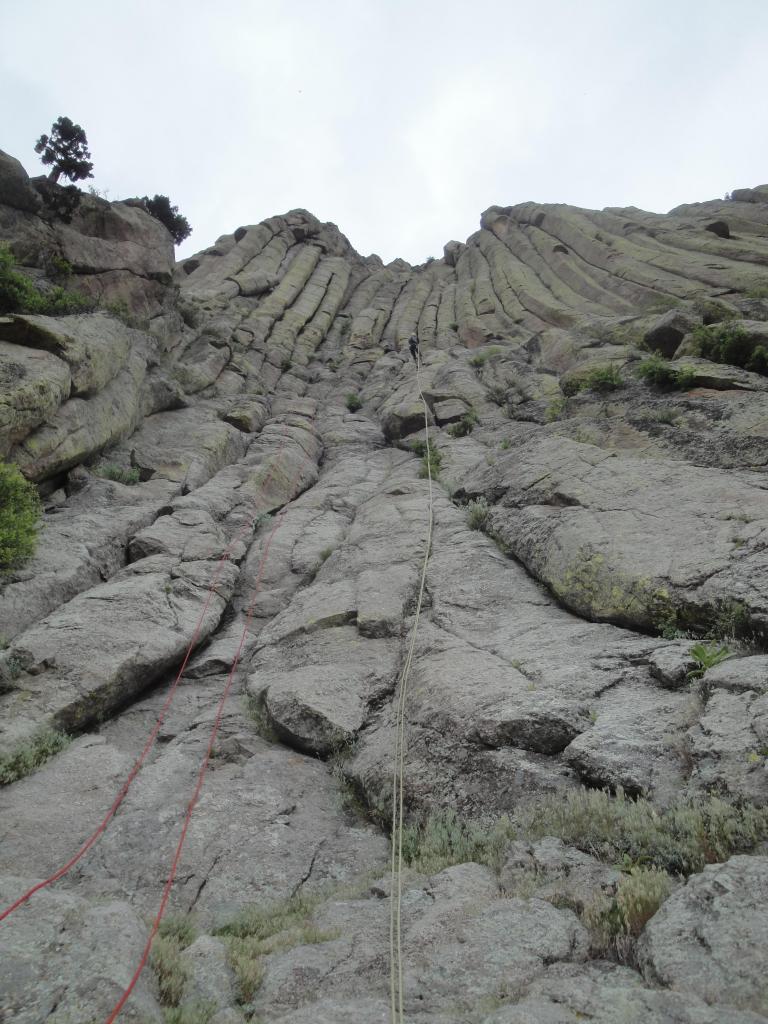 "Such regulations require climbers to conform their conduct in furtherance of those American Indians' religious necessities. This amounts to impermissible government entanglement with religion," Downes wrote. In his decision, Downes added that the benefits of banning commercial climbing in June were far outweighed by the damage to the First Amendment rights of Petefish and other guides. But he did uphold the rest of the climbing management plan so long as the June moratorium remains voluntary. (14)
Andy Petefish link:  replacing bolts on the Tower.  For over 26 years, Andy Petefish has guided groups to the summit of Devil's Tower. He has also established the Tower's most difficult free climbs. Aside from volunteering to replace the bolts on the Tower, Andy has also volunteered for National Park Service High Angle Rescue Seminars and Training Sessions.
"The government is trying to push us into a corner," says Jerry Knapp, president of the Bear Lodge Multiple Use Association in Huelett, Wyoming. "There's a trend toward an interest in Indian cultures; I'm even interested in it. The only thing I'm not interested in is having my rights taken away." (11)
The Sierra Club Environmental Health Sourcebook, "Well Body, Well Earth," tells us to "turn to the traditions of ancient cultures" such as Buddhist meditations and Native American Hopi rituals in order to "reaffirm our bond with the spirit of the living earth." "The more you contact the voice of the living Earth and evaluate what it says, the easier it will become for you to contact it and trust what it provides."
There has been a strong push from radical environmentalists affecting our National Parks that most people are unaware of until they have to butt heads with the movement. The UN, Earth Day founders, and the Sierra Club have been making radical and often unreasonable requests to make earth worship center stage.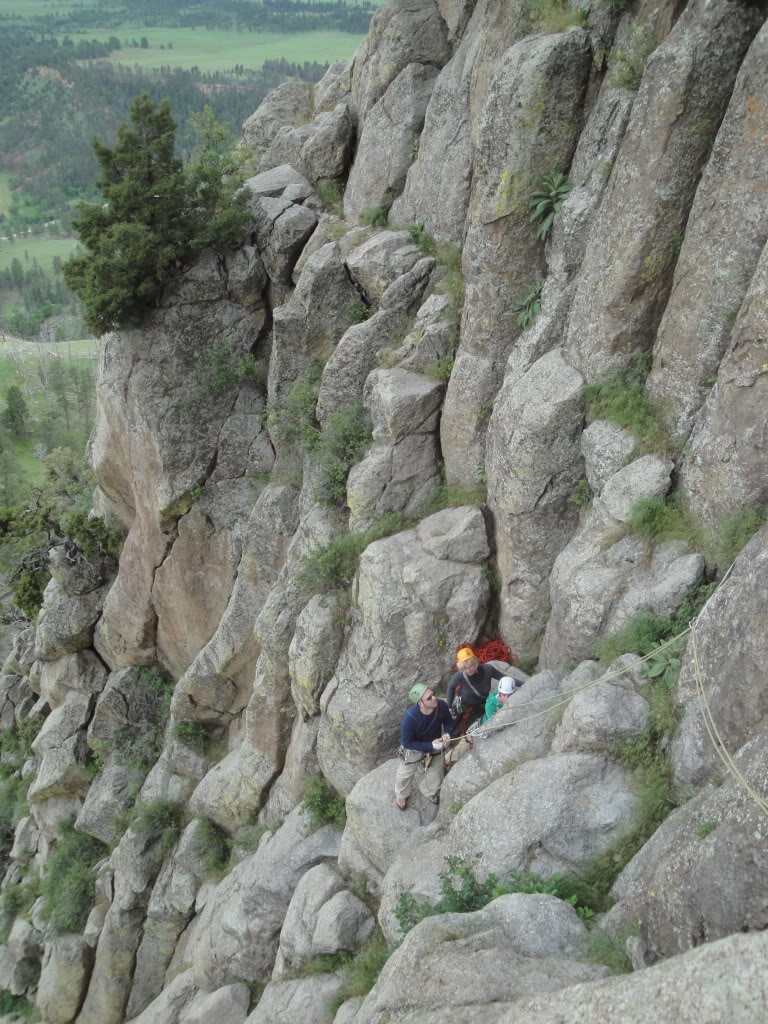 "As long as Indians exist there will be conflict between the tribes and any group that carelessly despoils the land and the life it supports." Vine Deloria 
Freedom of religion allows citizens to practice their beliefs so long as they do not force it on others. The Indian protests that began in the 1960s had to do with the conflict over remaining natural resources of the continent, the best of which were in Indian hands. In the 1970s a full national Indian movement was in swing. Beneath all of their protests was the issue of returning to the ceremonial use of the lands and raising the question of people and their right to a homeland. (8)
"There are legal reasons for restricting access to a particular site on public land, but religion is not one of them," says Stan Jones, a longtime Lake Powell historian and an Arch and Bridge Society board member in relation to the conflict at Rainbow Bridge. (11)
When it comes to caring for our land, it is important to note that environmental problems on tribal lands are vast. It is estimated that the success of clean-up programs will depend on continued dialogue between the tribes, the states, and the federal government; consistent and targeted funding; and understanding of cultural differences. The EPA and other federal agencies operate within their own systems, which can act to impede relationships when the tribes don't understand their bureaucratic language and methods. For example, Indian leaders are typically very concerned about the lives of their people on an individual level, and it isn't uncommon for a tribal leader to sit by the bedside of a terminally ill member. Because each member of a tribe is vitally important, tribal leaders may be uncomfortable with the EPA's impersonal, numerical estimates of acceptable risk. Tribes are building considerable expertise in risk assessment, however, says Harris, and are providing the EPA with recommendations on how to improve risk assessment and risk-based decision making. (7)
On the subject of dialogue between the tribes, states, and the federal government, another issue in the past century has been the quiet migration of Indians from reservations to urban areas. As policymakers at both the federal and state levels come to understand that Indian Country now extends beyond the reservation borders and into America's cities, they can begin to address the fact that, in leaving their reservations, urban Indians did not always escape the problems in their tribal communities, including poverty, racism, inadequate education, alcoholism, drug dependence, and teen pregnancy. (Foquera, p. 15; 12)
Native American scholar and author Vine Deloria, Jr., writes, "We must be prepared to confront religion and religious activities in new and novel ways." (19, p.65) "The government and the Christian churches have no understandings of the nature of creation. At the bottom of everything is a religious view of the world that seeks to locate our species within the fabric of life that constitutes the natural world, the land and all its various forms of life. As long as Indians exist there will be conflict between the tribes and any group that carelessly despoils the land and the life it supports." (8: Introduction)
Chief Executive Officer, Dr. Michael S. Coffman, president of Environmental Perspectives, says, "They are instituting a new state religion." But it is a religion at sharp variance with the foundations of the American constitutional republic. A document mandated by the U.N.–sponsored Convention on Biological Diversity, the Global Biodiversity Assessment, explicitly refers to Christianity as a faith that has set humans "apart from nature," a process in which nature has "lost its sacred qualities."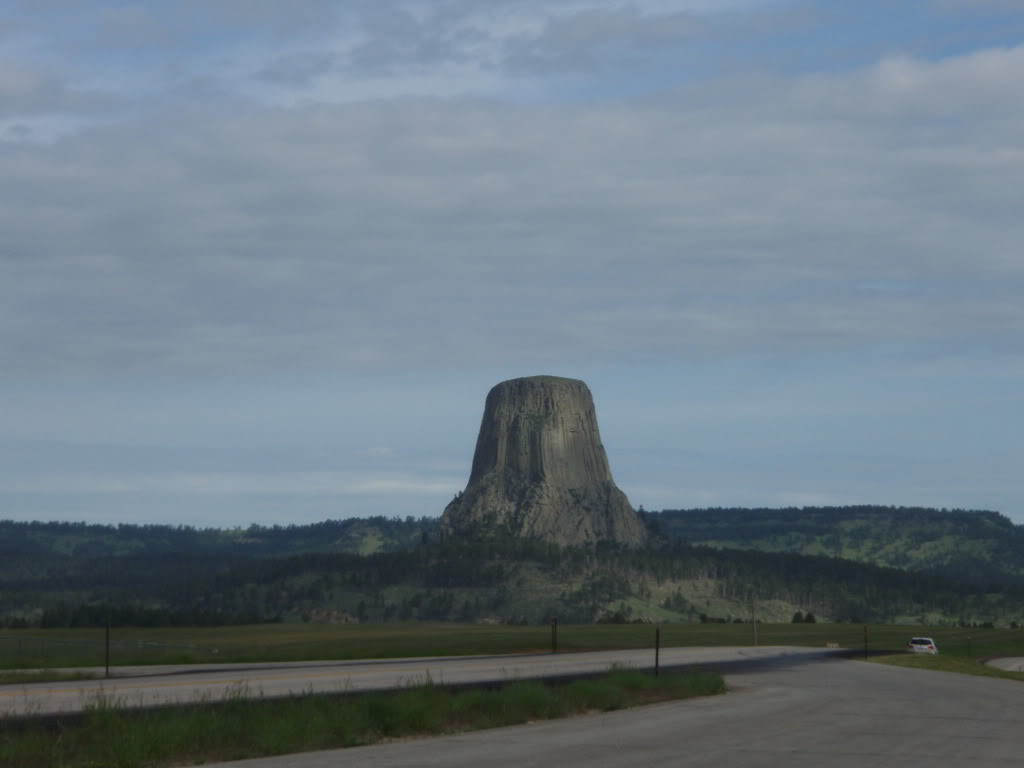 Devil's Tower National Monument, Wyoming
S. John Ebert led the first group ascend of Devil"s Tower. The Iowa Mountaineers, Inc. was the first American mountaineering club, and the first group of climbers to first climb Devil's Tower National Monument [Nation's first National Monument], in Wyoming, in 1948.
S. John Ebert led the first group ascent of Devil's Tower (1948) [27 participants in group, 17 climbers ascended Devil's Tower, those who were not climbing were supplying water to the base to be hauled up the Tower].
Seventeen Iowa Mountaineer climbers climbed the Durrance Route with all seventeen climbers reaching the summit.
The Iowa Mountaineer's group was at that time the first and the largest group to have ascended Devil's Tower and to camp out on the top.
Only a handful of rock climbers had ever before ascended to the top of the Nation's First National Monument prior to this historic group ascent by the Iowa Mountaineers, Inc. in 1948.
National Geographic Magazine published a picture story covering the Iowa Mountaineer's first historic group ascent of Devil's Tower in 1948.
The Iowa Mountaineer's climbing leaders of the historic first group ascent of Devil's Tower include: S. John Ebert (leader), Joe Stettner (led first rope), Ken Jones (First Canadian), Paul Petzoldt, (founder of National Outdoor Leadership School), and John Speck.
Jim Ebert and his staff have guided 34 Iowa Mountaineer members up the Durrance Route to the top of Devil's Tower and descended back down in one day, establishing a Devil's Tower record for the most people to ascend to the top of the tower by a particular group on the Durrance route.
Those who have helped Jim Ebert lead Iowa Mountaineer members to the top of Devil's Tower include: Harvey T. Carter, John Preussner, Glen Michael, Dennis Turville, Mike Bogart, Jenny Hall, Andy Petefish, Phil Steel, Mike Stoll, Mike Friedrichs, Bill Alexander, Al Svoboda, and Jeff Statler.
The Iowa Mountaineers have had a lot of fun climbing mountains all over the world with each of these superb climbing leaders. Everyone was always laughing, singing, enjoying each and everyone on each and every mountain trip. Some of the finest mountaineers kept coming back again and again, trip after trip. Mountain fellowship bonds friendships for a life time. Every single person that has ever participated with the Iowa Mountaineers, over 78,000 people, always found new strength in the mountains. Each friendship made, and all of the mountain fellowship shared, will always live in each participant's heart and mind forever. This was a gift of a lifetime, an experience seldom repeated, that S. John and Ede Ebert, the club's founders, were able to share with all of the wonderful people that have participated with them over the past 56 years.
The Iowa Mountaineers, Inc. was one of the most active mountaineering clubs in the world; it trained the most people annually and it was the largest university mountaineering club in the world with over 6000 members. Over 76,000 people from all fifty states participated on its mountaineering outings and expeditions to seventeen alpine countries and to the summits of over 1300 of the world's most famous mountains. The Iowa Mountaineers maintained a perfect 56-year safety record.
Jim Ebert's Iowa Mountaineer Leaders:  1986 to Present: David Penney, Frank Coffey, Jeff Stattler, John Preussner, Glen Michel, Andy Petefish, Phil Steele, Kurt Nickols.
Works Cited
Donahue, Bill. "Going Home With a Postmodern Medicine Man." March 8, 2000, New York Times.
Kevin Castle. "Kingsport Reservists Helping Out at Remote Indian Reservation." May 30th, 2010.
H.H. Bennet. Wisconsin Object.
Morris Thompson. 1977. Washington History Online: Indian Rights: Based on Treaties not racial issues.
Margie Sue Hopkins. 2/20/07. A Current Issue Between Native Americans and the Federal Government.
Del Quintin Wilber. The Washington Post, 6/11/08. What is Owed to Native Americans?
Native Americans and the Enviroment. 3/18/09
Deloria, Vine. "God Is Red: A Native View of Religion." Fulcrum Publishing, 1992.
High Country News. "Climbing Ban Upheld at Devils Tower." 4/27/98 by J T Thomas.
High Country News. "The Sacred and Profane Collide in the West." 3/27/1997, by Chris Smith and Elizabeth Manning.
Ralph Forquera, M.P.H. "Urban Indian Health." November 2001, The Seattle Indian Health Board.
Discussion Guide–"In the Light of Reverence. Television Race Initiative, 2001.
High Counrty News. "Wyoming Climbers Win Equal Footing." Chris Tollefson. 9/24/96.
Hire a Mountain Guide . Certified Mountain Guides. Lance Johnson, Mountain Guide Bureau.
Dr. Michael S. Coffman. How Government Regulations Threaten America.
Center For Consumer Freedom. Sierra Club Even More Radical.
Mindy Sink. "Religion and Recreation Clash at Park." New York Times 7/1/96
Crook County Saloon, 18125 U.S. 14, Sundance, WY, 82729-9200 (307)756-3201