By Mary Fairchild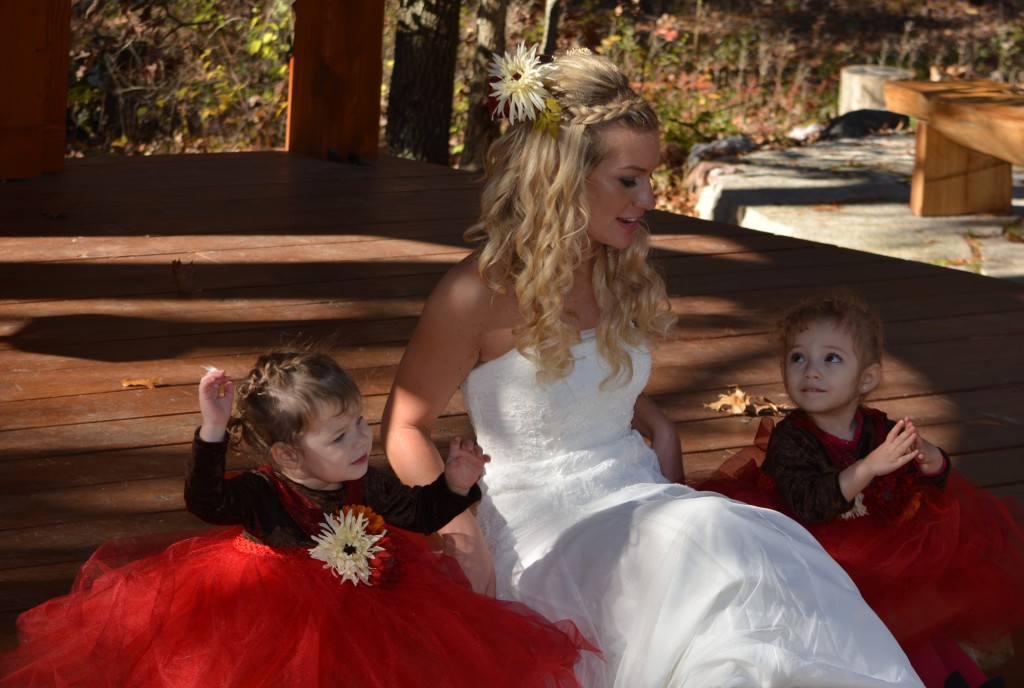 The bride with her flower girls; Mirror Lake State Park Amphitheater, 10/25/14.  Picture by John Nicholls.
An outdoor wedding in the woods can be an incredible experience especially in the fall as the cooler days and cooler nights begin to open and reveal more and more of the landscape.  The playfulness of crisp falling leaves along with their texture and colors incite both beauty and romance especially for those who are inspired by nature.
Just a little over six years ago we purchased a log cabin home on a cliff along Dell Creek which feeds from Mirror Lake. The cabin is perched high on a bluff among the pines with incredible views that angle down to the creek creating that feeling best inspired by Frank Lloyd Wright designs, "when you are inside you are also outside at the same time."
Both Mirror Lake's Echo Rock Trail as well as overlooks at the Seth Peterson Cottage have also been the chosen sites for weddings over the years. The Seth Peterson Cottage was commissioned by Frank Lloyd Wright, one of the most influential architects of all time.  Open house tours at the cottage are the second Sunday of each month from 1-4pm.  In fall there is also a pontoon boat tour of the lake as well as hors d'oeuvres around the cottage fireplace.

Dale Mulfinger, an expert on cabins in North America, includes the Seth Peterson Cottage in his book, "The Cabin: Inspiration for the Classic American Getaway.  Mulfinger's explanation of the ideal cabin includes easy access to the outdoors, both through exterior rooms and through great views from inside.  Most important, a cabin never dominates the land and its furnishings are simple and are often hand-me-downs.  Rather than making a social statement like most houses, a cabin speaks of modesty, shared spaces for the camaraderie of family and friends, and an open, relaxed atmosphere.
Lynn Underwood writes in last year's November issue of the Minnesota Star Tribune, "Mulfinger, one of Minnesota's best known architects, is the founding partner of SALA Architects, the largest local firm specializing in single-family homes. Over the years, he's been a teacher and mentor for many young architects, and has played a pivotal role in making good design accessible to everyone." Mulfinger , now in his 70s, is no longer an owner of SALA but he still takes on some projects as he has no plans to retire from architecture which to him is "too much fun!" Here is a nice look at his latest book in pictures: Back to the Cabin.
"Amphitheaters have always been a part of the DNR system, but Mirror Lake has something different, he said. The venue will provide opportunities for teaching, music, theater and weddings. It will be a place to make memories."  Jason Cuevas, Wisconsin Dells Events (1)
The Amphitheater at Mirror Lake State park was renovated in 2012 to seat up to 200 people for weddings, events, and plays.  Natural touches to the design include natural stone seating, steps, and a fire pit.  If you reserve the Blue Water Bay Shelter before the 2nd week in October the running water and newly remodeled restrooms will be on site otherwise the guests can drive up to the park office or use nearby pit toilets.  The shelter had 13 picnic tables to which we added a few chairs and antique tables.
Guests were greeted with a banjo/guitar medley of songs by the bride's brother and good friend who strategically sat before the stone fire pit.  The bridal party, including the bride, all wore flat, comfortable boots and layers.  Nearby, a large antique wicker basket contained a couple dozen rolled up wool blankets with a chalkboard note that read, "To have and to hold in case you get cold."  Although we had sunny skies and mid-60s, some guests used the blankets on the stone seating.
The morning of the wedding the bridesmaids met for continental breakfast and mimosa at the Shear Delight Salon in Baraboo.  The groom and photographer met the bride as soon as she was ready for the morning photo shoot at Devils Lake State Park.  The groom was instructed to keep his eyes closed as he turned around to see his bride for the first time(pictured above).  When he opened his eyes the bride showered him with a handful of leaves.

Just as a cabin never dominates the land and its furnishings are simple and are often hand-me-downs, we plucked out silk flowers from old wreaths and home decorating vases that were in our fall garage sale and had a good start on the silk flowers.  Then we picked out the rest at Joanne Fabrics and got our glue guns out.  Chelsea put together all of the bouquets, boutonnieres, and flower girl's baskets and I made her hair piece and did the flower girls' dresses and dress alterations.
A good friend of the family, Lisa Charney, made several signs that not only pointed the way to the wedding, but set the mood with Biblical verses personally chosen by the bride and groom.  It was a very "home-spun" wedding.
Home-sewn plaid table runners instilled that casual, outdoors look.  Each picnic table had a basket filled with silk wildflowers, miniature white pumpkins, gourds, and a small strand of battery-operated white Christmas lights.  It took a little ingenuity to locate the small white pumpkins, but we were able to find a pumpkin farm in Spring Green, Peck's Farm Marketplace, as well as the Aldi grocery store in Baraboo had plenty.  We had stopped in a nearby children's resale shop that we frequent, Recycled Sally's, where I was sure moms would know where to find them—I was right!  Pumpkins and gourds took the place of the usual wedding florist and where given to the guests to take home at the end.
Rather than making a social statement, just like the cabin, this outdoor wedding "spoke of  modesty, shared spaces for the camaraderie of family and friends, and an open, relaxed atmosphere." We rented a 30×60,' three-pole tent with sidewalls from a family business in Wisconsin Dells, D&S PartyTents.  It was cute to watch their young son "pitch in" and help with the set up.  The mother of the groom made three "hula-hoop chandeliers" that added a nice glow as the sun began to set.  In late October sunset is 5:58.  We also rented two patio heaters which were nice as winds picked up and the temperatures began to drop.
As guests entered the tent, Baraboo's  Elite Catering was preparing the dinner buffet and Pierces Marketplace was setting up the wedding cake on an antique table.  Pierces is a family-owned community market which started in a small store in the 1920s on Walnut Street in Downtown Baraboo.
The cushy, thick grass, created a quieting and calming affect as the tent gathered everyone closer to toast the new couple as they shared their first meal together as Mr. and Mrs.  Guests enjoyed coffee, craft beer, and wine from the Wollersheim Winery.  Wollersheim was named the 2012 top winery and one of America's 10 top winery tours.  Beads were strung in the bride's colors of red, brown, and amber around the stem of each wine glass by the groom's mother for the guests to keep.
A small antique children's tea table was set up for the flower girls to enjoy near the head table which consisted only of the bride and groom. The groom's family and the bride created miniature home-made jellies in several fall flavors, including "apple pie," as gifts for the guests. Each jar was tied with a raffia bow and had "Chelsea & Danny" labels on the lid.
Both the bridal party and out-of-town guests enjoyed accommodations at the Hilton Garden Inn of Wisconsin Dells and the Delton Grand Resort and Spa.  The newlyweds chose a "spa themed" room at the Delton Grand Resort and Spa Themed Suites before leaving town with their "just married" car.
Rehearsal required vehicles with park stickers of which we had several to choose from.  After rehearsing we enjoyed a dinner buffet at the Famous Daves in Lake Delton.  Not too many people know the story of "Dave" of Famous Daves, David Anderson.  Anderson is a Choctow and Ojibwe Indian who grew up in Chicago as well as on reservations in Wisconsin and now resides in Edina, Minnesota.  Former Assistant Secretary-Indian Affairs in the Department of the Interior, with jurisdiction over the Bureau of Indian Affairs and the Office of Indian Education Programs, Anderson has authored several books and today travels the country speaking.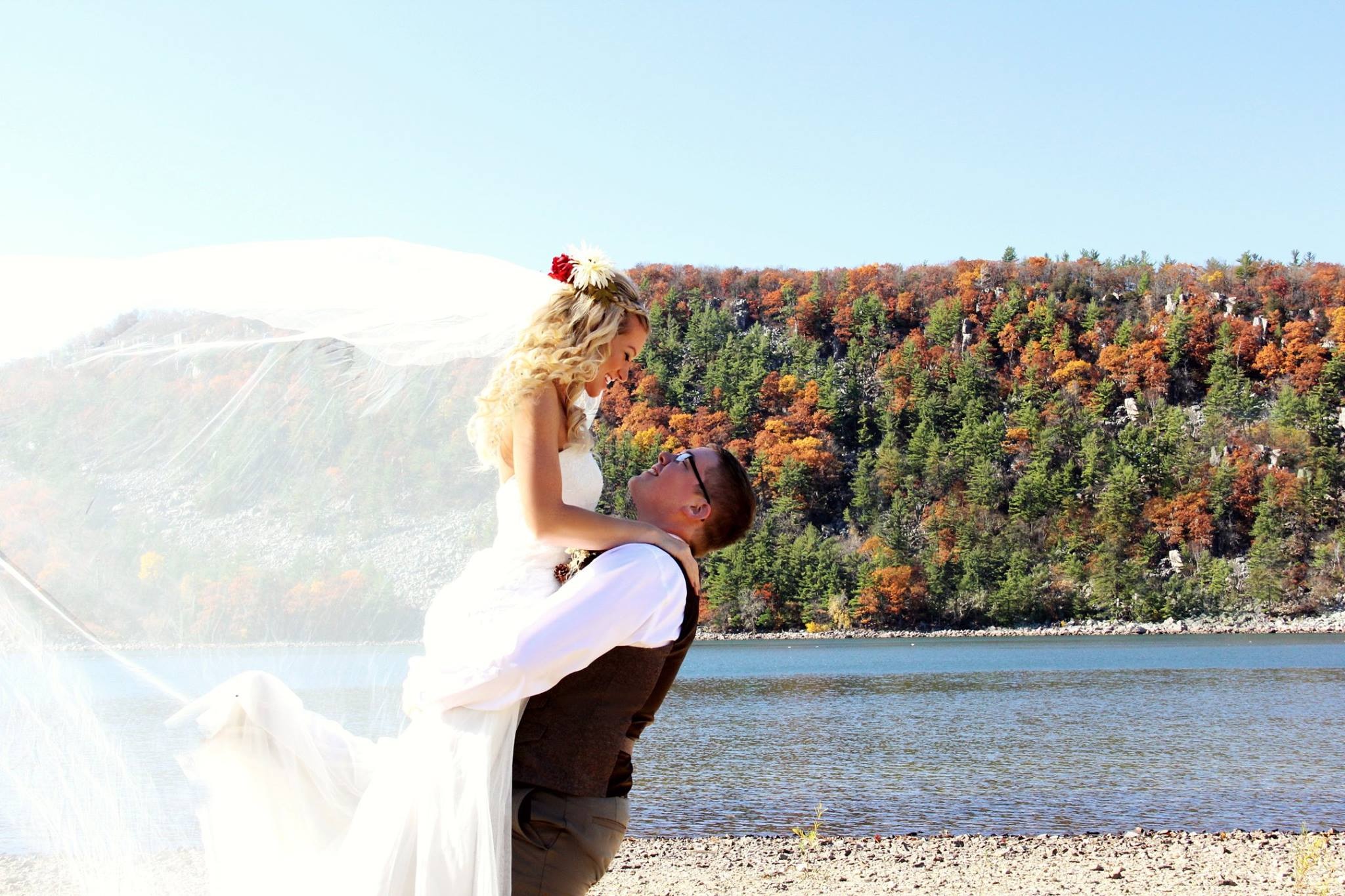 Devils Lake State Park photo shoot; Photography by Darci HockenYoung.
Obviously, an outdoor wedding is never wrought without risk.  The weather will be unpredictable anytime of the year.  We pressed forward knowing we wanted to be in the woods regardless and would have had the ceremony and several patio heaters inside the tent as our back-up.
October 25th was a real gamble, but we knew the weather usually fluctuated with a few cold rainy spells into the beautiful Indian summer every October in Wisconsin–which was our "ante."  We definitely had "beginner's luck"–that's right, it was a real "honeymoon period."
Related Posts
References/Venues
Jason Cuevas, Wisconsin Dells Events, Mirror Lake Amphitheater Opens; 6/17/14.

Dale Mulfinger,

The Cabin: Inspiration for the Classic American Getaway
Mirror Lake State Park; Rebecca Green

Wedding Signs by Lisa Charney

Young Photography by Darci Hocken Young

Famous Daves of Lake Delton
Pierces Marketplace Bakery
Wedding Paperie Online Invitations

David's Bridal;

JC Penney;

Kohls;

Walmart;

Joanne Fabrics;

Hobby Lobby.