By Mary Fairchild
Ginni Callahan, Punta Santa Rosalillita, BCS.
Although it is possible to ride storm surf, tidal bores, and swell, what provides us with 'the finest waves to ride' is swell arriving on a suitable beach.  Nigel Foster (1)
During the first week of April, I was fortunate to be a part of Gini Callahan's first sea kayak surf camp on the Pacific Coast of Baja.  Ginni shared with me that she has annually spent time at Rosalillita for 18 years now in between her international trips and guiding and instructing through her business in Loreto at Sea Kayak Baja Mexico and Columbia River Kayaking on the lower Columbia River and Oregon Coast.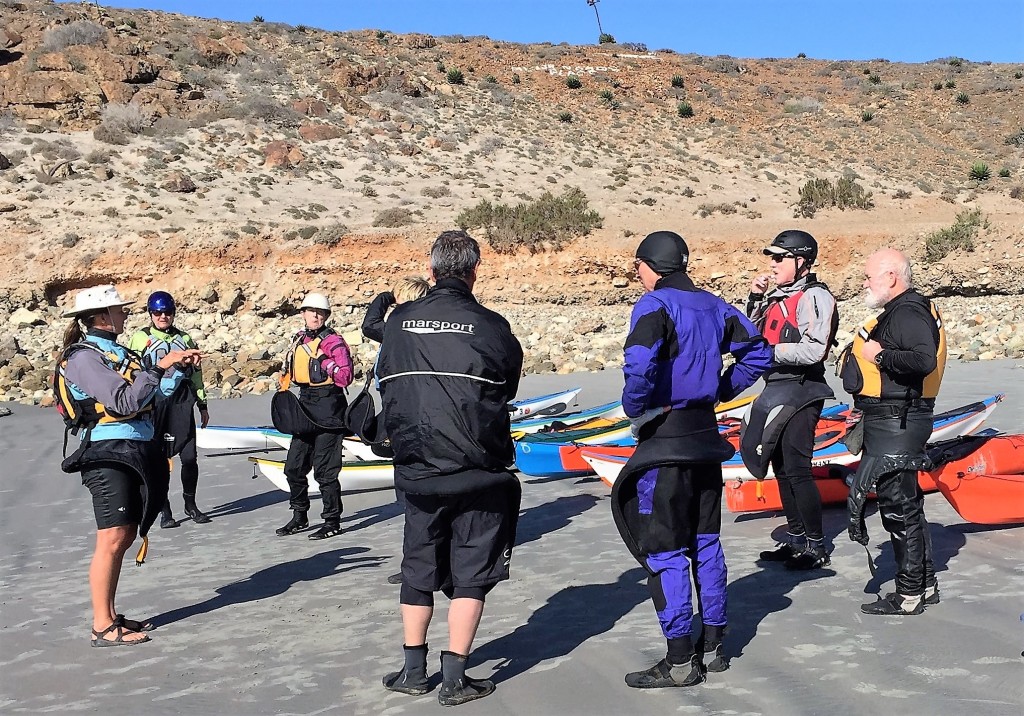 Ginni Callahan, Marybeth Dunne, Lynn Dominguez, Jane Barraclough, Jeff, Sidney Stone, Jay, and Ian Bowditch.
Surf is a door for him(Abraham Levy) to pass through between beach and sea. I, on the other hand, live on the beach and paddle the sea so I can find fun places to surf. Ginni Callahan(1)
In 2008, while spending time at Rosalillita, Ginni met up with Abraham Levy who was paddling the whole coast of Mexico.  She ended up escorting him for 3 days as he made his way to Guerrero Negro. Of her time with Levy she wrote, "…two skilled paddlers with different strengths, different perspectives, different backgrounds, and different languages, yet plenty enough in common to relish the playful sharing of company."
Our group also had varied expectations and consisted of a variety of backgrounds.  I returned with a friend from my 2013 expedition in the Sea of Cortez who was, as Ginni might also describe, "interested in 'working through the surf ' as a door for her to pass through between beach and sea" and I was "in search of fun places to surf."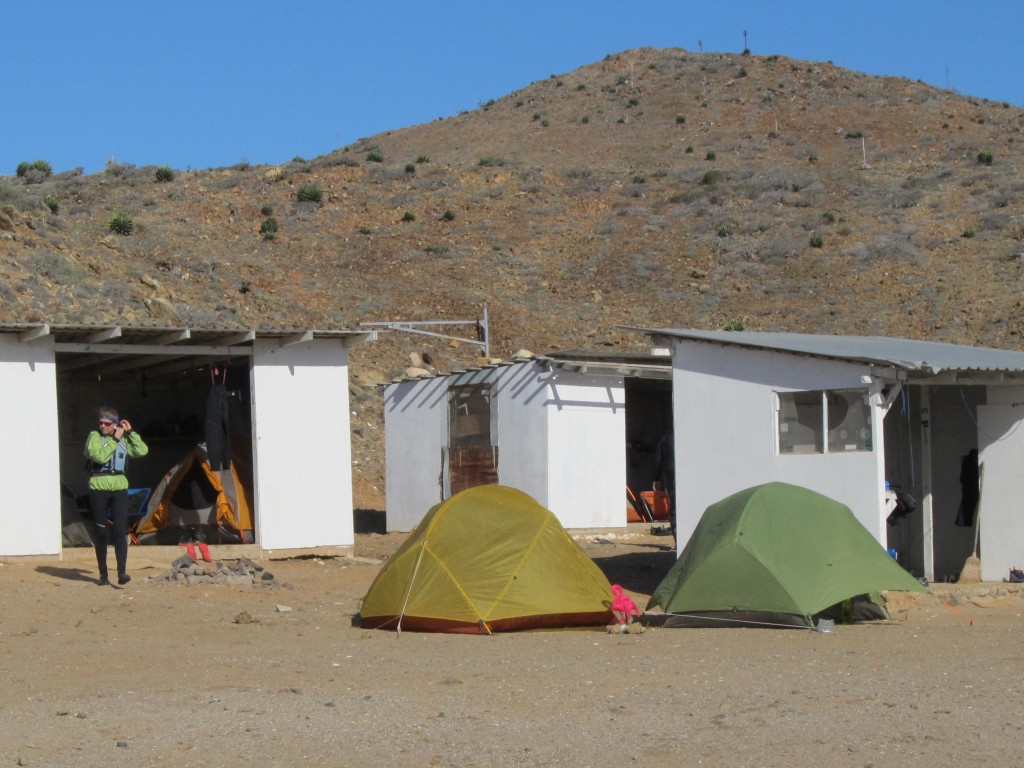 Three sided shelters are available for camping at Alejandros Surf Camp in Rosalillita.
 It does not get that hot on the Pacific Coast of Baja. In the winter and the spring it can be pretty cold and windy especially at night.  The entire Pacific Coast cools at night due to the cold California Current which is close to the shore in this part of the peninsula, and underwater canyons that funnel cold water up towards the surface.
Most of the group, not unfamiliar with expedition kayaking, all prepared for a week with no plumbing.  Water is scarce in this area and wells are usually too salty.  Our three sided shelters helped to protect us from the wind.  Camping in the sand and wind–we knew it would be gritty.  Most of the tents eventually got moved inside the shelters after a few days and even still the sand would swirl its way into our tents and coat everything. We would have a few windless hours in the morning to play in the gentle swell and surf but by noon the winds would pick up and most of us would take a siesta just after lunch before gearing back up.  It was not uncommon to be bundled up in warm coats and strategically sitting by a building in the sun to warm up in the mid-afternoon.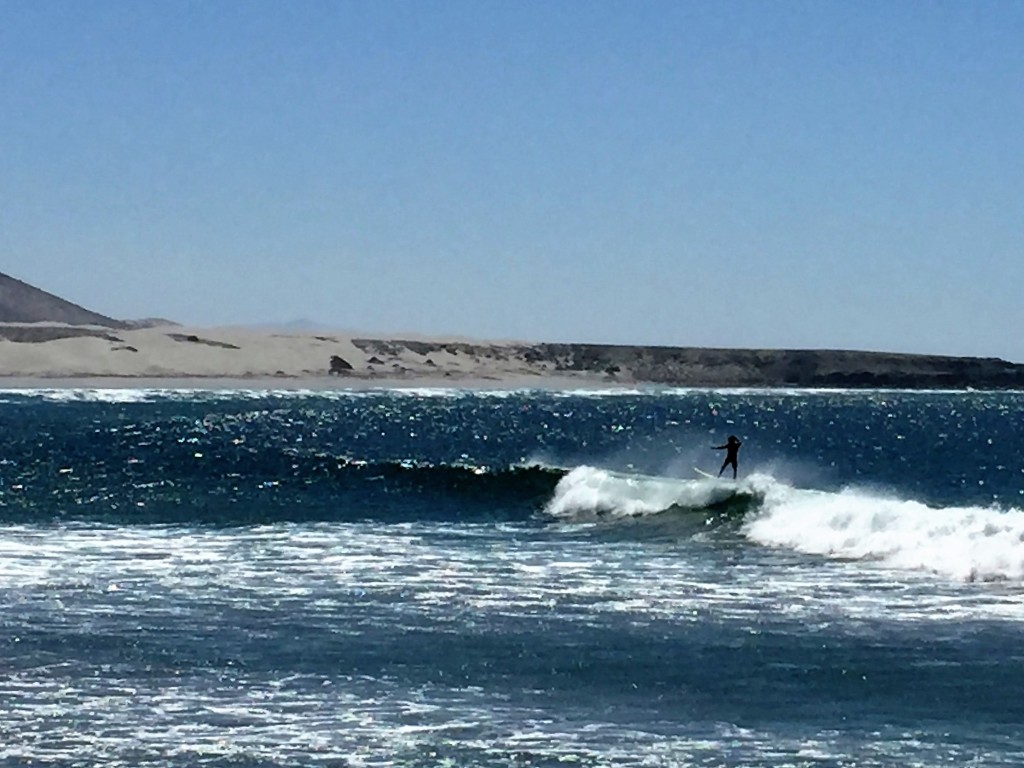 Santa Rosalillita Surf, Baja California Sur; April 3, 2016.
Rosalillita is part of the "Seven Sisters" which is a series of right point breaks that stretch from Punta Cono all the way to Punta Rosarito.  When a swell approaches from an angle to the beach, as pictured above, it will break at the end at which it arrives first, breaking across the beach until it reaches the farthest end creating a wave that can be ridden from one end to the other while still on an unbroken face.
Up on a hill overlooking the Alejandros surf camp there is a permanent home that was built by surfers George and Sandra who retired from San Diego.  I enjoyed watching them as well as a few families that came to surf during the week.  We were careful to give them plenty of space on the waves.
Pictures by Mary Fairchild and Sidney Stone.
When plans to create a prime tourist location and new harbor in Santa Rosalillita fell through, an effort to protect Baja's last remaining wild coasts was given a greater focus and voice.  The  WildCoast organization has been working to acquire and conserve the 70 miles of land north of Santa Rosalillita, including the Valle de los Cirios protected area which is known for its multiple headlands of good surfing and fishing.

Several trails meander the area and Ginni eagerly spent a whole day with those who were interested in traversing the landscape that was dotted with caves, pictographs, and remnants of ancient campsites. 
Giant rock art murals are still being discovered in the shelters and caves of Baja California Sur, some of which actually predate the Aztecs.  Perhaps just as important as it is for surfers to encourage respect and guard the uncrowded, wild, surf spots of Baja, the area's amazing geology and archaeology also warrants protection.      
References
Nigel Foster, Nigel Foster's Surf Kayaking; The Globe Pequot Press, 1998.

Ginni Callahan, Pix-n-Tales Page, Columbia River Kayaking.
Mary Fairchild, Baja Winter Kayak Expedition: Wind, Waves, and Lipstick
Mike Parise, The Surfer's Guide to Baja, 4th Edition, SurfPress Publishing, California; 2012.
Canoe & Kayak Magazine, "Levy Finishes Paddling The Mexican Gulf Coast Paddler is Half Way to His Goal," 2/5/08.

John Roach, Baja California Rock Art Dated 7,500 Years Ago, National Geographic News; 7/17/03.