By Mary Fairchild (updated 12/9/2015)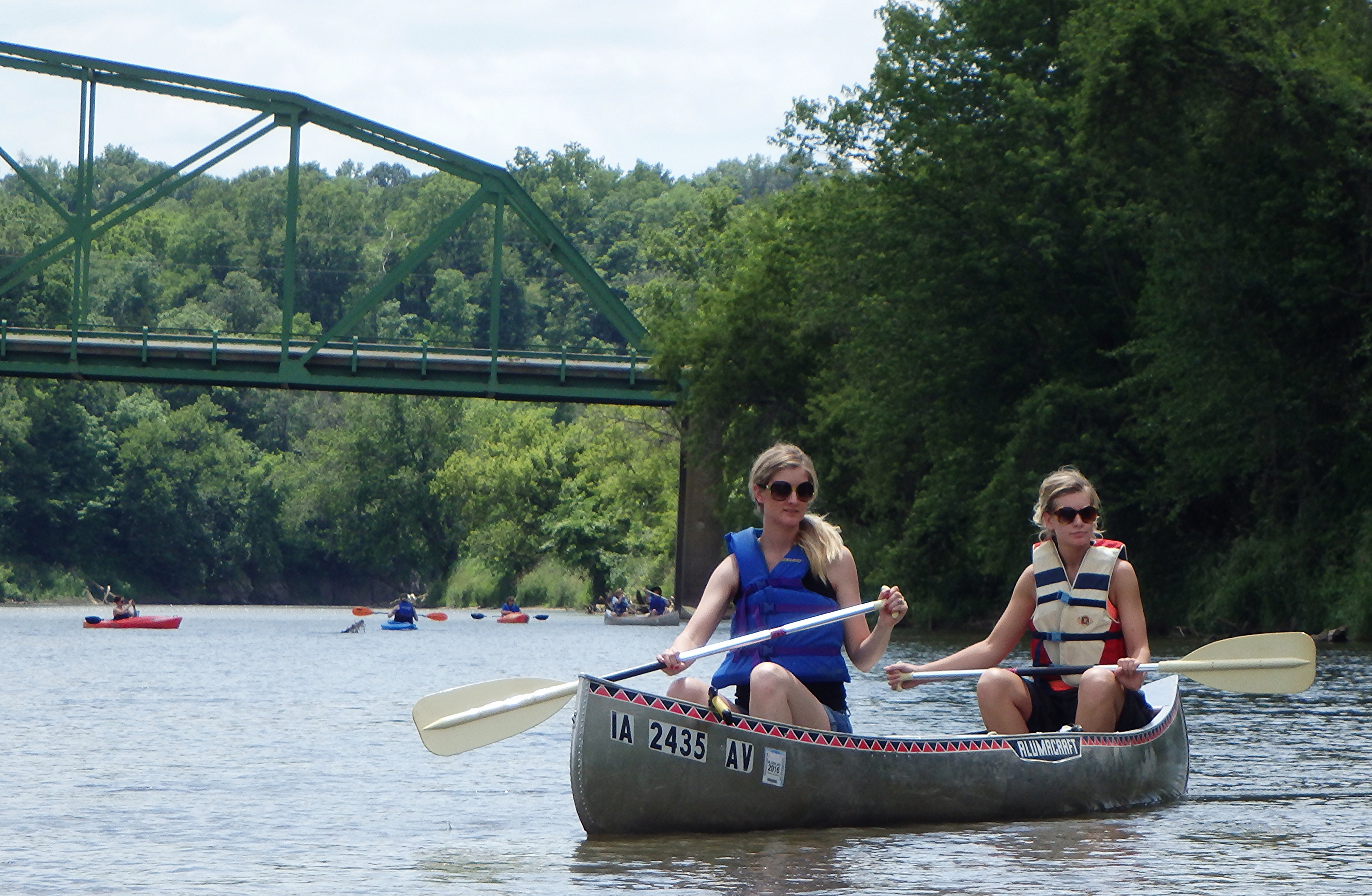 Maquoketa River Trail; 6/15/14.
In June of 2014, my two daughters, pictured above, joined me for a river clean-up and local archaeology paddle on the Maquoketa River with Iowa archaeologist Elizabeth Reetz.  There are two forks of the Maquoketa River that meander through Jackson County for about 50 miles and meet up just north of the town of Maquoketa.  The river then flows another 30 miles where it reaches the Mississippi River.  The paddling event was free and provided canoes and kayaks.  You can check for future events at The Office of the State Archaeologist Iowa.
I started to research and read about the archaeology in the Midwest, more recently Iowa in particular, when my son began finding Indian artifacts around construction sites at Iowa State University between classes.  He was able to meet up with Matthew Hill, professor of anthropology at Iowa State University, who has identified countless bones for fossil hunters.  Recently, Hill has identified the oldest and youngest stag-moose in North America. (15; Iowa State University)
In 2010, the remains of a woman and an infant were found at an expansive 7,000-year-old site located at the new wastewater treatment plant in southeastern Des Moines. The area, which contains well-preserved house deposits and numerous graves, became known as The Palace Site.  By 2011, more than 6,000 artifacts had been found including spear points and a stone axe head (YouTube Palace Site).
Beginning in 1853, rivers rose inundating the entire country east of the Des Moines river destroying crops and sweeping away houses.  Then, in 1993, heavy rains caused the Des Moines and Raccoon Rivers to rise above flood stage levels and the Des Moines Water Works was submerged by flood waters leaving some 250,000 people without running water for 12 days.  In 2008, two years prior to the Palace Site discovery, major flooding caused the river to overtop the reservoir spillway upstream at the Saylorville Reservoir.
During the shift from Late Archaic to Early Woodland the Mississippi River watershed experienced greatly increased flood frequencies and magnitudes.  In the lower Mississippi Valley, there is an abrupt gap in the archaeological sequence at this time and pronounced differences between Late Archaic and Early Woodland archaeological remains. Elsewhere in the basin, this transition is marked by decline and disappearance of occupation and is accompanied by significant changes in settlement and material cultural organization.
Flooding due to climate change at the end of the Archaic is thought to be one cause for the major cultural reorganization. High-resolution climate data shows that there was an episode of rapid global climate change which would have significantly affected the temperature and precipitation during the ca. 3000-2600 cal B.P. Period. The proximate cause of this global climate occurrence is change in galactic cosmic ray intensity and solar radiation possibly amplified by variations in the earth's geomagnetic field.  In most parts of the Mississippi River floodplain and its tributaries, there are few sites dating to this interval for several hundred years. (11)
In the fall of 2015, my son and I have discovered fossil bison bones in creeks near the Iowa River in Marshalltown, Iowa.  He also believes, along with several bison teeth, that he may have a camel's tooth.  Past flooding has helped to dislodge remains of animals buried for years which were exposed as water levels dropped due to dry weather conditions.
In 2012, one fossil hunter who hunts the Raccoon River shared his finds: Iowa Drought is Fossil Hunter's Dream.
16,000 years ago, in Des Moines, Iowa, the ice front of the Des Moines Lobe surged to the north edge of the Raccoon River Valley and then retreated. Sediment choked the Raccoon River and the channel split into interlacing braids. At times, as the volume of melt waters increased the current was deep and fast. The Des Moines region was home to mammoth, mastodon, giant ground sloth, musk ox, a variety of bison, and elk.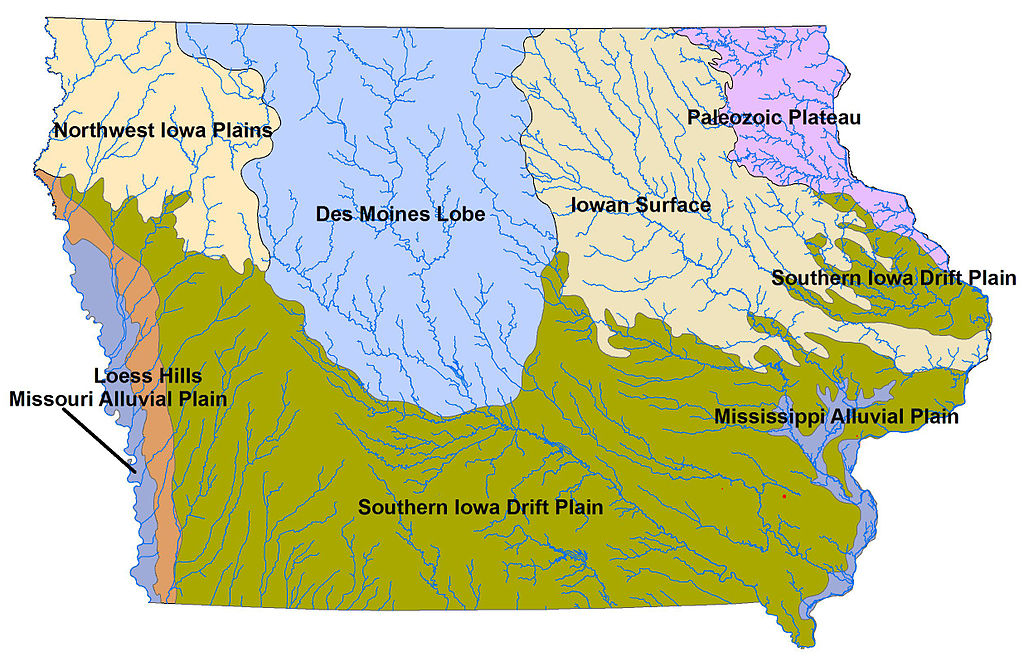 Landforms of Iowa, Creative Commons Attribution-Share Alike 3.0 Unported license. Attribution: Billwhittaker at English Wikipedia.
Clovis points have been found at kill and butchering sites for mammoth, mastodon, and bison across the continent. Although Cedar County, Iowa, has yielded 11 Clovis points, no butchering sites containing Clovis points have been found in Iowa. The ancestral bison entered North America through the Beringia during the Illinoian glaciation. Giant bison that stood more than eight feet at the shoulder and with horns spanning six feet survived into Wisconsinan time. A new stock of bison moved south from Beringia and developed in stages. During the Wisconsinan time, two bison subspecies developed which still live in North America—the plains bison and the wood bison. (14: Iowa History.org)
The Sanford Museum in Cherokee, Iowa, hosts evidence of Iowa's occupation by unfamiliar prehistoric mammals – small wild horses, giant sloths 10-12 feet in length, sharks, mastadons, mammoths, giant beavers the size of bears, camels, musk oxen that went extinct at the end of the last ice age – and more recently, caribou, elk, moose and black bears. 
Archaeologist Jason Titcomb and his volunteers have discovered 13 petroglyphs – prehistoric art carved stone-on-stone – on the 61-foot-long Sioux Quartzite boulder south of Cherokee, Iowa, that was deposited by a glacier 20,000 years ago (Pilot Rock). Long before white settlers used this marker to find the fertile valley where Cherokee was founded, ancient trails led Native American travelers to the landmark, which they called "Woven Stone." This is one of only two prehistoric rock art sites in northwest Iowa. (13; Larson)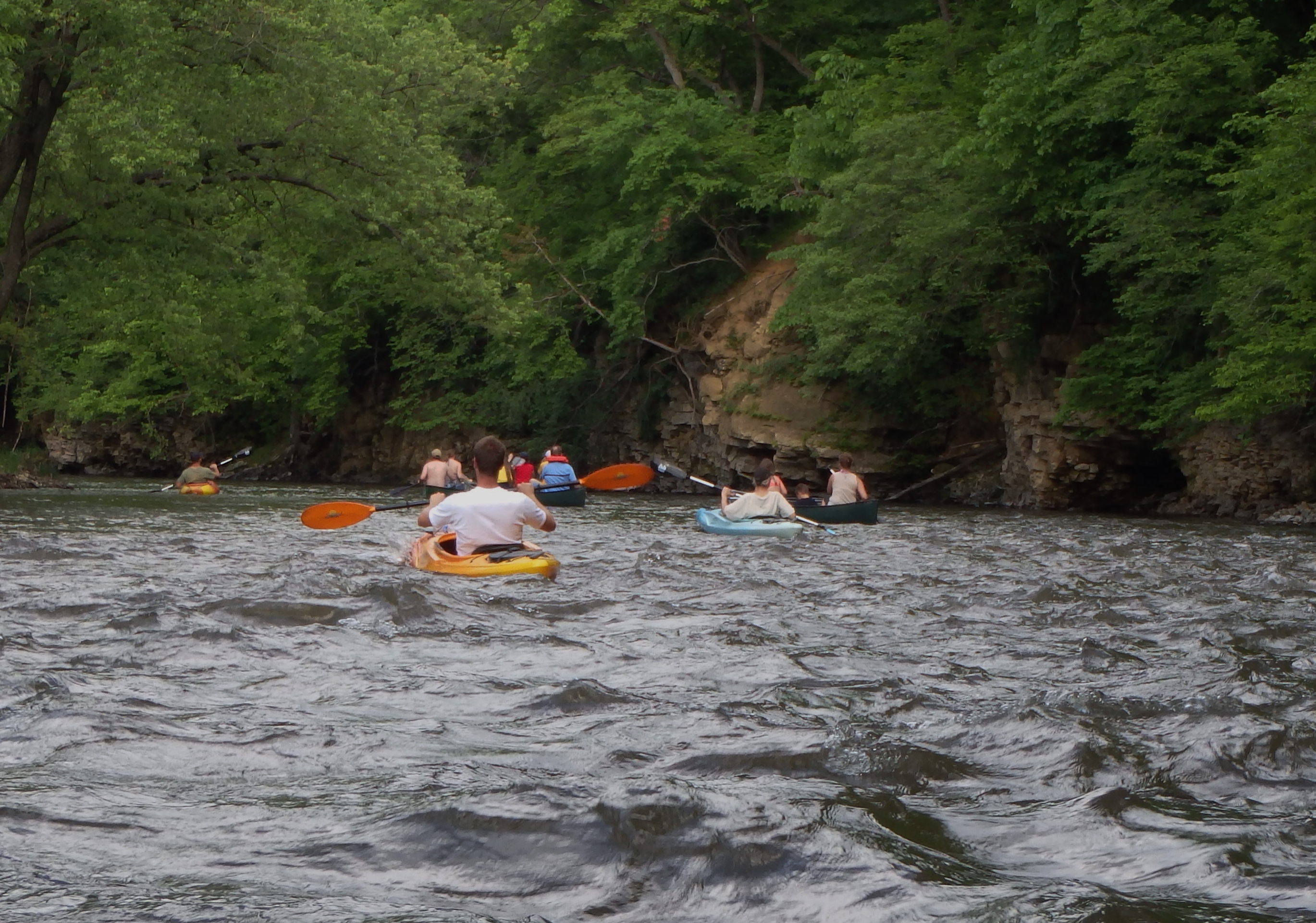 Paddling the Iowa River; 5/31/14.
More than 26,428 archaeological sites have been recorded in Iowa and 410 are in Hardin County.  Stone and bone tools and the remains of now extinct animals have been found—fluted, leaf-shaped spear points(11-13,000 years old) have been found and later, unfluted points as well as mastodon and mammoth bones.  On May 31st, my son and I joined an Iowa River paddle(pictured above) sponsored by the Hardin County Conservation and the Iowa Department of Natural Resources. This free event included a classroom presentation at the Calkins Nature Area Interpretive Center where there is also a nice museum.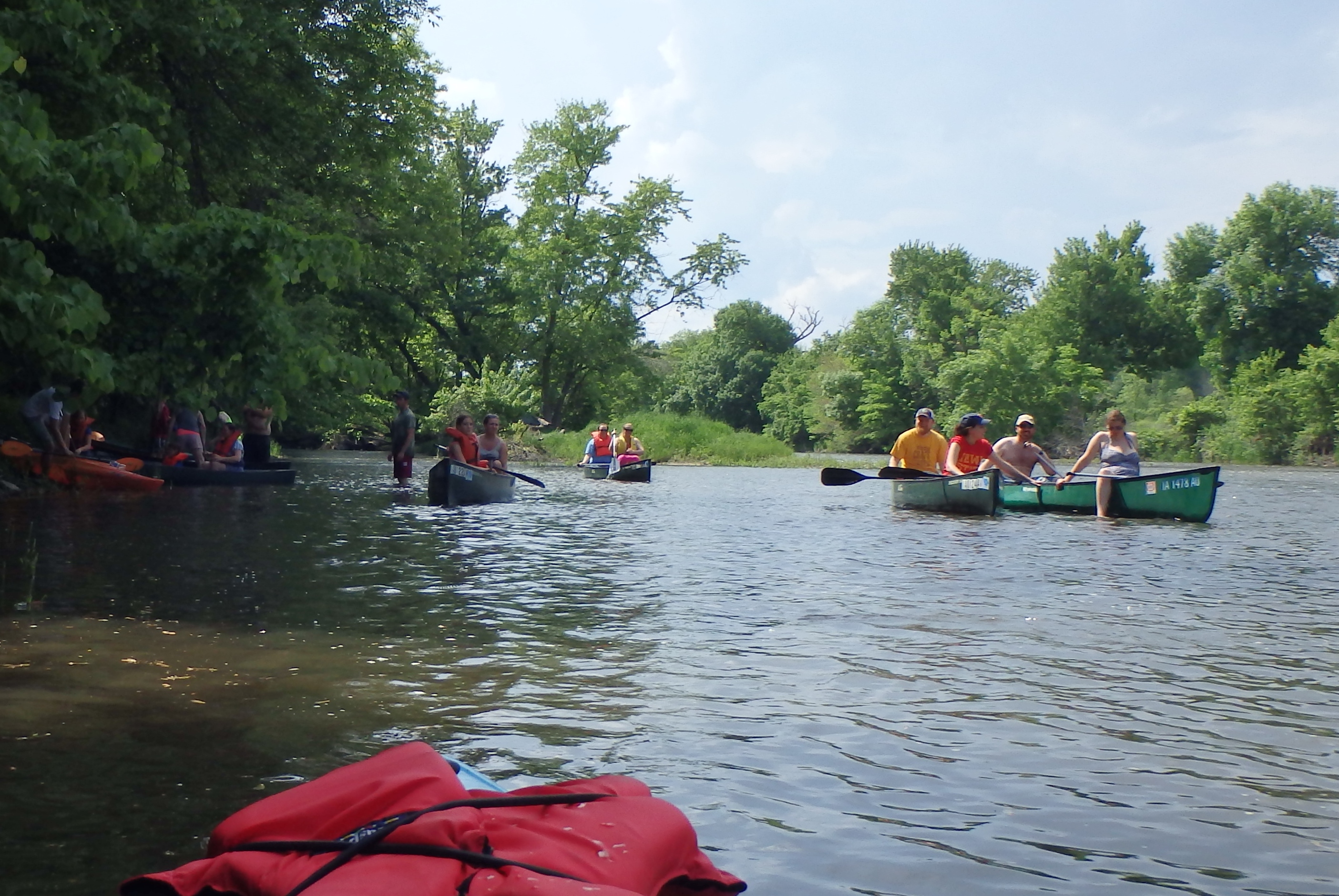 Paddling the Iowa River in Hardin County; 5/31/14
Native Americans first settled in the Iowa River valley at the end of the Ice Age, about 12,000 years ago, but artifacts and migratory lifestyles are few as the land and the climate changed at the end of the Ice Age. During the long period of warming, which began around 7,500 years ago, the people began to settle more permanently.  During the Middle Archaic they occupied seasonal camps at bluff bases in the Iowa River Valley, moving up to interior sites in the Late Archaic (2500 to 500 bc), adjacent to rich backwater sloughs and lakes.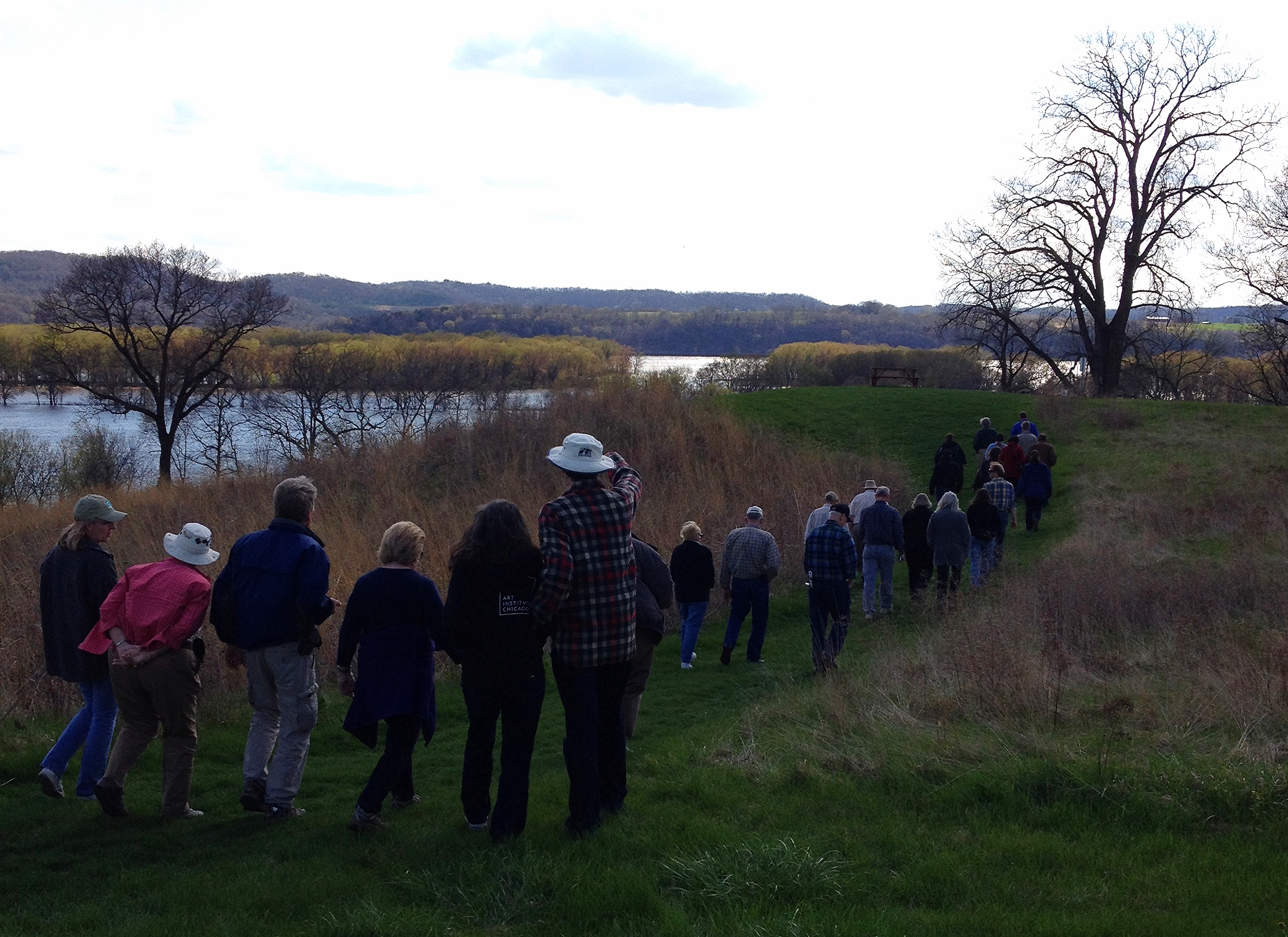 Touring Indian Mounds along the Apple and Mississippi Rivers of northwestern Illinois; 5/3/14.
Not too far from the Wisconsin and Iowa state lines in Galena, IL, the Illinois Association for Advancement of Archaeology hosted its annual meeting. In addition to the annual business meeting, there was a celebration for the recent purchase and preservation of important Native American sites in Northwest Illinois, including a site with the only recorded bear effigy mound in Illinois. 
Galena's Casper Bluff  offers some of the best views of the Mississippi River and its backwater sloughs. The 85-acre site also contains highly significant archeological resources. Among the 51 burial mounds, you can hike around the only known Thunderbird effigy mound in Illinois.  Other sites in the area include: Gramercy Park Hopewell Indian Mounds ; Horseshoe Mound  ; Wapello Land and Water Reserve.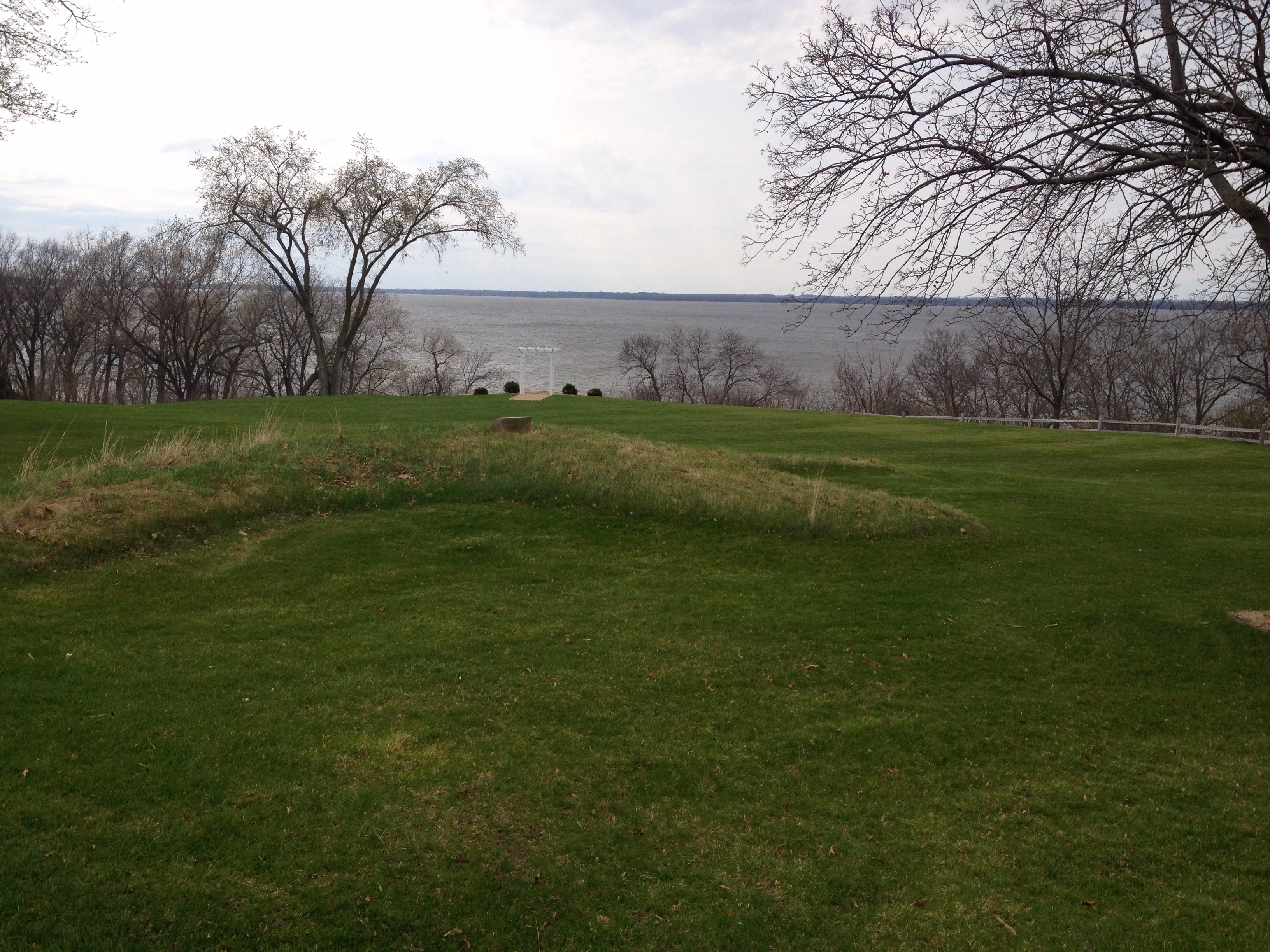 Wisconsin's Lake Koshkonong Indian mounds.
Just off Highway 26 near Lake Koshkonong, the Great Lakes Archaeological Research Center, Milwaukee, has recovered prehistoric American Indian artifacts on a saddle-shaped, 2-acre strip of wooded land at the corner of Pond Road and Highway 26 just south of Fort Atkinson. (8; Gazette Extra)
Lake Koshkonong and the Rock upriver were very different from the way we know them today. Before the dam near Indian Ford in Rock County was built, the Rock River, now a wide, slow-flowing stream, then justified its name with large rocks, a gravel bed and a swift current. Hugh Highsmith (1)
The Pecatonica and Sugar Rivers, both tributaries of the Rock River in northern Illinois, have experienced very limited archaeological research.  Today, local artifact collections are being studied and used to guide field investigations of this area.  Each river is characterized by wide flood plains with wetland areas that could have served as prime habitat for a wide variety of game and fish.
In March of 2013, the Three Rivers Archaeological Society met in Rockton, Illinois, along the Pecatonica River.  Several people who lived in the Rockton area had artifact collections that had been collected and passed down to them.  One collection included a Clovis point. (Facebook: Three Rivers Archaeological Society )
The Rock River Water Trail is located on the river from its headwaters above the Horicon National Wildlife Refuge in south central Wisconsin to the confluence with the Mississippi River at the Quad Cities of Illinois and Iowa 330 miles downriver. The trail is part of the National Water Trails System and the first National Water Trail in Wisconsin and Illinois.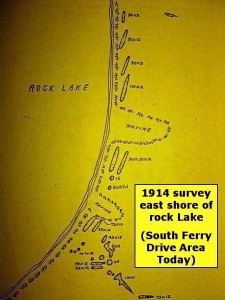 1914 survey of Rock Lake, Lake Mills, Wisconsin.
A couple of years ago I spent some time in Wisconsin at Rock Lake which is about 25 miles east of Madison in the town of Lake Mills.  About five miles from Rock Lake, is the 10th-13th century Native American settlement Aztalan State Park.  Middle Mississippians moved up the Mississippi and Rock River valleys into Wisconsin at about the same time as the Viking settlers founded the colonies in Greenland and Canada. They had created a vast trade network across the mid-continent and exposed the Woodland people to their culture.
Aztalan is known as the northernmost outpost of the Middle Mississippian Indian Society except for Tempealeau (Perrot State Park Archaeological Site ) which is now being excavated. It is related to the Cahokia Indian city state near East St. Louis and is located along the Crawfish River.   Archaeologists have found pottery that was made in Cahokia and then carried north at both locations.
In 2009, a group of paddlers created the Glacial Heritage Watertrail Guide .  The guide, which includes Aztalan, is not only a map for paddlers, but it also gives the cultural aspect of the sites, as well as an essay on how the land formations were made in the area by the receding of the glaciers.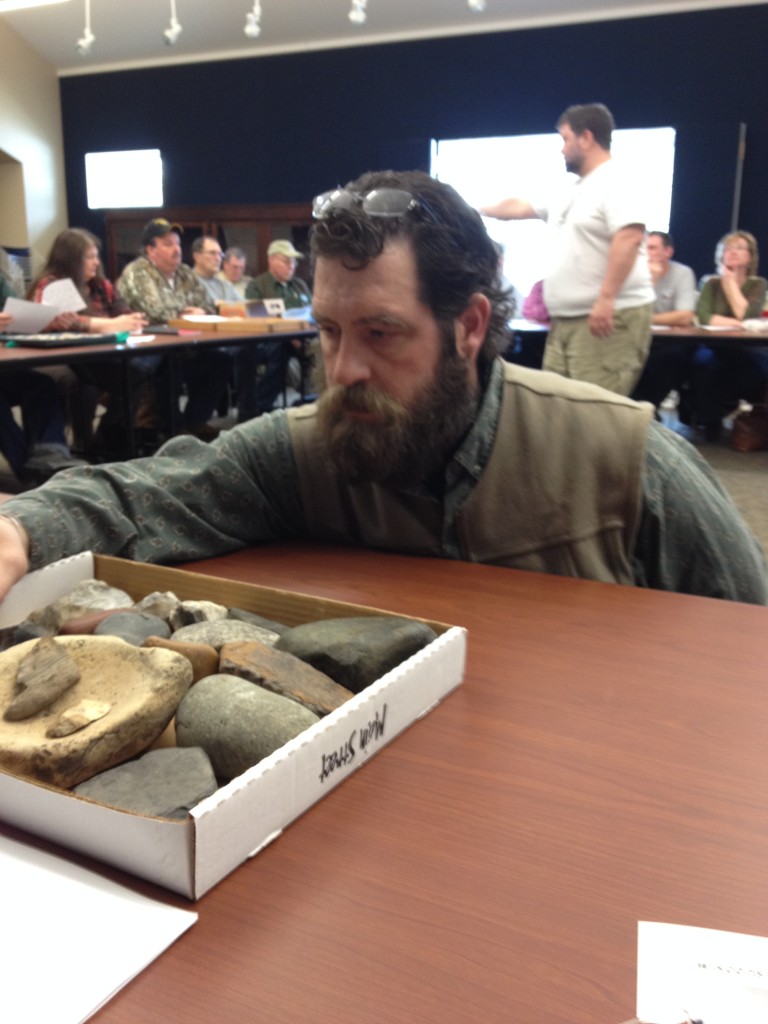 Christopher Veit helps to identify my son's finds with Wisconsin Archaeologist Kurt Sampson(in background).
Spring break 2014, my son arrived home from college and was looking forward to attending a meeting with the Wisconsin Archaeological Society in Fort Atkinson, Wisconsin, with me last spring. Wisconsin archaeologist Kurt Sampson spoke and also helped to identify personal artifacts.
On May, 24th, 1919, major flooding created a huge "V" shaped wash-out creating a seven foot wall exposing ancient garbage middens rich in archaeological deposits, including human bones.–Kurt Sampson, Aztalan Lecture, 3/22/14.
Kurt Sampson spoke about Aztalan at the Fargo Public Library in Lake Mills in March.  Aztalan was once thought to be an Aztec homeland, but it was the Middle Mississippians that settled at Aztalan, a small Late Woodland community on the banks of the Crawfish River.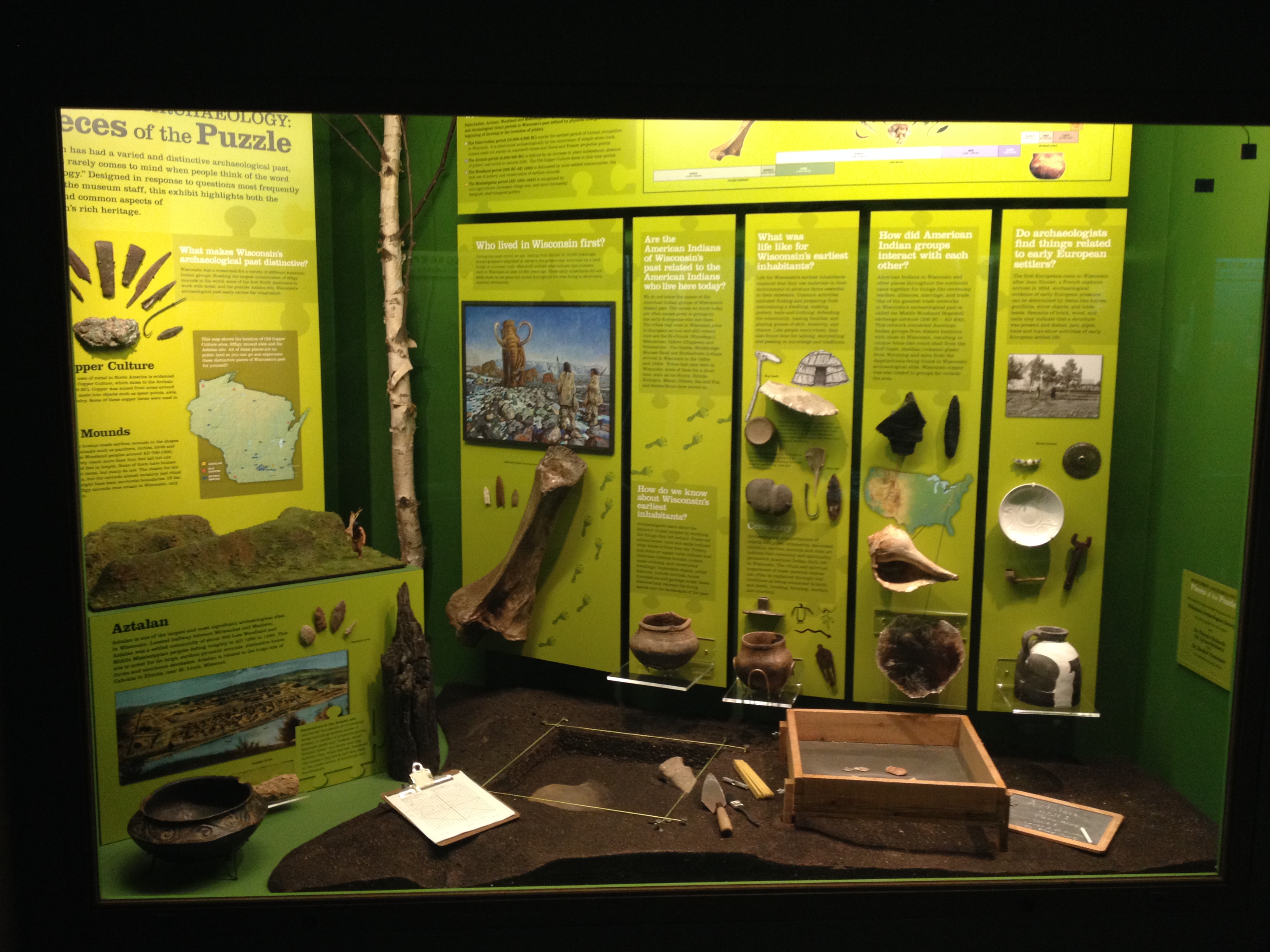 (Aztalan exhibit at the Milwaukee Public Museum.)
Aztalan, which had been settled by the effigy mound peoples became dual in nature as the Mississippian immigrants began to transform the village into a smaller version of Cahokia.  Woodland mounds are found on both the west and east side of the Crawfish River.  Mounds discovered on the eastern side of the Crawfish River were Middle Woodland and pre-dated Aztalan.  Bundle burials were found which are considered a late woodland practice.
Due to the fact that they found so many human remains in refuse pits, many had been cracked up to get the marrow out, it was suggested that it may have been cannibalism. Severed heads, arms, fingers, and severed bones found tossed about… One pit was found with a mixture of human and animal bones in the garbage. Further study re-explained the human bones were most likely due to widespread violence rather than cannibalism. Ritual cannibalism was going on with captured enemies during this time, too.
As mound-building ceased, new social systems were developed and the resulting village communities were called "Oneota" by archaeologists. Although pandemic diseases are believed to have wiped out up to 95% of the Native population in North America, the Ho-Chunk and Menominee are thought to have been the local survivors of the Oneota.
References
Hugh Higsmith, The Mounds of Koshkonong and Rock River; Fort Atkinson Historical Library, Higsmith Press, 1997; p. 3.
Wikipedia, Raccoon River.
Wikipedia, Crawfish River.
Pamela Eden and Reggie McLeod, LOOKOUT!–A Sampling of River Views, Big River Reader Magazine; Lookout map pdf ;9/1993.
Dammed rivers still sport mounds to be found alongside them: Indian Mound Meander 
Randy Radtke, History Being Uncovered at Aztalan, Daily Jefferson County Union; 6/21/13.
Watertrails Map For Jefferson County Paddlers Unveiled, The Daily Union, 3/8/10.
Neil W. Johnson, Anthropologists Explore Treasures Near Lake Koshkonong; Gazzette Extra, 5/2/10.
Mary Fairchild, Forest Service and Public/Private Partnerships:  Selling us Access to our own Investments.
Diane Heldt,  UI Archaeologists Find 7,000 -year-old Site in Des Moines; The Gazette, 8/18/11.
Thomas E. Emerson, Dale L. McElroth, Andrew C. Fortier, Archaic Societies: Diversity and Complexity Across the Midcontinent, American Anthropologist; 2/18/11.
Patrick B. Anderson, Archaeological Surprise Shines Light on Ancient Culture of Trempealeau, LaCrosse Tribune; 6/29/13.
Dana Larson, Expert Digs Deeper in Northwest Iowa ; Pilot Tribune, 2/24/2009.
Iowa State University, ISU Professor Identifies Oldest and Youngest Stag-moose in North America; 9/19/2013.
THV 11, Carol County, Iowa (CBS-KCCI) video, Iowa Drought is Fossil Hunter's Dream; 10/8/2012.