By Mary Fairchild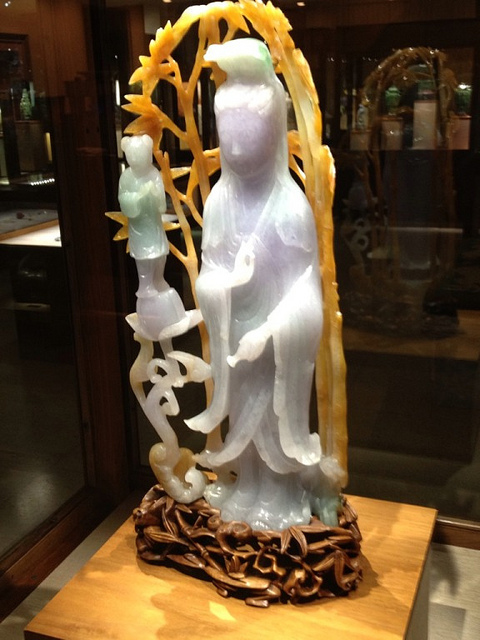 The upper level of the Lizzadro Museum of Lapidary Art displays a large selection of Chinese jade and hard stone carvings from around the world and the lower level of the museum presents lapidary materials, fossils, meteorites, and minerals.  My husband and I stopped in recently and chatted with Dorothy Ascher who is the granddaughter the museum's founder, Joseph Lizzadro.  Flickr Pictures
A lapidary hobbyist and collector, her grandfather would bring his growing family rockhounding up to the Keweenaw Peninsula of Upper Michigan where his wife was raised.  They would collect different stones that he would later cut, polish, and make into jewelry for friends.
When Joseph acquired an interest in working with jade it was nearly impossible to obtain rough jade.  Jade carvings were plentiful, though.  His first Chinese jade carving that he intended to cut into pieces for jewelry was so inspiring, however, that he decided to start collecting them.
In an interesting contrast, just as the Lizzadro Museum doors opened just outside of Chicago in the early 1960s, Confucius statues that stood for centuries were labeled as decadent and torn down in China.  People where burning their heirlooms and priceless Ming vases were shattered and thousand-year-old Buddhist murals were vandalized beyond repair.  During the Cultural Revolution the Chinese people were so afraid that the Red Guards would find antiques in their homes that they would toss them into the river at night so no one would see.
We admired a new display case with Dorothy titled "Minerals in Food."  When you think of minerals you don't usually think of foods, but foods do contain minerals that are important to maintaining a healthy body. Sylvia Josefeck, an ESCONI member who enjoyed collecting rocks and minerals that resembled food, has a display that is featured on the upper level through September 8th.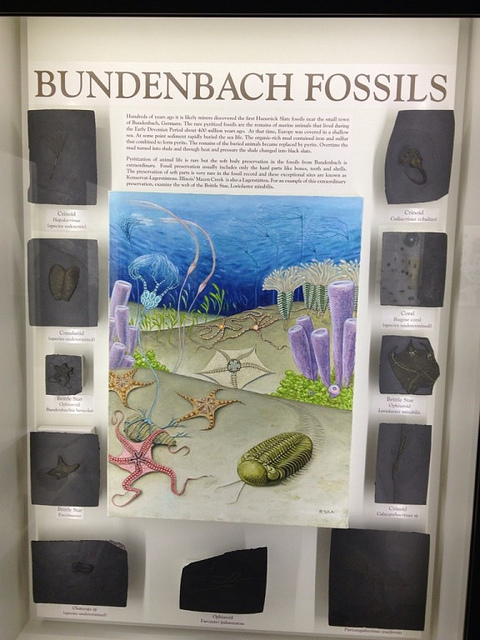 Bundenbach Fossils
Educational programs and museum tours provide a variety of ways to learn about earth science and lapidary art.  The Earth Science Club of Northern Illinois (ESCONI) has been active with several events and programs at Lizzadro.  ESCONI member Rob Sula has created a painting in a new fossil display in the museum's lower level.  Burdenbach is said to be a world-class fossil Lagerstatte known for its fossils of Placodermi and other creatures from the Devonian (pictured above).   Rob Sula and my husband led this years Mazon Creek fossil hunt in Braidwood, Illinois.  Annual fossil hunting trips to find Mazon Creek fossils  are held each March as part of the list of educational programs that are offered at the Lizzadro Museum.
Currently, the museum serves over 35,000 people through its exhibits, programs, and outreach services.  Here is a link to the most recent programs:  Lizzadro Museum of Lapidary Art
The Rock & Mineral Experience on the museum's lower level presents lapidary materials and earth science phenomena as well as a nice gift shop that offers jewelry, stones, mineral specimens, fossils, magazines, and books–including the Mazon Creek Fossil books by ESCONI.
References
Chinese Culture: Performing Arts, Politics and Propaganda; Jeffry Hays, 2008/2012.
Cultural Revolution: Beginning, Daily Life and Revolutionary Enthusiasm-China; Jeffry Hays, 2008/2012.
Jade Comes Out of Storage For Elmhurst Exhibit; Chicago Tribune, 1/8/2013.