By Mary Fairchild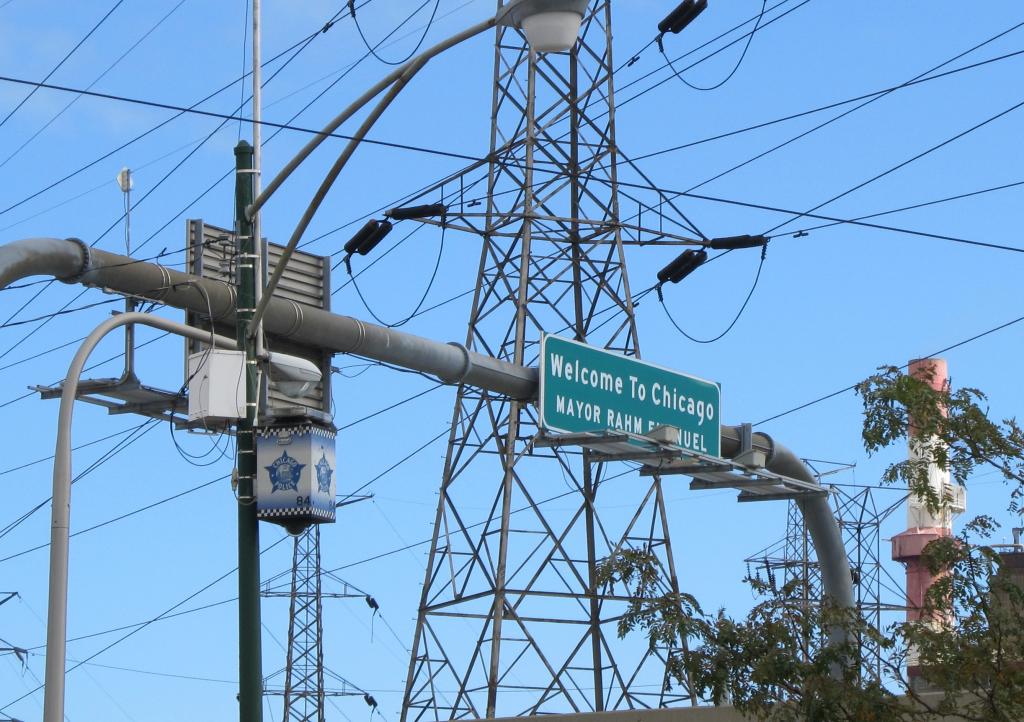 The "Welcome to Chicago" sign at the Indiana border on Chicago's South Side is within POD surveillance.  PODs are surveillance cameras with zoom and 360 degree rotation capabilities for high-crime areas.  They are mounted on city light poles to help reduce violent crime and drug dealing.
In a recent Chicago Magazine article titled "Why is Illinois so Corrupt?," Don Rose, a political consultant, shared, "From the post-Civil War era through the first few decades of the 20th century, a "criminal-political alliance" operated in many big cities in the United States.  In places like Chicago,  … it was very hard to tell the politicians from the real crooks.  You go back far enough, and it was the alderman who ran all the vice in the city."
Robert Lombardo, a sociology professor and former Chicago and Cook County police officer who authored "Organized Crime in Chicago: Beyond the Mafia," writes that the culture of corruption dates back to the late 19th century, when a gambling-house owner named Michael Cassius McDonald created the city's first political machine, establishing a model in which officials would distribute contracts, jobs and social services in exchange for political support. (Tritsch; 21)
Events in Chicago prior to the presidential election included plans for redeveloping the city's South Side into a "tourist-attracting green space" called the Millennium Reserve.  (Washington Post; 40).  On December 9th of 2011, Governor Pat Quin and Chicago Mayor Rahm Emanuel announced the plans for the development that will eventually surpass the size of Manhattan by tenfold and include 140,000 acres "in the Calumet region" making it the largest open space project in the country.
Barack Obama represented Calumet Park while he served in the Illinois Senate.  Based on voters/population percentages, Calumet Park turned out the largest percentages of votes for President Barack Obama in Cook County, and one of the largest percentages of votes for President Obama in the state of Illinois.
Prior to the 2012 election, McCaffrey Interests and US Steel announced that they were seeking to redevelop nearly two miles of Lake Michigan shoreline, formerly Southworks steel site in Southeast Chicago into a green, 21st. century lifestyle model.  The master plan will include approximately 600 acres of land located 10 miles south of downtown Chicago.  2040 is the estimated date of completion.
The Millennium Reserve Initiative follows the Obama Administration's  America's Great Outdoors Initiative, to reconnect Americans to America's rich outdoor treasures and build upon public, private, and tribal priorities for conservation and recreation lands.  Obama said the nation's growing population, pollution and other factors are "putting a rising strain on our lands." 
A President's Council on Sustainable Development was created by an Executive Order by Bill Clinton in 1993.  In 2005, The World Environment Day in San Francisco hosted Mayors from around the world.  They were asked to pledge their commitments to sustainable policies which were to be implemented on a specific time table.  Just one week later, the U. S. Conference of Mayors met in Chicago where they focused on Sustainable Development Policies.  At least 544 American cities, including Chicago, now pay dues to the International Council for Local Environmental Initiatives (ICLEI).  ICLEI is connected to the UN and the Agenda 21 .
"We see deep politics in imperial and post-imperial systems which are accustomed to use criminal assets to intervene lawlessly in other societies. But it is also a feature of large scale political systems which include within them ethnic communities or regions where the law of the outside majority is challenged by, and ultimately reaches an accommodation with, locally based gangs, triads, or mafias,"                                                                                                             Peter Dale Scott (thoughts on deep politics)

Peter Dale Scott, Ph. D, a former Canadian diplomat and English Professor at the University of California, Berkeley, is a poet, writer, and researcher.  He describes a deep political system as one which resorts to decision-making and enforcement procedures outside as well as inside those sanctioned by law and society–a covert system that is outside public awareness.  Just like the police-crime symbiosis familiar to Chicago, the protection of informants encourages favors, payoffs, and eventually systemic corruption where control falls into the hands of the mob more than with the police it has now corrupted.  Entire criminal structures, "organized crime," becomes tolerated by the police because of their usefulness in informing on lesser criminals.
After two years of the Obama presidency, Scott concludes that the influence of the "deep state" has continued to increase just as it has under every U.S. president since Kennedy; a secret structure that steers defense and foreign policy behind the facade of democracy.   The term "deep state" originated in Turkey in 1996 after a car accident exposed the passengers were a member of parliament,  a beauty queen, a local senior police captain, and an important drug trafficker in Turkey who was also the head of a criminal paramilitary organization–the Grey Wolves–that went around killing people.  (45)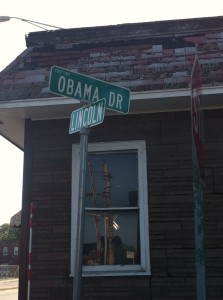 Obama Drive & Lincoln, Calumet Park, Illinois.
The first public beach opened in Chicago in Lincoln Park in 1895.  Lincoln Park is currently Chicago's largest public park and the second most visited park in the United States.  It stretches along the lakefront of Chicago's "North Side."
Chicago began as a real-estate boom along the flat, marshy terrain at the mouth of the Chicago River where "get rich quick schemes" seduced people to buy land in the swamp.  Today, real estate on the Chicago River is among the priciest on the busy, polluted Chicago River.  Although there are no guarantees that the river will ever be swimmable, "prior the presidential election," as part of developing the city's "next recreational frontier," Chicago mayor Raham Emanuel announced that four new boathouses with concessions for kayaking on the Chicago River will be built within two years and the project was being funded half by private and half by city money.  "The feds will be putting other resources into the river…," Emanuel reported from a "South Side park," one of the future boathouse sites.  (Emanuel Goes to Bat for Obama During Campaign)
At a time when the nation is only beginning to pull itself out of a deep recession, Rahm Emanuel announced his $7 billion plan.  Some of the funding will come from a newly created Chicago Infrastructure Trust, an initiative announced this month by Emanuel and former President Bill Clinton.  The trust fund will still require borrowing from investors, but in a way that hasn't been tested and will most likely cost more.
Former Chicago Inspector General David Hoffman has demanded that current Inspector General Joe Ferguson be empowered to investigate the Trust that will decide what projects to fund and what user fees to impose to guarantee five financing giants receive a sufficient return on their investment. There are serious questions about how Emanuel will be able to use this scheme to raise money to construct schools, pave streets, or build without creating new user fees… During a brief public comment session, a community activist raised the possibility of using the Trust to finance the $300 million renovation of Wrigley Field.  Although Wrigley is privately owned by the Ricketts family that owns the Cubs, the state could acquire it, as Tribune Co. Chairman Sam Zell once proposed.
The problem with Public/Private partnerships is that they are government-sanctioned monopolies in which a few businesses are granted special favors like tax breaks, the power of eminent domain, non-compete clauses and specific guarantees for return on their investments.  That means they can charge what they want and they can use the power of government to put competition out of business.
In Texas, using eminent domain, Public/Private partnerships attempted to take more than 580,000 acres of private land–sanctioned by the partnership with the Texas government to build the TransTexasCorridor.  Citizens united in Texas to expose the problems of Public/Private partnerships.  "Highway tolls are yet another form of regressive taxation, designed to push the burden of public costs downward onto the average taxpayer/driver, while the lion's share of the benefits go to the industries demanding state-subsidized mobility and infrastructure." Corridorwatch
Chicago has had its problems with the Illinois tolls.  Some of us do our best to avoid them … you'll understand.– Tolls went to illegally balance Illinois sate budget; employee swipes toll money.
Obama chose to obtain the Bible that Lincoln had sworn in on, and he also invoked Lincoln by announcing his presidential candidacy from the Old State Capitol in Springfield, and then traveled to his inauguration in Washington by train just as Lincoln did.  His inaugural theme, "A New Birth of Freedom," had been a phrase Lincoln used in his Gettysburg Address that the inaugural committee selected to mark the 200th anniversary of Lincoln's birth.
"As a lawyer, you're going to make a mistake, but it's far worse if you make a mistake and you don't admit it.  Lincoln was very much in that sense of ethics," he said.  "And, Lincoln in his notes on practicing law basically said your fees should be reasonable.  Too many lawyers pursue money for the sake of money."  J. Steven Beckett
Among the 17 pardons granted by Obama, where two individuals convicted for felony conspiracy to traffic counterfeit goods. J. Steven Beckett, Chicago area attorney who represented them just so happened to contribute $1,000 to Obama in 2004 when he ran for the state senate. Beckett also contributed another $1,000 to Obama in 2008 during his first presidential campaign.  Beckett told The Daily Caller that he was 'completely surprised' by the two pardons, which he first applied for on behalf of his clients more than four years ago.
In 2009, Obama appointed Louis Susman, who had no diplomatic experience, for the post of U.S. ambassador to Britain.  Susman was a Chicago lawyer and banker who was known to hang out with the Kennedys and the Kerrys in Hyannisport and Nantucket.  He was also one of Obama's biggest fundraisers. (Telegraph; 43)
On August 4th, just two months before the presidential election, Obama turned 51 and celebrated by raising money at his Kenwood home on the South Side.  When Michelle Obama was on the board of the Commission of Chicago Landmarks she first learned about the historical Georgian revival built in 1910.  Barack allegedly consulted with Tony Rezko on how to buy it.  Pictures of Obama mansion.
Obama and Rezko have been friends over 17 years according to the Chicago Sun Times.  As a lawyer at the small Chicago firm Davis Miner Barnhill & Galland, Obama had worked on low-income housing deals involving Rezko's company "Rezmar Corp. Rezko."  Obama "worked on low-income housing deals involving Rezko's company and Rezko has been Obama's political patron since he ran for the Illinois Senate. Obama has apologized for buying a piece of property from Rezko's wife [in 2006] to expand his yard." (Sun Times; 30)
Obama, who has worked as a lawyer and a legislator to improve living conditions for the poor, took campaign donations from Rezko even as Rezko's low-income housing empire was collapsing, leaving many African-American families in buildings riddled with problems — including squalid living conditions, vacant apartments, lack of heat, squatters and drug dealers.  Rezmar kept getting city and state funding, even as earlier projects fell into disrepair and financial troubles. But their company, Rezmar Corp., did come up with $1,000 to give to the political campaign fund of Barack Obama, the newly elected state senator whose district included the unheated building. (Sun Times;30)
Tony Rezko, who raised money for Blagojevich and Barack Obama in 2008, was found guilty of taking part in a scheme to get kickbacks in exchange for influencing the awarding of Illinois state business.  A Chicago federal court found Blagojevich guilty of trying to trade official acts, including the appointment of a U.S. senator to replace Obama, for campaign contributions and personal favors.
Joseph Cari was the finance chief for Al Gore's 2000 U.S. presidential campaign.  He was sentenced to three years' probation for his role in a political corruption scheme that led to the convictions of ex-Illinois Governor Rod Blagojevich and his fundraiser, Tony Rezko.  Cari testified against Rezko in 2008, he told the jury he aided a plot to demand a $750,000 kickback from a private equity firm, JER Partners, which sought $80 million in investment capital from the Illinois Teachers Retirement System.  
In September of 2005, Cari entered a guilty plea on one charge of attempted extortion after being indicted on federal charges related to a complex series of board appointments and campaign-fund donations.  Joseph Cari had been a national player in Democratic politics, working for each of the party's general-election presidential candidates from 1980 to 2004 and holding a variety of positions on the Democratic National Committee.  Currently, Cari is the senior managing director of International Capital and Trade, which ranges investments in Saudi Arabia, United Arab Emirates, and other countries in the Middle East. (Rhodes; 3)
As Joseph Cari said on the telephone to lawyers of the company he was trying to extort, "This is how things are done in Illinois."  Chicago Magazine
Joseph Cari's Lincoln Park home, which he bought in August 1999 for $1.8 million, sits on a double lot.  Cari listed the property for sale in June 2007, asking $3.45 million. In early November, he sold it for $3 million to a buyer whose identity could not be determined from public records. According to data from the Multiple Listing Service of Northern Illinois, the $3 million paid for this house is the highest sale price on record over the past 12 months for any Lincoln Park home that predates the neighborhood's new-home building boom that began in the mid-1990s (the one exception is a larger house that was gut-rehabbed inside by a developer).
The Sun Times reports:  State Rep. Derrick Smith scored a big win Tuesday against his Republican-turned-Democratic challenger in a quirky primary contest a week after his arrest on a federal bribery charge. Powerful Democratic House Speaker Michael Madigan also claimed victory over a spirited but mostly overwhelmed challenger…
Derrick Smith (D-Chicago) a state representative appointed to the Illinois House of Representatives was hauled away in handcuffs after the feds caught him on tape soliciting a $7,000 cash bribe in consideration for writing a letter of support requesting a $50,000 grant from a state agency for a non-existing day care center in his district. (Maloney; 42)
Although he's never been indicted, investigative news reports have documented how House Speaker Mike Madigan (D-Chicago) has used his political position to leverage millions of dollars in business for his Chicago law practice.  He has been able to install his daughter as the state's Attorney General even though she was unqualified for the job. (Kleine; 28)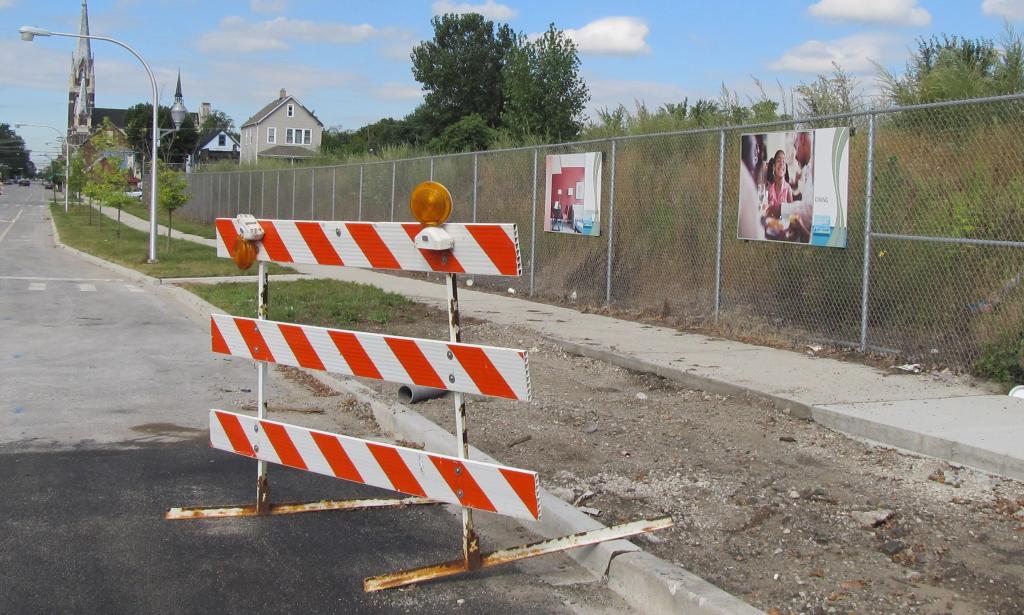 Barricades and fences mark off the location of the future Chicago Lakeside Development; 9/4/13.
"Mr. Emanuel's hurry-up plan to rebuild the underbelly of the city through a $7 billion fund… is about as transparent as one Mr. Daley's tax-increment financing schemes–which is to say not at all.  Where is the evidence that this public-private creation actually will benefit the city and taxpayers?  …Perhaps more important, where is the outside supervision?" Crain's Chicago Business
Washingtonian Magazine reports that Chicago Mayor Rahm Emanuel is the fifth wealthiest member of the Obama Administration, with assets between $5,023,000 and $13,170,000 in 2007.  While advising Bill Clinton and taking Rod Blogjevich's vacant seat in the 5th District of Illinois, Emanuel made $16.2 million in his 2½ years as an investment banker at Wasserstein Perella.  He is a former Goldman Sachs money man who helped spearhead the $700 billion TARP banking bailout law in Congress and assumed a lead role in overseeing Treasury Secretary Timothy Geither.
Former White House Chief of Staff Rahm Emanuel said he didn't recall anything about the Obama Administration's $535 million loan to the recently bankrupt solar company Solyndra, yet emails from the White House proved otherwise.  The Daily Caller reported, speaking to WLS 890 AM at a news conference about a new wellness initiative, "Emanuel was Obama's chief of staff during the administration's green energy initiative in 2009, when the Solyndra load was finalized.  E-mail communications from the White House obtained by the House Energy and Commerce Committee point to more involvement than perhaps Emanuel would care to remember…"  Daily Caller; LA Times.
Just a few months later, Solyndra laid off nearly all of its 1,100 workers and declared bankruptcy. Just a few days after that, agents of the FBI and the inspector general were raiding Solyndra headquarters and the homes of the CEO and two other executives, with search warrants.  Kaiser and other investors were allowed to recover their investments before DOE attempted to recover the $535 million in taxpayers' money. This move is what left taxpayers holding the bag.
Solyndra's name came up at a White House meeting with Kaiser at a time when the California company was seeking a second federal loan, after it had already received a $528 million loan in 2009, the emails show.  The second loan was not approved. Instead, an investment venture controlled by Kaiser made a private loan that resulted in the firm and other investors moving ahead of taxpayers in line for repayment in case of a default by Solyndra.  The emails released by a House committee later appeared to contradict repeated assurances by the Obama administration that the donor, George Kaiser, never talked about Solyndra Inc. with the White House. (Daley; 26)
In late August 2011, cash flow problems caused the entire company to go bankrupt, and the US government had to pay off the $535 million loan. Government auditors found that the Obama administration had rushed through the loan package without completing legally required evaluations, and had failed to properly evaluate Solyndra's business plan. The Washington Post newspaper reported that they had pressured regulators to approve it in time for Vice President Joe Biden to announce it at a ground-breaking ceremony in September 2009, and that politics played a key part in the approval despite repeated warnings.   Federal agents searched Solyndra and the homes of Brian Harrison, the company's CEO, and Chris Gronet, the company's founder, in September 2011, and Harrison resigned a month later, but even then the Obama Administration pushed through a loan restructuring that put federal taxpayers in line behind other creditors — including the George Kaiser Family Foundation — despite warnings that it was illegal. By October 6, 2009, Jonathan Silver — the director of the Department of Energy's loan office — resigned, and a federal investigation into links between the campaign contributions to Obama and the loan guarantee was under way.
In 2011, … income would put the Jacksons within the top four percent of household incomes in the country." (Rogers & Balde;19)
Last November, away from his constituency just one week before elections, Congressman Jesse Jackson casted his vote by absentee ballot while he was still at the Mayo Clinic in Minnesota where he had checked in for treatment for bipolar disorder.  Even though Jackson had not been campaigning, was mentally ill, under investigation by the FBI for misuse of campaign funds and at the same time, a House Ethics Committee was looking into Jackson's supposed involvement in trying to be appointed to now-President Barack Obama's seat in the U.S. Senate, polls showed 58% of voters in the Chicago-area district, which is primarily Democratic, would vote for Jackson regardless.  Jackson admitted he wanted to be appointed to the Senate, but he repeatedly denied allegations he sent emissaries to offer campaign cash to then-Gov. Rod Blagojevich in exchange for the seat.  (Greiner; 27)
Former Congressman Jesse Jackson Jr. and his wife Sandi pleaded guilty to looting $750,000 from campaign war chests they controlled, bankrolling 3,100 personal purchases including a $43,350 Rolex watch, $8,000 for elk heads, $28,000 in Michael Jackson memorabilia, $17,000 at tobacco shops, trips, furs, and even mundane, household supplies from Costco.  On top of that, he was paying his wife $5,000 per month as a campaign consultant, a total of $340,500 during the 84 months prosecutors say the conspiracy lasted. The government notes that starting in 2008, she also was drawing a Chicago aldermanic salary which grew to $114,913 last year.  Sandi Jackson pleaded guilty for failing to report income around $600,000 she did not earn the unreported income–but stole it according to prosecutors. (Sweet; 17)
It's hard for me to overlook the shameful parade of sons of celebrated leaders who are in jail or on the way to jail for confessed crimes ranging from bribery, embezzlement and just plain thievery. Their crimes go beyond mere law-breaking. The sons have dishonored a legacy of public service that their fathers helped to build in order to break down barriers to economic and political progress for African-Americans. Barbara Reynolds, African-American journalist and notable author of biography of Jesse Jackson.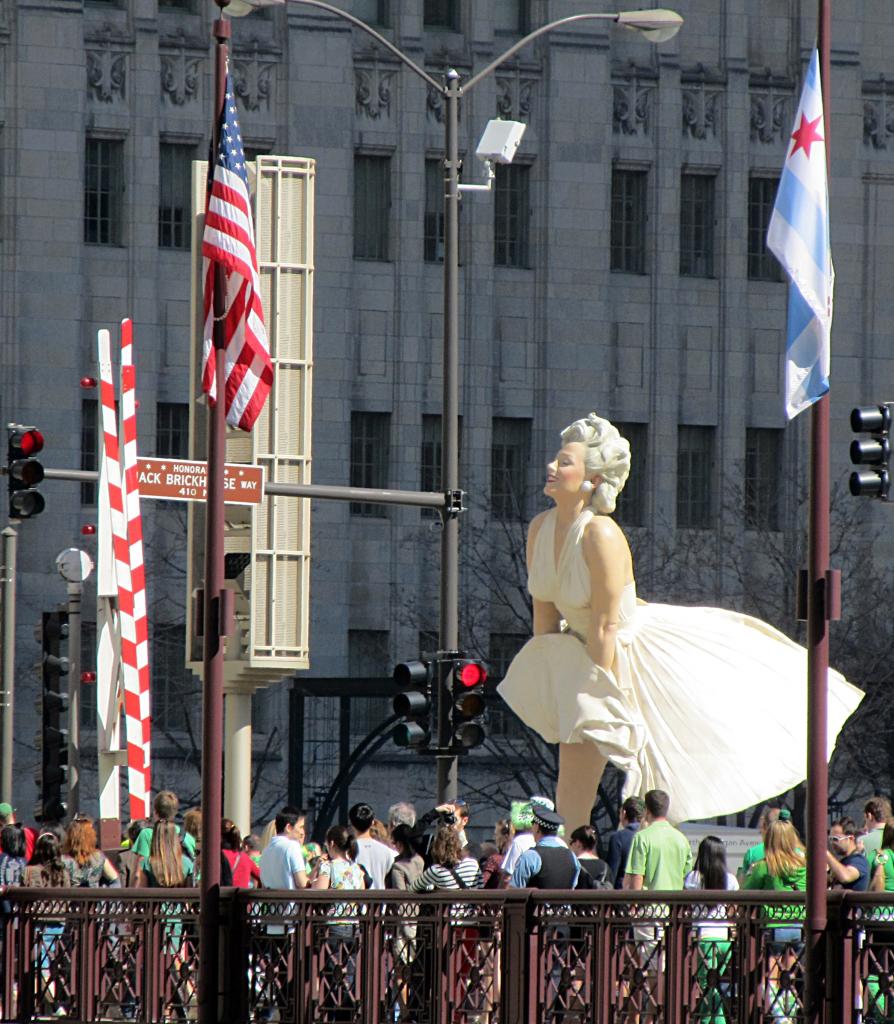 Prior to the presidential election, on St. Patrick's Day, the Marilyn Monroe statue was stationed by the Chicago River.  In May of 2012, the traveling public art project was set up in Palm Springs, California, where it is said to celebrate Hollywood's ties with Palm Springs.  Palm Springs was the playground of presidents Eisenhower, Ford, Kennedy, and Clinton.  Frank Sinatra made nearby Rancho Mirage his home and the whole Rat Pack followed for years of partying.
"Thanks, Mr. President, for all the things you've done.  The battles that you've won.  The way you deal with U.S. Steel and our problems by the ton.  We thank you so much." Marilyn Monroe
The Rat Pack played a role in campaigning for JFK and the Democrats at the 1960 Democratic National Convention in Los Angeles. (Spada; 35)  During Kennedy's lifetime rumors were contained, and what Americans saw of him was an image due to the emerging power of television and the media.  During his campaign, he had gone to La Vegas to visit Frank Sinatra and other members of the Rat Pack including Kennedy's brother-in-law, Peter Lawford.  While staying at the Sands Hotel he met Judith Kendel and began an affair.  Kendel was also the mistress of Sam Giancana, one of the mob bosses the CIA would recruit to kill Castro.
NBC Whitehouse Correspondent, Sandel Vanocur, shares that although J. Edgar Hoover knew he never shared this information. Hoover had a lot of power over not only Kennedy, but a lot of congressmen over the years as a black mail artist. (19) All of this was kept secret, including JFK's continuing struggle with Addison's Disease.
The papers did not want to risk lawsuits by publishing rumors, especially when the Justice Department was in the hands of JFK's brother Robert and the Kennedy brothers, assisted by the slightly unstable FBI director J. Edgar Hoover, had no qualms about using their power against their political opponents. Hoover had been practicing illegal wiretapping for years and this was allowed to expand drastically under JFK. Not only did Robert Kennedy use the wiretaps against the Mafia and other underworld types, but he also authorized spying on public figures. (44; History Channel)
Giancana was an American and boss of the Chicago Outfit from 1957–1966. The Chicago Outfit, also known as the Chicago Syndicate, Chicago Mafia, Chicago Mob, or simply the Outfit, or The Capone family is a crime syndicate based in Chicago that dates back to 1910s.
During the early months of 1962, Marilyn had an affair with Frank Sinatra and befriended Peter Lawford, his wife Pat Kennedy, and Pat Newcomb, who became her best friend.  The group would spend a lot of time together and have parties at the Lawford and Kennedy homes where the guests included Hollywood celebrities and high government officials, including Robert Kennedy and President John Kennedy.  The book, Marilyn Monroe: The FBI Files includes reports of Marilyn's alleged communism and trips to Mexico in her last months, investigation into her death (they called it a purposeful suicide) and even a memo regarding the Norman Mailer biography of MM published in 1973 (they weren't too happy that RFK and JFK were accused in the book). (Coates; 34)
Lawford was blamed for Kennedy's choice to stay at rival Bing Crosby's estate instead and that forever infuriated Sinatra.  Coincidentally, future rolls for Lawford where given to Bing Crosby and Lawford was written out of the upcoming "4 for Texas," and then Crosby got his part in "Robin and the Seven Hoods."  (Spada; 37, 38)
Kennedy had been elected in 1960 by one of the smallest popular vote margins in U.S. history.  Liberal Democrats wanted him to promote progressive social programs, but he knew that he first needed to be reelected.  The community became suspicious of his motives after his very public dispute with U.S. Steel president Roger Blough over an increase in steel prices.  Although the price increase was canceled, U.S. Steel announced that its new plants would be built abroad.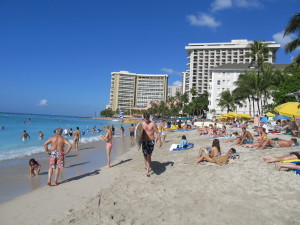 Vacationing During President's Double Holiday, Waikiki Beach, Oahu, 12/30/2012
Robert Keith Gray, who worked within the White House under three presidents and had close ties with two more, notes that while other presidents have taken advantage of perks, the amount of money spent on the first family has risen substantially under the Obama administration.  In comparison with the British spending $57.8 Million on its royal family last year, Americans spent nearly $2 Billion housing, transporting, entertaining, staffing, our First Family and paying a hefty portion of the president's campaign expenses.  Gray also notes, in his new book, the inequity of taxpayer dollars being spent by Obama for his re-election effort by using Air Force One to travel between campaign stops. (Gray; 22)
After departing Washington for Oahu on the 21st of December, Obama returned to Washington on December 26th.  He returned again to Oahu just after the House passed the fiscal cliff bill on New Years. According to the Hawaiian Reporter, President Barack Obama and his family have taken a $4 million vacation in Kailua, Hawaii, each Christmas, since 2008, in which taxpayers are responsible to cover.  This year that trip was double.
During the G-8 summit meeting in Northern Ireland the first family headed to Dublin.  Along with thirty rooms for the Obama entourage, Michelle, Sasha and Malia stayed Dublin's swank Shelbourne Hotel on Monday night, in a $3,300-a-night Princess Grace suite. (Sneed; 16)
According to the Washington Associated Press, Obama announced from Berlin that he plans to use "executive powers" in a major push to combat global warming.  The plan, with details expected to be made public in coming weeks.  Pressure from Al Gore, environmental groups and states which have been harmed by Superstorm Sandy to cut pollution from existing power plants which they believe is the largest source of climate-altering gases. Just last week, former Vice President Al Gore, a prominent climate activist and fellow Democrat, pointedly called on Obama to go beyond "great words" to "great actions."
Of the well-publicized campaign to reject the Keystone XL oil pipeline, which would carry oil extracted from tar sands in western Canada to refineries along the Texas Gulf Coast, opponents call the $7 billion project a "carbon bomb" that would carry "dirty oil" and exacerbate global warming. But the State Department in an environmental evaluation concluded that other means of transporting the oil would be worse from a climate perspective.
The first family had lunch at Finnegan's Pub in Dublin with rocker Bono and his family.  Bono, the lead singer of the rock band U2, is one of the richest entertainers in the world and gets tremendous access to the media—and politicians—because of his anti-poverty campaign.  Less well-known is the fact that his band came in for criticism a few years ago when it transferred part of its business empire out of Ireland to avoid high tax rates.
Bono also runs an organization known as DATA (Debt AIDS Trade Africa), which is funded in part by the Open Society Institute of Democratic Party George Soros.  A Soros associate, Morton Halperin, sits on the DATA board. The ONE campaign says it is funded "through private and public foundations" but only one name has been identified—that of the Bill & Melinda Gates Foundation, which provided $3 million in 2004.
ONE campaign "partner" organizations include the United Nations Association, the pro-U.N. lobbying group, and Ted Turner's United Nations Foundation, which financially supports the U.N.  While the ONE campaign is generally regarded as a left-wing organization, it claims support from such notables as Pat Robertson and pastor Rick Warren. On September 25, after conversing with McCain and Palin, Bono and his collaborators were scheduled to hold a "United Nations emergency summit on the Millennium Development Goals." Bono's ONE organization described them as "eight goals" that were "drawn from the targets contained in the Millennium Declaration that was adopted by 189 nations—and signed by 147 heads of state and governments during the UN Millennium Summit in September 2000." A careful analysis of the legislation, as well as the follow-up 2002 U.N. Financing for Development Conference, which was designed to make the "goals" into a reality, leads to the conclusion that the U.S. will have to provide $845 billion in increased foreign aid spending, generated if necessary by a global tax on the American people. At the Clinton Global Initiative meeting, Obama reaffirmed a "commitment" to "embracing the Millennium Development Goals, which aim to cut extreme poverty in half by 2015."
The ONE campaign organization urged the Senate passage of the Jubilee Act, which would cancel the debts of 26 foreign countries even while the U.S. suffers through its own financial crisis and Americans are losing their homes and savings. It passed the House on a 285-132 vote….Despite foreign aid having cost the American people $2 trillion since World War II, Bono's ONE organization believes in "allocating more of the U.S. budget toward providing basic needs" for the rest of the world. ONE also promotes compliance with the U.N.'s Millennium Development Goals, the same expensive effort set forth legislatively in Obama's Global Poverty Act.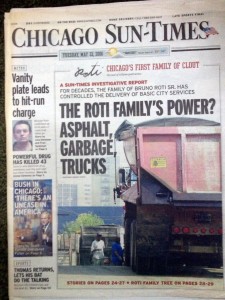 In the 19th century, the city's first corruption trial took place of the First Ward alderman John Coughlin and Michael Kenna who had controlled police, zoning, and vice in their ward from the end of the 19th century to well into the next.  Today Chicago continues to weed out corruption though trials which usually involve plea bargains and the state of Illinois is notorious for corrupt public officials.   The territory for the Chicago Outfit includes the Chicago metropolitan area, northwest Indiana, Milwaukee to the west coast, Vancouver, British Columbia, Western Canada, and Washington, D.C.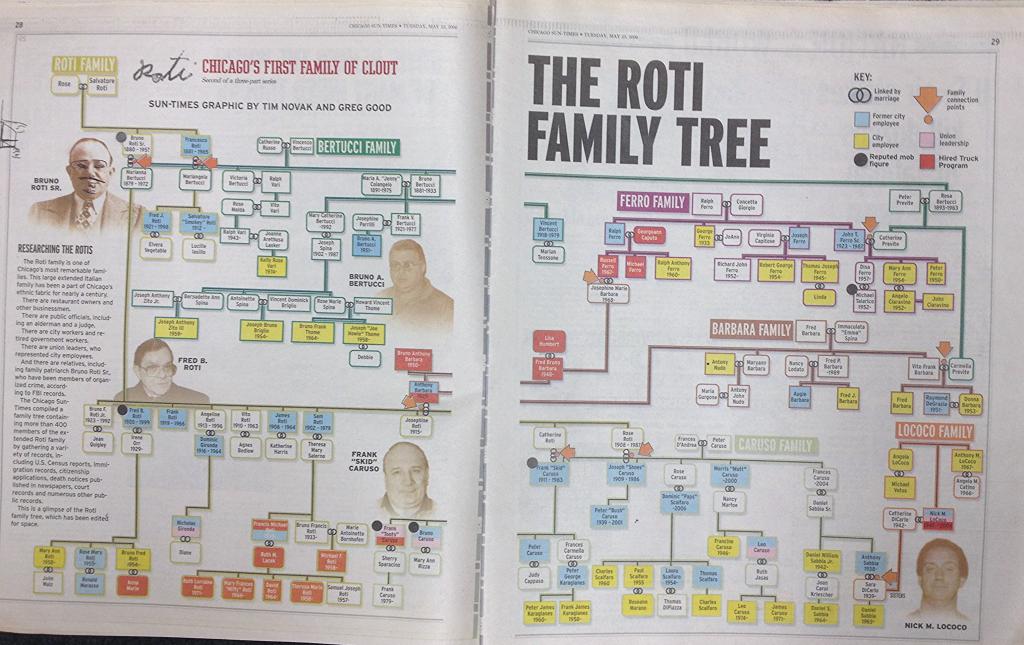 The Roti Family Tree, Chicago Sun Times; 5/23/06.
Fred Roti served as an Illinois state senator (1951–1957).  At the time of his slating by the 1st Ward Democrats, Roti was described as "a state revenue department investigator and precinct captain." He faced nominal Republican opposition and was elected state senator from the 1st District on November 7, 1950.  He was a consistent opponent of anti-crime bills and, in the state legislature, he was a member of a bipartisan bloc of West Side lawmakers linked with hoodlums known as, "The West Side Bloc." When his seat was lost to redistricting, he retired from the state legislature, returned to precinct work, and took a patronage job as a drain inspector with the City Department of Water and Sewers.
In a civil racketeering complaint against the Chicago Laborers District Council (CLDC), the Justice Department described Roti:  Fred Roti was convicted of Racketeer Influenced and Corrupt Organizations Act (RICO) conspiracy, bribery and extortion regarding the fixing of criminal cases in the Circuit Court of Cook County,  including murder cases involving organized crime members or associates and was sentenced to 48 months' imprisonment. Roti was released from prison in 1997. As First Ward alderman, Roti was a key political patronage boss and, along with his co‑defendant Pat Macy, a fixer for the Chicago Outfit. Roti has directly participated in interfering with the rights of the members of Laborers' International Union of North America in the selection of their officers and officials in that he has improperly influenced the selection of officers of the CLDC and has been responsible for the pervasive hiring of mobster Angelo "the Hook" LaPietra's crew members and associates at the Chicago Streets and Sanitation Department. Roti is a "Made Member" of the Chicago Outfit.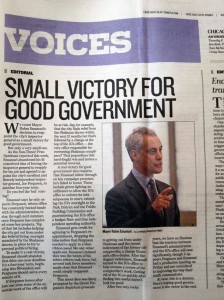 Chicago Sun Times Editorial, 9/4/13
The Sun Times reports this week : Emanuel abandoned his ill-conceived idea of forcing the inspector general to reapply for his job and agreed to appoint the city's excellent and fiercely independent inspector general, Joe Ferguson, to another four-year term.  Emanuel says he only expects Ferguson, whose office has constantly butted heads with the administration, to stay through next summer, once Ferguson has completed some key projects. Top of that list includes helping the city get out from under the federal hiring oversight mandated by the Shakman decree, in place to try to prevent political hiring.  Small Victory For Good Government
In 1969, one man made his stand against the Chicago political machine. Michael Shakman, an independent candidate for delegate to the 1970 Illinois Constitutional Convention, battled against one of the most enduring traditions in Chicago's politics: political patronage, or the practice of hiring and firing government workers on the basis of political loyalty. With many behind-the-scenes supporters, Shakman's years of determination resulted in what became known as the "Shakman decrees."
Related
References
Redeveloping Chicago (Millennium Reserve, Rainbow Beach, Eco-Imperialism)
McHenry County Blog, "Joe Cari."
Steve Rhodes, "Jeopardy," Chicago Magazine; 2005.
Chicago Sun Times, Eye on Rezko, April, 2008.
Cal Skinner, McHenry County Blog.
Mike McIntire and Christopher Drew,  "As Developer Heads to Trial, Questions Linger Over a Deal With Obama", New York Times, March 2, 2008.
Frank Main, "Internship also links Obama, Rezko", Chicago Sun-Times, December 24, 2006.
Peter Slevin, "Obama Says He Regrets Land Deal With Fundraiser", Washington Post, December 16, 2006.
Eric Lipton and John M. Broder, In Rush to Assist a Solar Company, U.S. Missed Signs , September 22, 2011.
Carol D. Leoning and Joe Stephens, Solyndra employees: Company suffered from mismanagement, heavy spending , Washington Post, September 21, 2011.
Joe Stephens and Carol D. Leoning, Solyndra loan: White House pressed on review of solar company now under investigation , Washington Post, September 13, 2011.
Carol D. Leoning and Juliet Eilperin, Amid Solyndra controversy, head of federal loan program resigns , Washington Post, October 6, 2011.
Joe Stephens and Carol D. Leoning, Solyndra loan deal: Warning about legality came from within Obama administration , Washington Post, October 7, 2011.
Ryan Tracy and Deborah Solomon, Solyndra Supporter Spoke to President , November 10, 2011.
Mathew L. Wald, More E-Mails Released on Failed Solar Company , New York Times, January 13, 2012.
Michael Sneed, "Begorrah! The Obama diaspora," Chicago Sun Times, p. 4; June 19, 2013, sneed@suntimes.com .
Lynn Sweet, "Jesse Jr., 18 Months For Sandi," Chicago Sun Times, p. 3; June 8, 2013.
"Jesse Jackson Jr. Spending: 17 Things Ex-Congressman, Wife Bought With Campaign Cash, Huffington Post, 2/21/13.
Phil Rodgers and Lisa Balde, "Prosecutors Want 4-Year Prison Term for Jesse Jackson Jr.,"   NBC Chicago; 6/7/13.
Barbara Reynolds, "A Shameful Parade," Florida Courier, 2/16/13.
Shane Tritsch, "Why is Illinois so Corrupt?", Chicago Magazine, December 2010.
Robert Keith Gray, "Presidential Perks Gone Royal." 6/1/2012.
US News, "Inside Obama's Kailua Beach Vacation Homes," Elizabeth Flock; 1/2/2013.
Hawaiian Reporter, "Residents Alerted to Obama's Hawaiian Holiday Plans," Maria Zimmerman, 11/27/2012.
Robert Keith Gray, "Presidential Perks Gone Royal." 6/1/2012.
Mathew Daley, "George Kaiser, Obama Donor, Discussed Solyndra Loan With Whitehouse, Emails Say," Huffington Post; 11/9/11.
Andrew Greiner, "Jesse Jackson Jr. Wins Reelection from Mayo Clinic." NBC News; 11/7/12.
Ted Kleine, "The Girl Can't Help it."  Chicago Reader; 2/5/98.
David Pierini, "Calumet Park to rename 127th St. 'Obama Drive,'" Chicago Breaking News Center; 3/13/10.
Tim Novak, "Obama's ex-boss a Rezko partner. Lawyer consulted on final Rezmar redevelopment," Chicago Sun-Times; 4/23/07.
Tim Novak, "Top recipients of campaign cash," Chicago Sun-Times; 4/23/07. 
Tim Novak, "Obama and his Rezko ties," Chicago Sun-Times; 4/23/07.
Dave McKinney, et al., "Obama surfaces in Rekzo's federal corruption case. Source confirmed Obama is the unnamed 'political candidate' referred to in document which outlines case against Rezko," Chicago Sun-Times; 1/19/08.
Tim Coates, "Marilyn Monroe: FBI Files."
Spada, James, " Peter Lawford: The Man Who Kept the Secrets." Bantam Books; 1991; p. 228.
Ibid., p. 293.
Ibid., p. 294.
Ibid., p. 295.
Robert Cooley and Hillel Levin, "When Corruption Was King:  How I Helped the Mob Rule Chicago, Then Brought the Outfit Down."  New York: Carroll & Grant Publishers, 2004; http//www.whencorruptionwasking.com  .
 Obama Launches America's Great Outdoors Conservation Initiative,  Juliet Eilperin & Scott Wilson; 4/17/10, Washington Post.
 $7 Billion Public-Private Plan in Chicago Aims to Fix Transit, Schools, and Parks, John Schwartz, 3/29/12; New York Times.
Andrew Maloney, "One Week After Bribery Charge, State Rep Derrick Smith Wins Big," Chicago Sun Times; 3/20/12.
Tim Shipman, "Louis Susman: Obama's Choice as London envoy," The Telegraph; Feb. 2009.
The History Channel DVD, "JFK a Presidency Revealed"; JFK a Presidency Revealed pdf. 2003.
Peter Dale Scott, "Oswald, Mexico, and Deep Politics."  Skyhorse Publishing, 2013.