By Mary Fairchild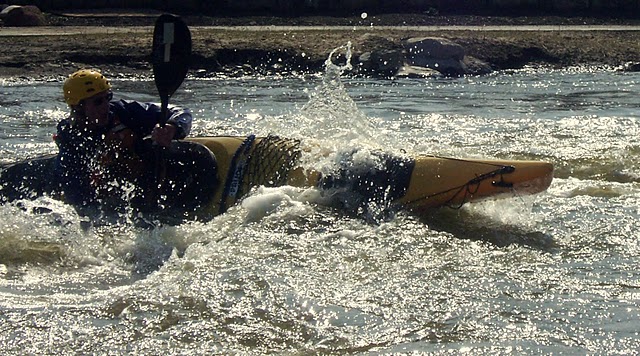 At the CASKA gathering last night, held at Chicago's Jackson Park Yacht Club, I had a chance to catch up with Gary Steinbauer.  Gary and I attended some of our first kayaking with the club together in 201l.  We've both paddled not only Lake Michigan, but the whitewater park in Yorkville which had just opened in 2011.  Taking long boats in the whitewater park has been the latest way to work on boat handling in rough water and just have a lot of fun as well.  I asked Gary if he had his water pass yet and his opinion on it.  Gary, like most kayakers in Illinois, was not too up-to-date on the water pass.
Illinois' Marge Cline Whitewater Park in Yorkville has the chance to bring in tourist dollars and boost the economy, but registration requirements have been shown to deter tourism. Since only a small handful of states require the registration and numbering of canoes, kayaks and rafts it creates an inconvenience and added cost for paddlers visiting a state with registration requirements. This discourages paddlers from coming to the state spending money for campgrounds, motels, food and gas eventually causing a decrease in tourism revenues and thereby negatively impacting the state economy.
Registration laws not only increase the operating costs for church organizations, university programs, and commercial angling outfitters and whitewater outfitters, but many paddlers tend to own more than a single canoe or kayak and when it comes to registration, this makes what their share of what they pay in boating fees disproportionate compared to the owners of single, more expensive powerboats.  Hundreds of thousands of dollars go into creating bike trails without requiring bicycles to be registered like cars and in the same way it makes sense that paddle boats ought to be separated from motor boats.  All power-boats are registered just like cars for a good reason. The money is used to support investments in channel marking and provides for law enforcement in heavily used oceans and lakes.
In Illinois:  "Starting July 1st, 2013, non-motorized boats including kayaks, rafts, canoes, etc. that are used for transportation on navigable water ways will require a "paddle pass" license. IDNR # 217-782-6302; Licenses can be purchased anywhere they sell fishing licenses and will only cost 6$ a year. Fines will be 120$. Cody Murphy, "New Requirement For Non-Motorized Vessels Coming Soon." 5/31/13."
Although the arguments (Redflags of Boat Registration) against forcing the public to register their canoes and kayaks, and more recently "rafts and tubes", are numerous, we are being told in Illinois how it is somehow really better.  Links of interest:
American Whitewater is the primary advocate for the preservation and protection of whitewater resources throughout the United States.  AW reports that registration fees have rarely been used to benefit paddlesports, but tend to be diverted for motor-boat launch sites and programs that benefit fishermen, but unlike hunters or fishermen, paddlers take nothing from the environment.  After non-motorized boat users complained in droves, the registration fees in Alaska  were eventually dropped from the law.  In 2000, in Arizona the annual registration fee was also dropped due in part to high administration costs that were exceeding the revenues that were being collected and an ineffective ability to return services to the public.
Central Illinois Canoe and Paddling Meetup reports: "Apparently there will now be a new boat registration system involving stamps starting 1/1/13. Of course it costs more than the former system. I don't know much about it yet but here is a copy of an email I received about it…. On the Plus side – No longer will IL HPW owners have to title their boats, or be forced to (illegally) pay any sort of "Use Tax" on their boats as a prerequisite for registration. The minus side is that a $6 per year per boat "Water Usage Stamp" will have to be purchased (though additional stamps beyond the first 3 will cost only $3 ea.) Another negative is that non-residents will also have to buy this "Water Usage Stamp" to paddle in IL (so much for encouraging tourism…..).  Anyone who is a windsurfer can now start crying, as after enjoying a registration exemption for 24 yrs, all windsurfers will now be paying the piper. The drafters of this bill did not consider the ramifications of their hasty removal of sailboards from the exemption list – but the legalese in the bill now suggests that sailboarders will have to register their boards as sailboats, and put 3 inch numbers on their boards!  Also beware if you use an innertube on the water. The registration exemption for inner tubes was also removed in this amendment, so tubers will also have to buy a "Water Usage Stamp" (but floating on an air mattress is still free – go figure….).  Karen K. There are many other changes/fee increases that don't affect paddlers directly, including an extra $2 tax for vehicle license plate fees, new fees for use of state owned bike trails and beaches, and all kinds of new/increased fees for non-residents.  Since this amendment was drawn up in the 11th hour of the normal legislative session, the important details for many of these new fees remain unknown. For the provisions of this law that will be clarified by the Administrative Rule process, there will be opportunity for public input – and we'll try to keep all informed of such public input opportunities. Anyone wishing to also monitor for new proposals should check the Illinois Register – every Friday to see what new Proposed Rules are published). Erik S, CWA Advocacy, IPC Whitewater Voice Boat Registration Changes 
Benefits of tourism:  Charles City:  Tom Brownlow, city administrator for Charles City, said he isn't sure how many visitors the whitewater park will bring into the community but the conservative estimate of how much money it will bring into town each year is $750,000-$800,000.
"The economic development potential is great for downtown Fayetteville," Johnson says. "If we create a venue like this we'll draw visitors from throughout the region, from Virginia to South Carolina."  South Bend, Ind., got that kind of boost after it opened its 1,900-foot East Race Waterway in 1984. The park, which draws 20,000 paddlers a summer, ignited a $50 million development boom in which restaurants, shops, apartments and a chocolate factory replaced a dingy industrial district.
Whitewater parks may have a future, according to figures from the Boulder, Colo.-based Outdoor Industry Association, which tracks participation in 15 outdoor activities. Although overall participation in outdoor pursuits such as backpacking, canoeing, rock climbing and bicycling has plateaued recently, kayaking is one of three activities exhibiting "dynamic growth."
A recent OIA survey showed 6.4 million Americans kayaked in 2000, a 50 percent increase in just two years. Furthermore, the number of kayaking "enthusiasts" — those who kayaked at least 10 times — increased 150 percent over the same period.  It's also a diverse and affluent market. The sport had a near equal number of male and female participants in 2000; the number of African-American participants rose from a statistically insignificant number in 1998 to 3 percent of the market in 2000, and the typical kayaker has a mean annual income of $66,000.
Report from Reno:  Local boaters, who are understandably proud of the whitewater park they conceived and worked 11 years to implement, say Reno can thank the Truckee River Whitewater Park not only for all the extra cash, but also for a tremendous revitalization in downtown Reno. Before the park was built, concrete walls sluiced the Truckee River through downtown Reno until it reached Wingfield Island Park, at which point the river split and spilled over two concrete dams. Businesses along the Truckee literally turned their back on the river, using the riverfront as their back alley. The only people who paid the river any mind were a few local paddlers, Reno's homeless and occasionally the police, who chased paddlers off the river from the '70s up to the early '90s, local boaters say.
Ohio:  You can always tell a canoeist or kayaker from Ohio, that's because they have been required to register their craft, pay a fee, and place big numbers on the side of their boats ever since the Ohio legislature figured out a way to "cheat" on their federal taxes and get more money from the federal government. The Ohio legislature figured that if they required all canoes, kayaks, and rafts to be registered along with motorboats as recreational watercraft, then they would be eligible for more Wallop-Breaux and other federal transportation funding. (American Whitewater)
Chicago Style:  Crooked Politcians Costing Illinois $300M in 'Corruption Tax': Professor– We pay when public employees take bribes to overlook violations, when law enforcement spends millions prosecuting crooked politicians and when people are injured because of government misconduct.
"This is how things are done in Illinois."  Joseph Cari, Chicago Magazine
References